Kathryn Sanders and Leana Becker, owners of Western Sensibility in Missoula, Montana, are bringing a modern approach to the ancient art of designing textiles and wallcoverings. Western Sensibility is a surface design and digital printing studio specializing in sustainable textiles and wallcoverings. They print on "life friendly" substrates, creating products that can stand up to the demands of modern life, including "pets, kids, and your favorite glass of wine."
We sat down to talk with Kathryn about how she started her company, the decision to collaborate with artists, how they are incorporating state-of-the-art UV digital print into their production, and what lies ahead for this trendsetting duo.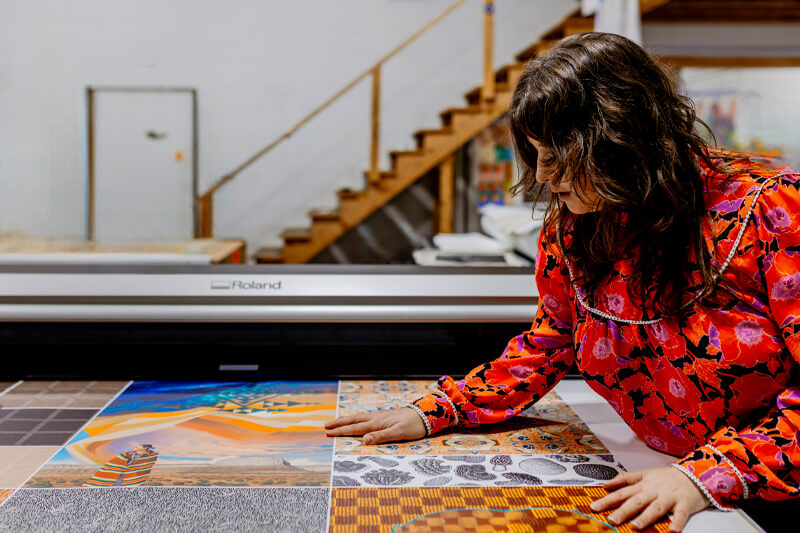 The ability to produce its unique prints on a wider range of surfaces allows Western Sensibility to broaden its offering to clients.
When did you found Western Sensibility?
Kathryn Sanders: I founded Western Sensibility in the midst of the COVID-19 pandemic – not the traditional timing for launching a new studio, that's for sure. I had been on the path to creating my own studio, but the pandemic certainly expedited the timeline. We officially launched in November 2021.
How did you meet Leana?
Leana and I hit it off from the beginning. I was working in textile development, specifically for digital printing, and Leana was the director of interior design for Kelly Wearstler. Her attention to process and her enthusiasm for integrating and adopting digital printing technologies sparked our immediate creative connection. We've worked together at various companies on and off for the last eight years, always supporting each other's viewpoints and commitment to introducing new production processes to the art and interior design communities.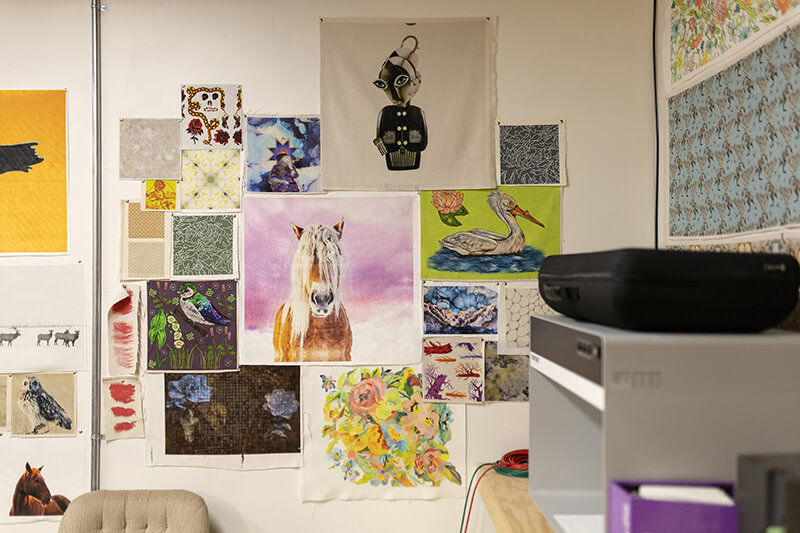 Western Sensibility works with a variety of artists to produce unique and highly sought-after designs.
Please tell us about your production facility.
We've had the good fortune to be in the same space since we launched. We carefully thought through our needs and moved into a facility that we knew could grow with us. It's no small task to move 8,000-pound machinery, so we're hoping to grow here for a while.
Our studio is located near the heart of Missoula, right off the Clark Fork River. Our building is divided into three environments ideal for digital printing: an office space, a calender room, and a printing studio.
What were some of your first products? How has your product line evolved?
We launched our first artist collaborations in the fall of 2021 with a focus on textile yardage, throw pillows, and drapery. As we've grown and the needs of our studio have shifted, we've honed our product offerings. We're currently focused on building out our textile and wallcovering collections for hospitality, commercial, and residential projects.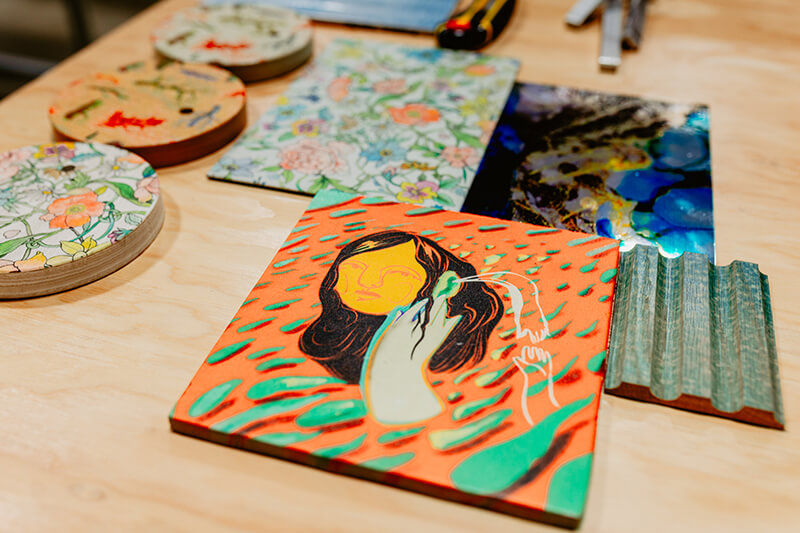 Having the ability to print directly on substrates like wood and metal was one reason Western Sensibility brought in Roland DG's state-of-the-art wide-format UV printers.
Please tell us about your clients.
We have had the privilege of working on some amazing projects since our inception. We've launched collaborations with over a dozen contemporary artists, which is personally most meaningful to me. We've also had several flagship restaurant projects in our Missoula community. We created an installation this spring with acclaimed architect Kevin McClellan for DIFFA by Design in New York City, and we've printed for hotels in Los Angeles and private residences in Chicago. We also created and curated a textile exhibit for the Big Sky Documentary Film Festival.
Please tell us more about your artist collaboration series. What is your vision for this part of your business?
It was important to me that we launched as more than a B2B print shop. I wanted to illustrate from the beginning the power of digital printing technology and what it could mean for the art and design industries.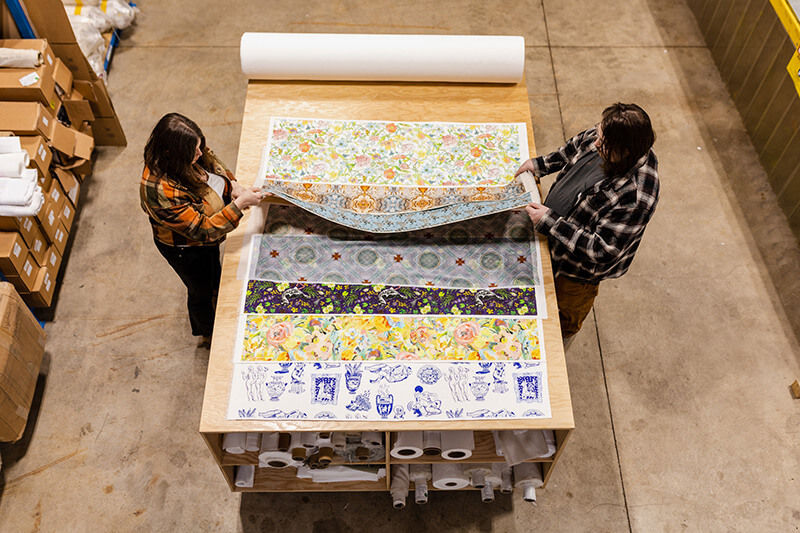 Roland DG's advanced UV printers feature a wide color gamut including Red and Orange inks.
How did the partnership with Roland DGA come about?
I've had the distinct pleasure of working with Roland DGA in several capacities over the last few years — even prior to founding Western Sensibility. Roland DG's technology innovations speak for themselves – I'm consistently blown away by the vibrant, detailed prints their devices produce. While the outstanding quality of Roland DG machines factored into things, what really made me want to partner with Roland DGA is how their team values creativity.
How did you choose Roland DG's wide-format UV printers? What features were most attractive to you?
When we evaluate new printer technologies and ink chemistries, we're very quality and durability driven. We're not a sign shop, so our projects have an added longevity requirement. UV ink technology is a perfect fit for our needs.
In addition to durability, our clients are extremely precise with their work and it's critical that our prints echo that high level of accuracy and detail. As a surface design studio dedicated to experimentation, our versatile belt-driven hybrid printer gives us the most opportunity to innovate while also providing consistent quality. All of our end-products go through rigorous testing and the prints from Roland DG's wide-format UV printers always perform well.
I've been working with UV printers on and off for the last few years and am constantly impressed by the print quality and durability factors. Having a unit with hybrid belt and flatbed capabilities allows us to do so much more than traditional roll-to-roll or flatbed setups.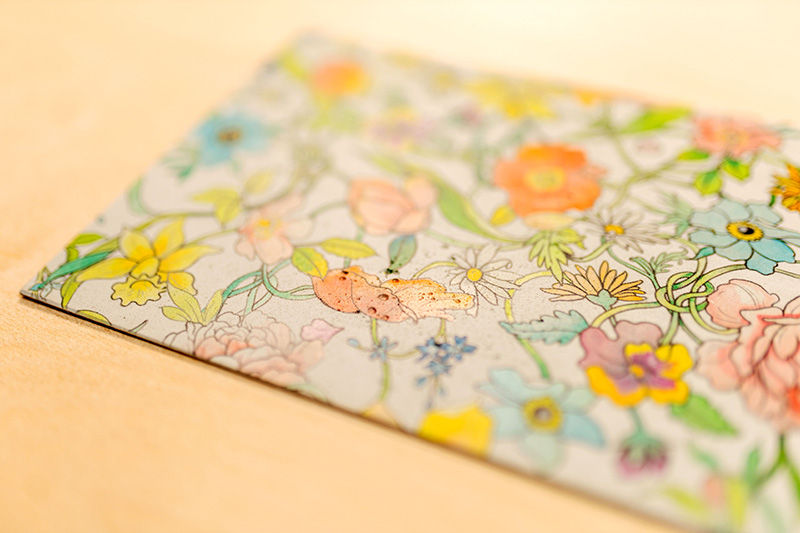 Western Sensibility specializes in designing interior décor for hospitality, commercial, and residential clients.
What is having Roland DG UV printers in-house helping you achieve?
We love R&D, so we have a strong interest in prototyping. We're equally interested in producing limited collections, and large-scale production. We needed an agile machine that checks all the boxes, which made choosing Roland DG's advanced UV printers for our studio an easy decision. We're able to print on a multitude of surfaces, which allows us to play a larger role in our clients' projects.
How does having UV digital printing capability help you expand your vision to innovate and experiment?
The chemistry and curing process of UV ink opened the doors for us to print on surfaces we previously only dreamt of printing on. Since the pandemic limitations were lifted, we've had the opportunity to bring art into the world in more places, which at the end of the day is our ultimate goal.
How has the color performance been?
The ECO-UV EUV5 ink color gamut is unparalleled. Having additional channels for orange, red, gloss, and white ink is a game-changer. The UV ink gamut certainly kicks things up a notch in terms of our color range.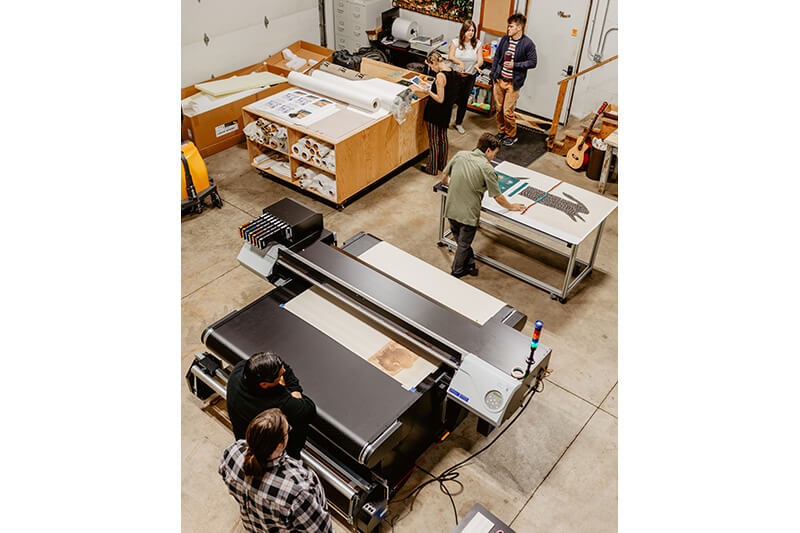 Western Sensibility's Roland DG UV printers are an important part of its production capability.
What substrates are you using with your UV printer?
Our initial focus with this printer is to grow in the wallcovering market. We're focused primarily on hospitality environments, so what we're producing goes beyond the needs of peel-and-stick substrates. We've developed textile-based wallcoverings with texture, performance, and longevity built in.
When it comes to the types of substrates we work with, we've hit the ground running – we've already printed on materials ranging from wallcoverings to tile and vegan leather. The wheels are spinning and our entire team as well as our collaborators are thinking about surface design in fresh ways.
What new directions do you see for your company as your partnership with Roland DGA continues?
There's nothing that compares to having a team dedicated to growing the art of digital printing. I say "art" purposefully as it's not the default way many look at this technology, but it's a perspective that our team shares with the Roland DGA team. We all see the value in what this technology can achieve, and we're all obsessed with bringing it into more creative landscapes.
We're proud to partner with a forward-thinking company that honors the artist's perspective as much as we do. Our favorite way to work is collaboratively and we know we're a part of building something special with Roland DGA.