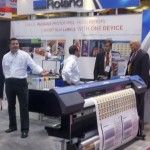 Graph Expo just wrapped up in Chicago, and after a few days walking around the show and talking to customers at our booth, I've come to some conclusions about the state of the printing business. First and foremost, despite all the discussions and questions about the need for print in the digital age, the industry is alive, well, and innovating at a staggering rate. Printers were walking the floor looking for new techniques and technologies that would continue to push the limits of what we can do with ink on paper (or plastic, metal, wood, and a thousand other substrates). There are still lots of instances in which a computer monitor, smart phone, or iPad won't get the job done.
Second, inkjet is everywhere, and seemed to be the talk of the show. Commercial printers were first introduced to inkjet printers as proofing devices, but there are now entire presses built around high speed inkjet engines that can rival the production and cost of traditional analog devices. Their adoption is being driven by the need to produce shorter, more personal runs of everything from direct mail pieces to food packaging.
Finally, the hard lines that used to define business types in the printing industry are disappearing fast. While most businesses still specialize in something, the distinctions between commercial printers, quick printers, mail houses, transactional printers and all the other industry subsets are becoming less important as each segment fights to survive and prosper. This has been partially driven by technological advances that make output devices more flexible, but has also been driven by creative business people who realize that their businesses revolve not around any specific product or process, but around their customers' needs.
For instance, in the past a commercial printer might have produced a customer's annual report, but left business cards and letterhead to the quick printer, corporate event signage to the sign shop, and trade show giveaways to the promotional products vendor. Now, more and more printers are realizing that they can be the sole point of contact for all these products, either by bringing capabilities in-house, or brokering them to reliable partners.
There are great opportunities for everyone in the spectrum. Small specialty shops with expertise in signs, banners, and displays have a chance to provide finished output to large commercial printers that may control contracts with major corporations, and through those partnerships can also say yes to business that they might have turned away. Take a look at your current customers and think about what other printed products they might need. Wouldn't it be easier for them to get them all from one place? And why shouldn't that one place be you? Then explore how you can meet the needs creatively by learning new processes with your existing equipment, or partnering with another specialist.