UV printing has become increasingly popular in recent years, renowned in the sign and graphics industry for providing high-quality prints on a wide variety of media and 3D objects. As with any technology, however, there are some misconceptions surrounding UV printing.
In this article, we'll debunk some of the most common UV printing myths and shed some light on the truth about this versatile technology.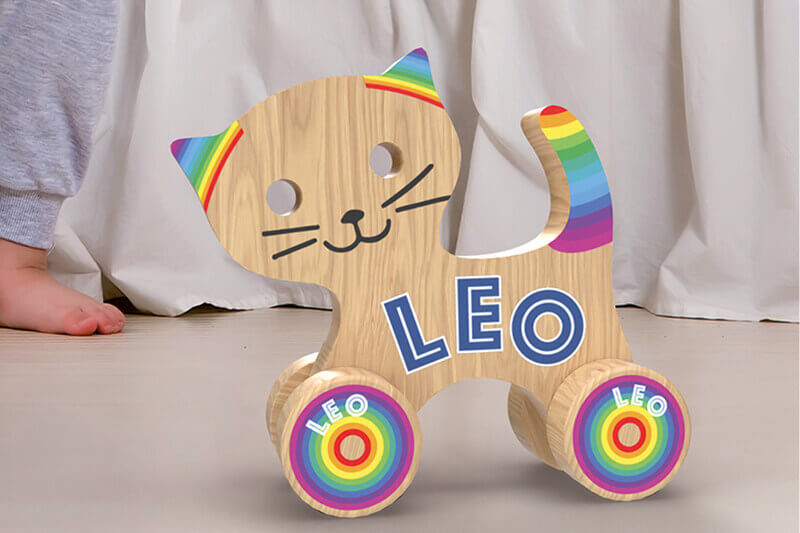 Roland DG's V-BOND UV inks are designed to be safe for use in medical and childcare settings.
Myth 1: UV Printing is Harmful to the Environment
One of the most persistent myths about UV printing is that it is harmful to the environment. Some people believe that the UV inks used in the printing process are toxic and contribute to air pollution. However, this is far from the truth.
UV printing actually offers several environmental benefits. UV inks are free of volatile organic compounds (VOCs) and do not release harmful fumes into the air during the curing process. In addition, newer ink formulations such as Roland DG's V-BOND inks are specially designed to be CPSIA and toy safety compliant. Additionally, because UV printers use eco-friendly UV/LED lamps for curing, they consume less energy overall than other print processes.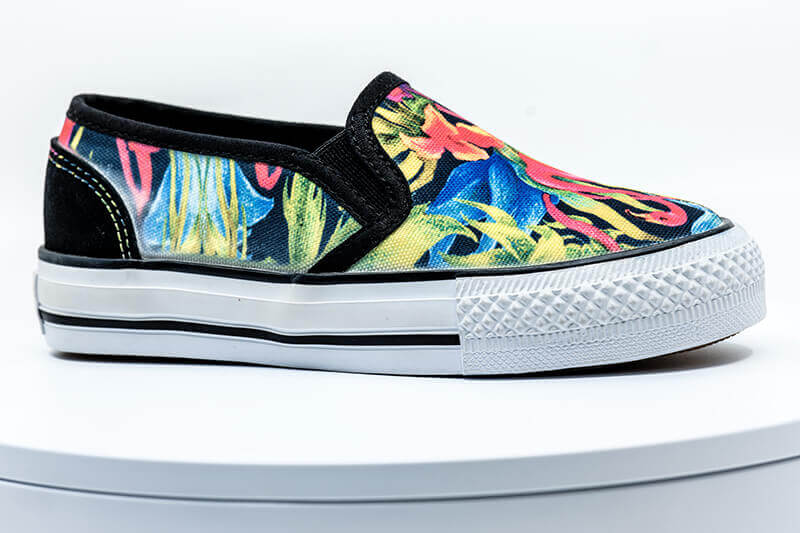 With a UV printer, you can unleash your creativity on a wide variety of media and 3D objects.
Myth 2: UV Printing is Limited to Certain Materials
Another common misconception about UV printing is that it is limited to specific materials, such as flat surfaces or rigid substrates. This myth may have originated from the early days of UV printing when the technology was primarily used on flat materials like paper and card stock.
However, UV printing has come a long way since then. Modern UV printers are capable of printing on a broad range of materials, including glass, metal, wood, plastic, fabric, and on a wide variety of three-dimensional objects. In fact, due to excellent consistency across multiple media, color profiling for each substrate is significantly reduced. Roland DG's hybrid UV printers offer both roll-to-roll and flatbed printing, providing maximum flexibility.
The versatility of UV printing makes it a preferred choice for industries such as signage, packaging, promotional products, personalization and customization, and interior design.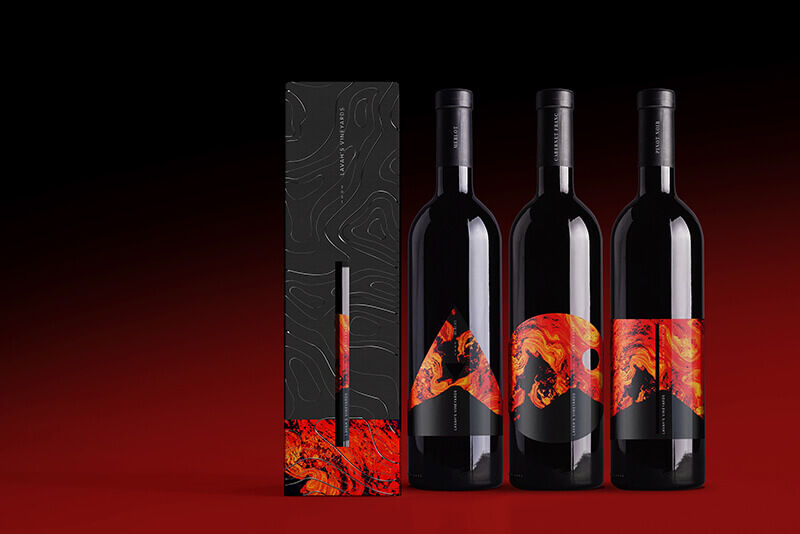 Roland UV ink formulations provide rich, vibrant prints.
Myth 3: UV Printing Results in Inferior Image Quality
Some skeptics claim that UV printing inks are somehow muted and do not provide the same level of color vibrancy and sharpness as traditional printing inks. However, this myth does not hold up under scrutiny. Roland DG's expanded color gamut for its EUV5 inks enables users to achieve the same level of rich color and vibrancy that can be obtained with its eco-solvent inks. EUV5 inks, developed to bring out the best in Roland DG VersaUV LEF2 Series inkjets, VersaOBJECT CO Series flatbed and hybrid printers, and TrueVIS LG and MG Series UV printer/cutters, feature Orange and Red inks that expand color gamut and allow you to target previously unreachable colors.
In addition, all UV inks are cured instantly using ultraviolet light. This curing process ensures that the inks do not bleed or spread, and results in sharp, vibrant, and high-resolution prints. Additionally, UV printing allows for precise dot placement, which enhances overall image clarity and detail.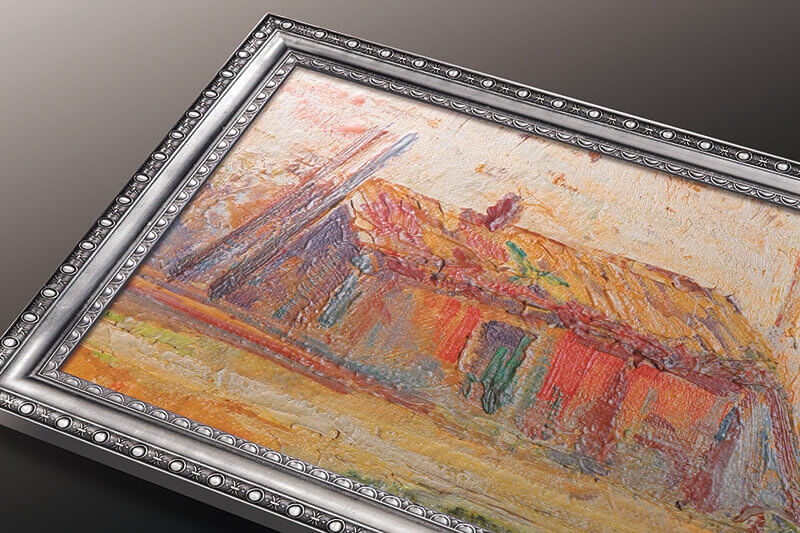 Giclee prints made with a Roland UV printer employ ink layers that can simulate brushstrokes.
Myth 4: UV Printing is Slow
This myth used to be true. UV printing was in fact slower than other forms of digital printing, however, today's UV printers have overcome that challenge. Roland DG's TrueVIS LG-Series professional UV printer/cutters feature print speeds that are 3x faster than previous models. The LG also prints faster than the competition's printer does, while still providing the amazing print quality and reliability Roland users have come to expect.
Myth 5: UV Printing is Expensive
There is a common misconception that UV printing is prohibitively expensive, making it an impractical choice for many businesses. While it's true that UV printers may have a higher upfront cost compared to some traditional printers, they offer significantly reduced running costs.
UV printing eliminates the need for additional processes like lamination or varnishing, which are often required with traditional printing methods, saving time and money on every print. The instant curing of UV inks also reduces production time and increases overall productivity. Furthermore, UV printing allows for on-demand printing, eliminating the need for large print runs and reducing waste.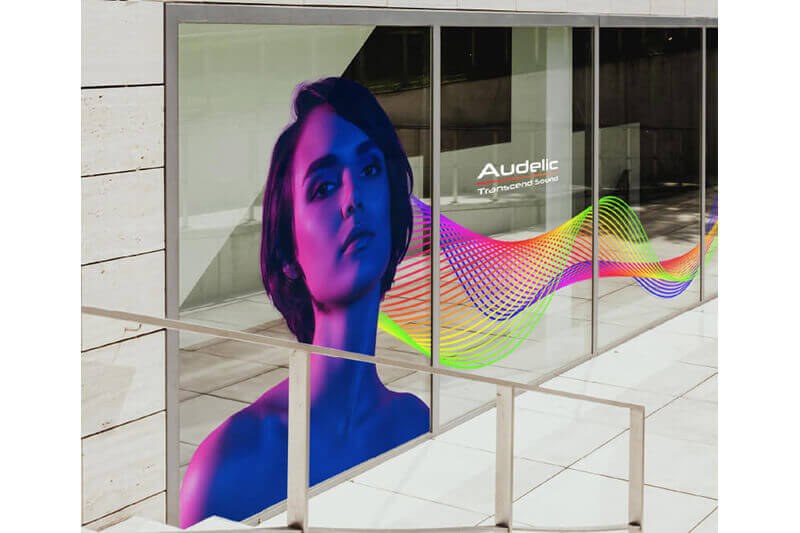 Wide-format UV printers create durable indoor and outdoor graphics.
Myth 6: UV prints are not good for vehicle graphics or other outdoor applications
Some people believe that UV prints are not a good fit for vehicle graphics or other outdoor applications. Here, it's important to remember that there have been many advances in both UV printer technology and ink formulation.
The vast majority of outdoor wide-format print applications are designed to last for three years or less. This timeframe matches the lifespan of today's UV inks, which can withstand the elements with ease. In fact, UV inks work well for one of the most popular outdoor applications – vehicle wraps - especially those on the sides of trucks and trailers. With their innate stretchability, UV inks can easily withstand the effects of outdoor temperature changes while also stretching to the contours of vehicle body panels.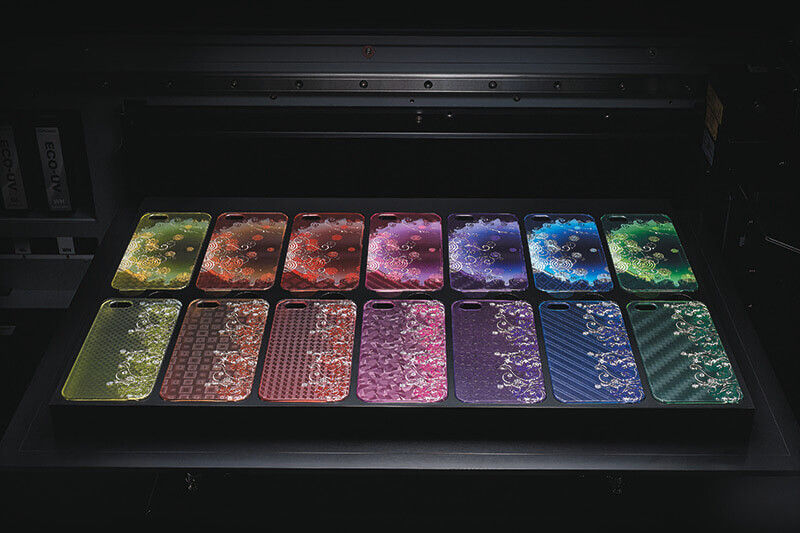 User-friendly VersaWorks RIP software is included with every Roland DG UV printer.
Myth 7: UV Printer RIP Software is Costly and Hard to Use
In the past, some RIP software programs for UV printers had been described as expensive and difficult to use. While some RIP software products may be expensive if purchased separately, all Roland DG UV print devices come with the latest version of the company's VersaWorks RIP software included. In addition, Roland DG has built its VersaWorks software to be extremely easy to use, with drag-and-drop technology and other user-friendly tools and features. This RIP is also highly efficient, allowing users to run up to four Roland DG devices simultaneously.
Roland DG provides ongoing support for VersaWorks users on all aspects of printing, including tiling, nesting, variable data printing, color profiling, and print queues, through its online and in- person technical service, as well as through its Roland TV series of videos.
Conclusion
Today's UV inks and printers have proven that many myths and misconceptions circulating about these technologies are just flat-out wrong. Roland UV printers have established themselves as game changers in the printing industry. Their environmental benefits, versatility, excellent image quality, and cost-effectiveness make UV printing a preferred choice for businesses across various sectors.
As with any technology, it's important to separate fact from fiction and stay informed about the capabilities and advantages of UV printing. Debunking these common myths will help you make an informed decision on whether a Roland UV printer is the right choice for your printing needs.
Have more questions about UV printing? Talk to a Roland DGA expert, here.