Congratulations! Your Roland DG DWX mill has an automatic tool changer (ATC) with multiple slots that allows you to get the most out of your tooling options. But wait… what's the need for multiple slots when most milling jobs require only two or three tools for the process?
Multiple ATC housings enable you to have carbide, diamond or hybrid tools stocked and available, making it possible to mill a wide range of dental materials. So, given that Roland DG mills have this capability, you may be unclear as to why the DWX-51D also features an additional tool housing in the storage drawer for unused burs. You may be wondering if there is any benefit to multiple housing units, or if there's a way to get more use out of the ATC?
Well, the answer is "yes," and the functionality is called "Intelligent Tool Control for Vpanel and the DWX-51D." Intelligent Tool Control gives you the ability to switch out burs automatically once a bur's replacement time has been reached even during the middle of a milling job. Now, instead of worrying about dull burs producing low-quality dental prosthesis, or stressing over tool life management, you can mill with confidence. Not only will the software manage tool life for you, it will also change out the tool automatically, even in the middle of the milling process.
So, how do we take advantage of Intelligent Tool Control for the DWX-51D? The first step, after powering up your machine, is to open the Vpanel software. Once you've done so, select the milling bur management icon and make sure all tools are registered with the recommended milling and replacement times. If this is your first time entering tool information into Vpanel, you may need to reset the timer before exiting out of the dialogue box.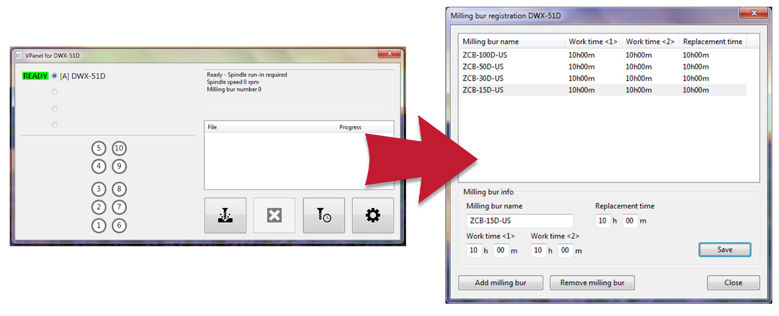 After entering your tooling information into Vpanel, select the Stocker Setting button located at the bottom of the milling bur management dialogue box. Here, you can specify which tools you would like to have changed out automatically once the life of the bur has been expended. You can select up to five tools for automatic replacement. Lastly, be sure to place each tool in its proper slot. For example, if selecting Pattern 1 in the Stocker Setting dialogue box, you will need the same kind of bur in ATC slot 6 to match the bur in ATC slot 1.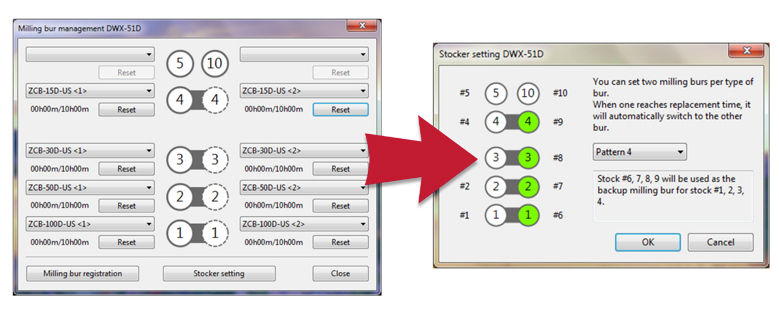 Intelligent Tool Control will help maximize your productivity, while also giving you the peace of mind to manage other tasks. The greatest part about this feature is that updates are free! That's right, Vpanel software updates won't cost you a cent, and there are no subscriptions or related fees. All you need to do is download the latest update from the Roland DGA website. For more information on Intelligent Tool Control, download the latest User Manual from our website and be sure to check our support section for updates on a continual basis.
More in this series of quick tip posts:
Dental Milling Tips & Tricks – Tip 1. Choosing The Best Tools for the Best Results
Dental Milling Tips & Tricks – Tip 2. Setting Up Both the Dust Extraction System and Air Flow Nozzles for Optimum Performance
Dental Milling Tips Taking Care of Your Diamond Coated Tools