In the second in our series of special dental blog posts, Roland DGA Group Product Manager and Dental solutions expert, Brian Brooks, offers set-up advice for dental milling machine owners to ensure improved air-flow and performance.
Setting Up Both the Dust Extraction System and Air Flow Nozzles for Optimum Performance
We all know that when milling zirconia, keeping your machine clean is a key component of any upkeep and regular maintenance routine. Roland DG DWX series mills are equipped with built-in features, such as air nozzles and vacuum systems, that make cleanup a breeze. The following tips will help DWX users in setting up both the dust extraction system and air flow nozzles for optimum performance.
Different Settings for Zirconia and PMMA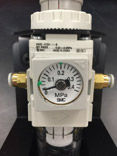 Roland DG's DWX dry-milling units do not require a large amount of compressed air, mainly because the air is only used for cleaning the ATC before tools are replaced and for clearing the cutting surface of milling debris. There are two primary settings on the air regulator that are important to understand. The first green arrow is located at 0.5Mpa. This setting should be used when milling materials like wax and zirconia. The higher setting, located at 2Mpa, is typically used for milling PMMA. Since the cutting waste is larger than working with PMMA, the possibility of finer particulates of dust getting into vital components of the machine isn't a concern. PMMA also requires more air pressure to maintain a cooler milling environment and prevent acrylic materials from becoming sticky, soft, or gummy.
The Fine Balance of Air Extraction
The main take-away from this tip is to remind users that, while you might think increased airflow will keep the milling surface cleaner when working with zirconia, blowing the fine dust created with too much pressure can force finer particulates into the very crevasses of the machine where dust shouldn't be present. The resulting negative effects can also be multiplied if the dust collection system or vacuum at a low setting. Although users may be tempted to turn their vacuums down to minimize noise, it's important that the amount of air being extracted from the milling chamber is equal to that forced in by the air flow system.
Reducing the Amount of Time for Maintenance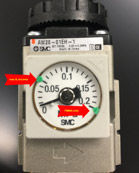 Any sort of negative pressure can cause long-term equipment issues resulting from zirconia dust being forced into and on vital internal components of the machine. As a final reminder, make sure you keep the dust collection system turned up and the air regulator adjusted accordingly. Following these simple tips will help ensure consistent milling results. More importantly, doing so will reduce the amount of time and effort you'll need to spend on maintenance, while also helping to prevent long-term machine issues.