Jay Lansburg, Digital Revolutionary
Jay Lansburg of Automic Designs in Buena Park CA, has been specializing in vehicle art since the mid 70's. While he used to either hand paint or layer vinyl to create his graphics, he now believes that inkjet printing is the key to making money in the sign business. "Our industry is on the verge of its next revolution," he says, "A sort of second revolution that is going to change the way we make signs…not dissimilar to the way vinyl plotters changed the face of the industry 20 years ago!"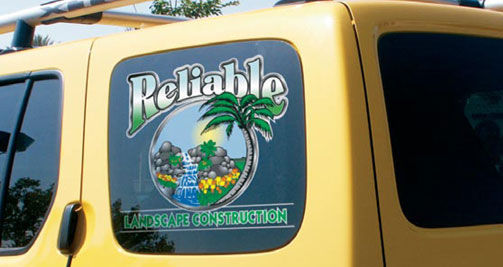 "In the last year since I've had the SOLJET, I've seen it take on a life of its own. There's nothing my Roland DG can't do! The printer/cutter grew in strength and power and ability and intelligence until it swallowed up my vinyl cutter, my thermal printer, my airbrush and, I think, my dog. It's now the focal point of my business, running everyday, and even sometimes at night, while I'm at home."
"All things considered," says Lansburg, "Every shop should have a digital color device, or you will wither slowly, painfully away."
Jay's "Things to look for"
Jay offers some additional "dogmatic rhetoric to ponder" in regards to the digital print/cut revolution: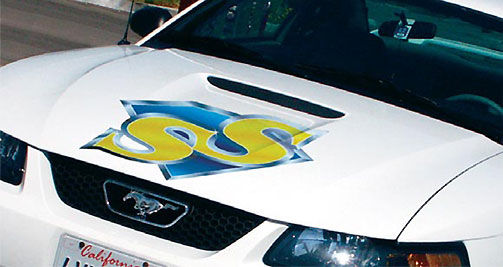 Don't Drink the Ink
"A solvent ink-based machine is the only kind a sign person should be considering, since these inks are the key to outdoor durability. Most important to me is if the ink stinks. New generation, mild solvent inks do not require a dedicated ventilation system, and can be almost odorless. If the machine you're viewing puts out strong odors, or if the guy trying to sell you the printer emits strong odors, I say walk away."
"Longevity is not the only reason to consider solvent inks. Large format printers have previously required expensive coated vinyls. Solvent inks, will, for the most part, allow you to print on your favorite, regular old vinyl or other media, lowering the print cost, and letting you use the quality materials your clients so richly deserve."
Quarter mile in under 10?
"Initially, I believed that print speeds would not be much of an issue in my shop. But it can become an issue when you have a large print or multiple graphics to produce. Remember though, that manufacturers usually base their speed ratings on low-res settings…a setting you may never use."
Does it Dice and Slice?
"A digital printer doesn't have to chop onions or slice julienne style fries, but can it cut vinyl? For me this is a big deal. After I print a graphic on vinyl, my Roland DG automatically cuts it out in either a perimeter contour cut, or in intricate detail if I so desire."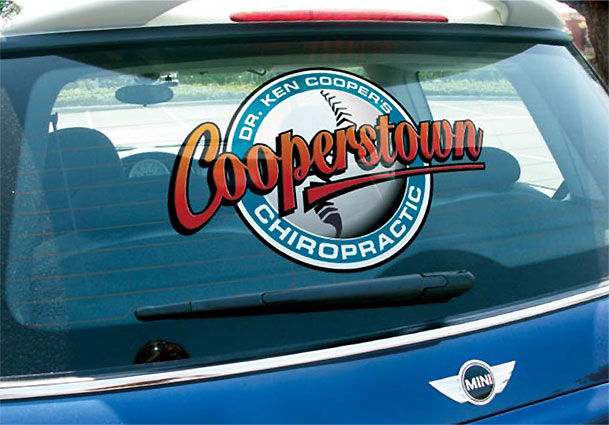 I Need More Support
"Big time important here: these machines are way more complex than your vinyl cutter. Digital printers will require some periodic maintenance work, so if you're considering a machine manufactured in a place you've never heard of, you really better check into their support network. In fact, wisely investing in a digital printer may be more a matter of having a support/service team available, than simply who offers the best price."
I Got It Covered
"You'll want to laminate or clearcoat almost everything that you produce. We spray a lot of our prints using One Shot Speed Dry UV Clear. The available aerosol is easy and quick for small prints, but you need to spray it from a touch-up can for larger prints. Lamination machines are an excellent solution, though they can be pricey. Right now, we use a low-tech hand-cranked laminator. It gets the job done, but I'll eventually have to step up to a larger, electronic laminator."
Final Thoughts
"With the latest generation of solvent inks, vibrant colors in high resolution is a reality. And outdoor? You betcha! Is getting one going to cost you some money? Sure. Can one of these printers make you some moola? Oh yeah!"
This article has been excerpted from Roland DG's popular instructional booklet, Taking the Mystery Out of Print/Cut. The ultimate guide to print/cut technology, this valuable, information-packed resource has already helped thousands of Roland DG customers streamline their production environments and grow their businesses. Watch Taking the Mystery Out of Print/Cut Video.