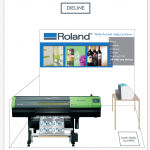 So we were preparing for a show the other day – the Dieline Conference. Our creative team came up with a great design for our booth and Bryan in our service bureau went to work creating it. The design required a second-surface image on clear acrylic. The chosen tool for the job? The VersaUV LEJ-640 flatbed/roll to roll hybrid printer of course. Only one problem. Our VersaUV was out on the road at a few tradeshows. Second choice? Print to high gloss paper and apply it facedown (2nd surface) to the acrylic using an extremely thin, double-sided adhesive, optically clear laminate. Piece of cake!
It actually DID turn out great, but not without a little extra time, stress and a second set of hands. Here's the breakdown of the project which included two 4'x8'x.25″ acrylic panels:
Indirect Print Workflow
Two hours
Two people
SOLJET Pro III Wide-Format Printer
High gloss paper
Laminator
A very thin, unforgiving laminate with optically clear adhesive on both sides
Complete concentration & a steady hand (any skew or contaminant will cost you a very expensive piece of acrylic)
Direct Print with the VersaUV Flatbed (hypothetically speaking)
One hour
One person
Tack roller to clean the plexi before printing (must avoid contaminants)
Our booth graphics looked great and fortunately, we didn't have to throw away any ruined boards. But Bryan wants his LEJ back. Next time Bryan will print it directly and save himself a few grey hairs.