This is my Roland DG name badge. It took less than 5 minutes to make and cost less than $1. You could sell one like it for around $6. You probably couldn't sell this one for $6, since I have an unusual name, and anyone with my name is unlikely to have my title as well, which limits the audience substantially. On the other hand, actually making name tags for people with their names on them can be a very good business. All kinds of companies use name badges, and some of them are probably your customers already.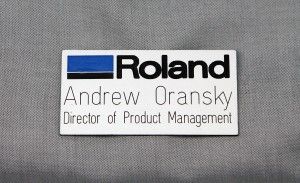 This badge took less than 5 minutes to make and cost less than $1.
Now that I am spending some time in the office after all our recent shows, I cleaned out my laptop bag and the badge I have been wearing to all of them is sitting here on my desk, which got me thinking about Roland DG engravers.
Did you know that in addition to inkjet printer, cutters, and 3D prototyping equipment, Roland DG also makes engravers? In fact, we have been making them longer than some of that other stuff, and they can be a great addition to your business. But name badges aren't all. Engravers make industrial signage like warnings, directional signage, ADA compliant signs, office directories, and control panels. Then there are the personalized products and giftware like frames, pens, flasks, and even glass items. Trophy and award engraving is an area unto itself, and with R-Wear Studio software, Roland DG engravers will enable you to make Rhinestone transfers for apparel decoration and other applications.
Best of all, Roland DG engravers are easy to use, and with costs starting well under $3000, might be a great way to expand your business in 2011. We always love to hear from users, so let me know what you're doing with your engraver.