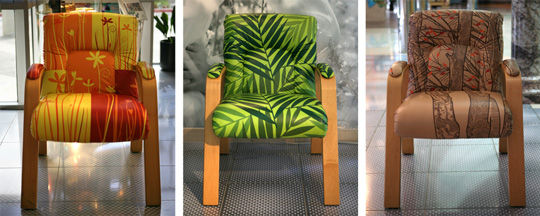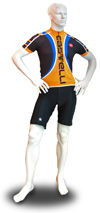 Wide-format inkjet printers are now producing some amazing things with fabric. You have probably seen many examples of sublimation, like these sublimated jerseys produced on a Roland DG FP-740. I especially enjoy the printed fabric wings on the replica of an 1895 Lillienthal glider that hangs in our lobby and were printed on a Roland DG AJ-1000.
But I was blown away by these chairs designed by Roland DGA senior art director Dan Wilson. They were printed on faux suede using a Roland DG VersaUV LEC-540 printer/cutter. Because Roland DG's UV ink is flexible, the upholsterer was able to wrap them around the padded chair frame without any cracking of the ink.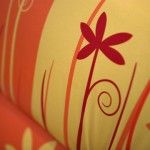 The effect is stunning. Visitors to our lobby Creative Center are consistently blown away and want to know where we bought them.
If you are looking for more business, you might want to expand into decorated fabric. I have to believe there is a growing market of interior designers looking to transform an office building or home into a work of art.
Inkjet printers: Not just for banners and signs anymore.