NOTE: This article has been modified from the original version.
Stickers. Decals. Lettering. It's not something that an average person ponders on a regular basis, but if we had a means, I bet we'd all use custom stickers quite regularly. This thought occurred to me as I was looking through our list of owners for our desktop vinyl cutter machines like the STIKA portable vinyl cutters and the GS-24 desktop cutter. What an assortment of small businesses, large businesses, schools and just regular people using Roland DG technology. The STIKA is being used for custom decals, t-shirt deco, personalized gifts, bakeries, realty signage and so much more.
Organized Kids
"I have the 15″ Stika machine and I love it. It is perfect for our applications. It worked flawlessly since it came out of the box and I haven't had one problem with it. I like the 15″ because vinyl is readily available in that width. The installation process was a snap and any issue I couldn't figure out there was tech support to help. It is a great machine." Stephen Johnson from Chandler Arizona
Tactical Keychains
"The GS-24 is the best, just buy it! I bought it to cut stickers for a racecar and this thing is FAST!" Brad Martin, Webster City, Iowa
Nik's Tees
"I have a t-shirt business and use my Roland DG cutter for heat transfer vinyl. I have been getting into window decals and some sign work lately. I am very happy with the STIKA and keep finding new things to do with it. My business is constantly growing and the Roland DG plays a big role in that." Nikki Silverman from Ft. Lauderdale, FL
Custom Mooring Balls
"[My Business] makes names to paint on mooring balls. We use a Roland DG to make names much faster than free hand methods." George Marks from Rockland, ME
Miss L. Lai
"I randomly bought this cutter [GS-24] a couple of years back. Lets just say it kicks a%@! It's easy-to-use, comes with software, and can easily cut 1mm thick letters that are easily weedable." Miss L. Lai, Australia
Great Grandparent Pat
"I bought my STIKA for hobby work. I have 9 children, 24 grand children, and 14 great grand children. I made shirts for all of them last Christmas. I am retired and bought this product strictly for fun." Pat Bernhardt from St. Helens, OR
What would YOU do with a STICKER machine like the STIKA or GS-24? Personalized T-Shirts for your Adult Basketball League Teammates? A Happy Birthday Banner for the kiddos? Personalization of your Christmas presents? Custom scrapbooking art?
Personalized Caddies from Organized Kids Online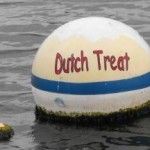 Mooring Balls Personalized with Stencils Created on a STIKA
Stickers for Your Craft Projects

STIKA Vinyl Cutters

The STIKA is affordable (starting at only $525), easy-to-use and itty bitty, not to mention the FREE included design software. Which makes it a great vinyl cutter great for schools, small businesses and hobbyists. C'mon… everybody's doing it.

Small Business Stickers and Decals

GS-24 Desktop Vinyl Cutter

The GS-24 is a cutter that's also super-easy to use— the perfect desktop machine for small business professionals and start-ups who want to cut stickers and graphics. More powerful than the STIKA, it has cool features such as overlap cutting for cutting card and dense vinyl. It's a professional's sticker production tool in a compact, easy-to-use package.