by Roland DGA Product Manager of Textiles, eCommerce and Supplies, Lily Hunter
Are you in the market for a Direct-to-Garment (DTG) printer? Is this your first venture into DTG printing? Even if you're not a novice, a DTG printer has different requirements and processes than other printers.

The following blog post takes a look at some key questions to consider if you're shopping for a DTG printer.

What will make up the majority of my DTG business?
You may associate DTG printers with printing onto dark or black t-shirts, and if that's going to make up at least 70% of your business, then yes, buying a DTG printer with white ink is essential. You'll need to print a white layer on your t-shirt first so the colored (CMY) inks will show up. If you can imagine the way people color on black paper, you can recognize the issue; when adding colors onto black paper, the blackness of the paper makes it very difficult to see any other color, except white. However, if you add color onto white paper, you're able to easily see all the colors. Therefore, it's only possible to recognize color additions on black paper unless you first add a white base color.
Now, if you're interested in printing white to light colored products, there's no need to have white ink. There are many t-shirts, tote bags, aprons, etc. that are white, gray, or light colored that don't need an initial white layer of ink added.
There's also another option for those who want to do dark or black t-shirt printing but don't have white inks but may own screen printing equipment – screen print a base layer of white ink and then print your color on top of your white base using your DTG printer.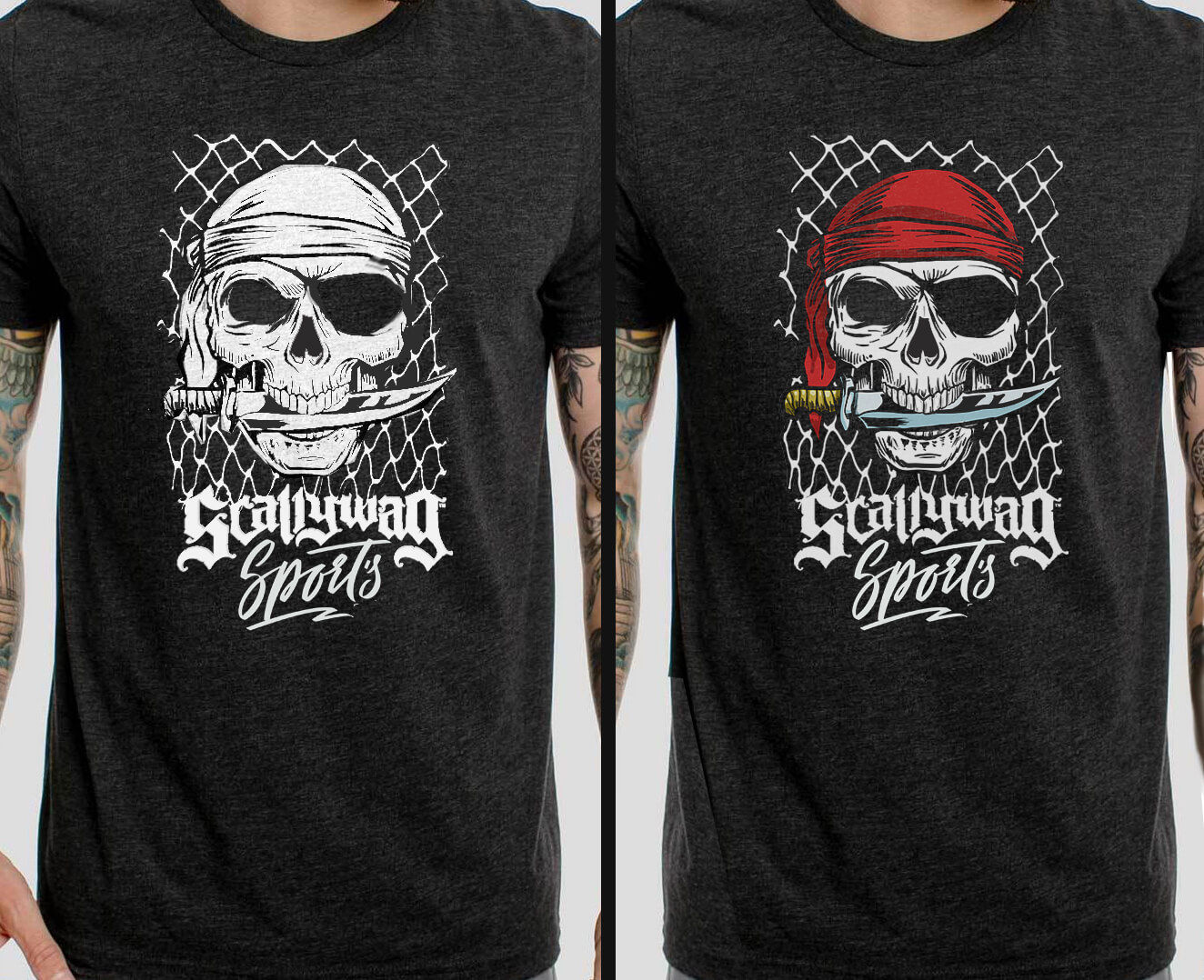 Example of screen print to DTG print workflow— screen print a base layer of white, then print color using your DTG printer.
Are there differences in prices for a CMYK DTG printer vs. DTG printer with white ink?
Yes, there is. Roland DGA's entry-level DTG printer doesn't have white ink, and it's designed for those who are new to DTG printing or adding DTG printing as an additional service to their core business. The list price is $3,495 and includes a finishing oven to cure the inks onto the fabric. DTG printing on fabrics require a finishing oven or heat press to set and cure the inks. Most DTG printers with white ink will start around $12,000 to $15,000, and you'll need to get a heat press, if you don't already have one. Other equipment to consider for printing with white inks include:
Pre-treatment fluid is not expensive and easily available online via multiple vendors but different machines with different ink formulations have different pre-treatment fluid recommendations
2.

Sprayer or equipment to apply pre-treatment
Spray bottles from home improvement stores are fine— no special spray bottle is required
3.

Dryer for quickly drying pre-treated fabrics
Dryers are the most effective option, but you can also hang fabrics to air-dry them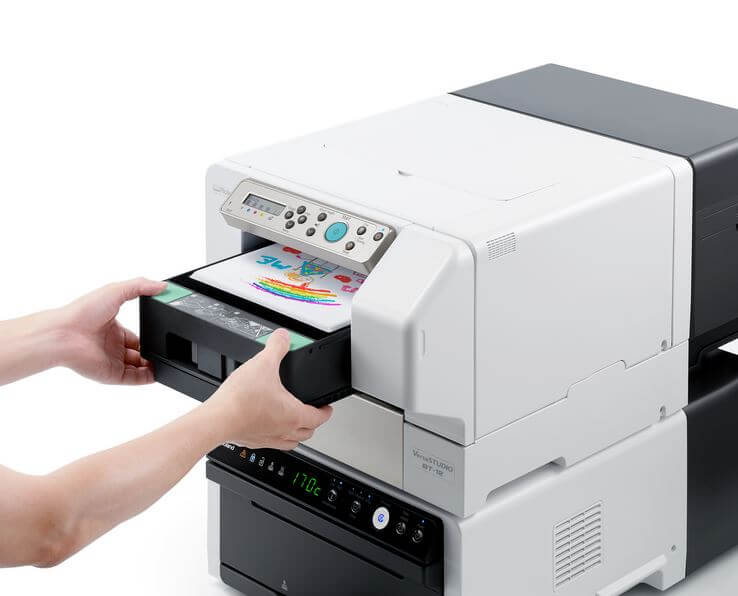 The VersaSTUDIO BT-12 is Roland DGA's entry-level DTG printer— the list price is $3,495 and includes a finishing oven to cure the inks onto the fabric.
What exactly is pretreatment and why should I do it?
Pretreatment is a liquid solution that's typically vinegar based—thus the vinegar smell. It's used for dark colored fabrics. It helps the inks bond to the fabric and improve wash durability. Make sure that you match the pretreatment with your DTG ink; what works with one brand of ink may not work well with another brand of ink.
This liquid pretreatment also works for white and light t-shirts, ensuring better prints and wash durability.
Why does the type of cotton matter?
You can improve printability and wash durability with pre-treatment on white or light-colored fabrics as follows:
1.
Get t-shirts/fabrics that are made with combed or 100% ringspun cotton
2.
DTG printing deposits inks onto the fabric— use your machine setting to print ink layers with heavier color density
DTG printers are designed to print on cotton fibers that aren't smooth by nature. When you print onto the fibers, you need to have enough ink to cover all of the fibers. Also, if the fibers are not woven tightly, the surface is not smooth. Both of these factors affect printability and how the image looks.
The benefits of combed and ringspun cotton
Higher quality productions of cotton that are smooth have a tight weave to create a smoother surface for more inks to lay on
The colors look better and are more durable in the wash
The cotton doesn't pill like the low-quality cotton fabrics— pilling makes the prints look "fuzzy" and dull
Coupling a better fabric and more ink laydown contribute to better prints that do not require pre-treatment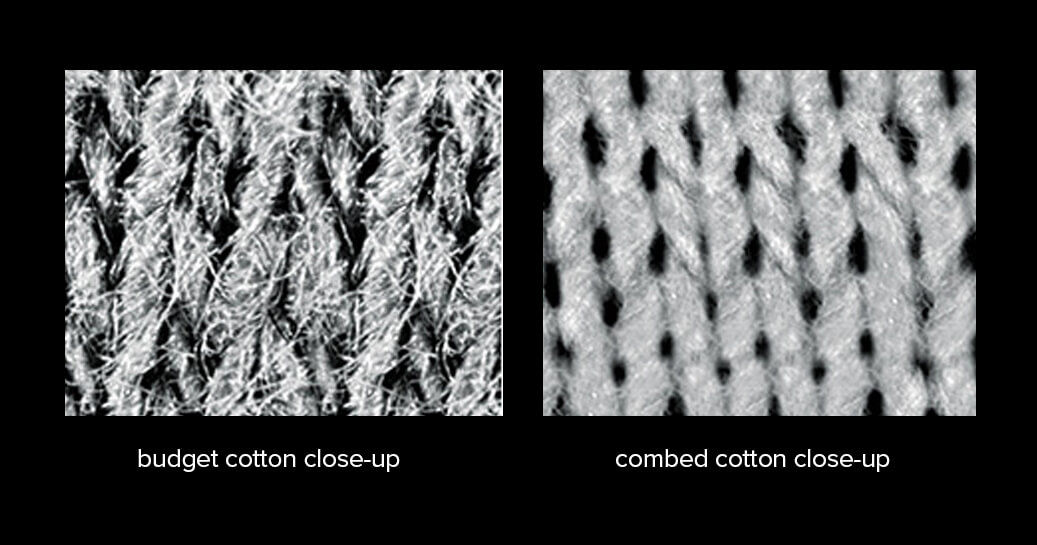 Showing the differences in cotton quality— the higher quality "combed cotton" offers a better canvas for your ink to yield better print results
100% Ringspun Cotton T-Shirts

Wholesale Order Product Reference

Gildan

o Softstyle® Series, i.e. 64000, G640

o Heavy Cotton

o Hammer

Hanes

o Nano T 4980

Fruit of the Loom

o 3931

o 61-422-0

American Apparel

o 2001

Next Level

o 3600

Cotton Heritage

o 1082

Bella Canvas

o 3001

Anvil

o 780

Spectra Tees

o 3100

Keya

o MC 180
Are there differences in maintenance and maintenance costs between a CMYK DTG printer vs. DTG printer with white ink?
White ink, specifically the titanium dioxide in white inks, are more sensitive to the environment and require more maintenance. CMYK DTG printers like the Roland VersaSTUDIO BT-12 don't have as many requirements. You're able to set a BT-12 up in a home or office, use it, and wait for the prompts to clean it— after printing around 100 shirts. Cleaning takes about 5 minutes, and you're basically cleaning around the print head and removing any dried inks in the area. This is a big plus to anyone looking for an easy-to-maintain solution, especially if you're a small business that isn't printing high-volumes of prints.
Cleaning DTG printers with white inks will have various schedules as recommended by the printer manufacturer. It can include daily weekly, monthly, and yearly cleaning and purging of the ink lines. The reason for the frequency of cleaning is to prevent the white inks from drying and clogging the print head nozzles. Failure to do this will result in an uneven white base layer that affects the output (see image below). If you're not printing frequently, you will still have to flush out the inks— something that you will have to factor into your business costs.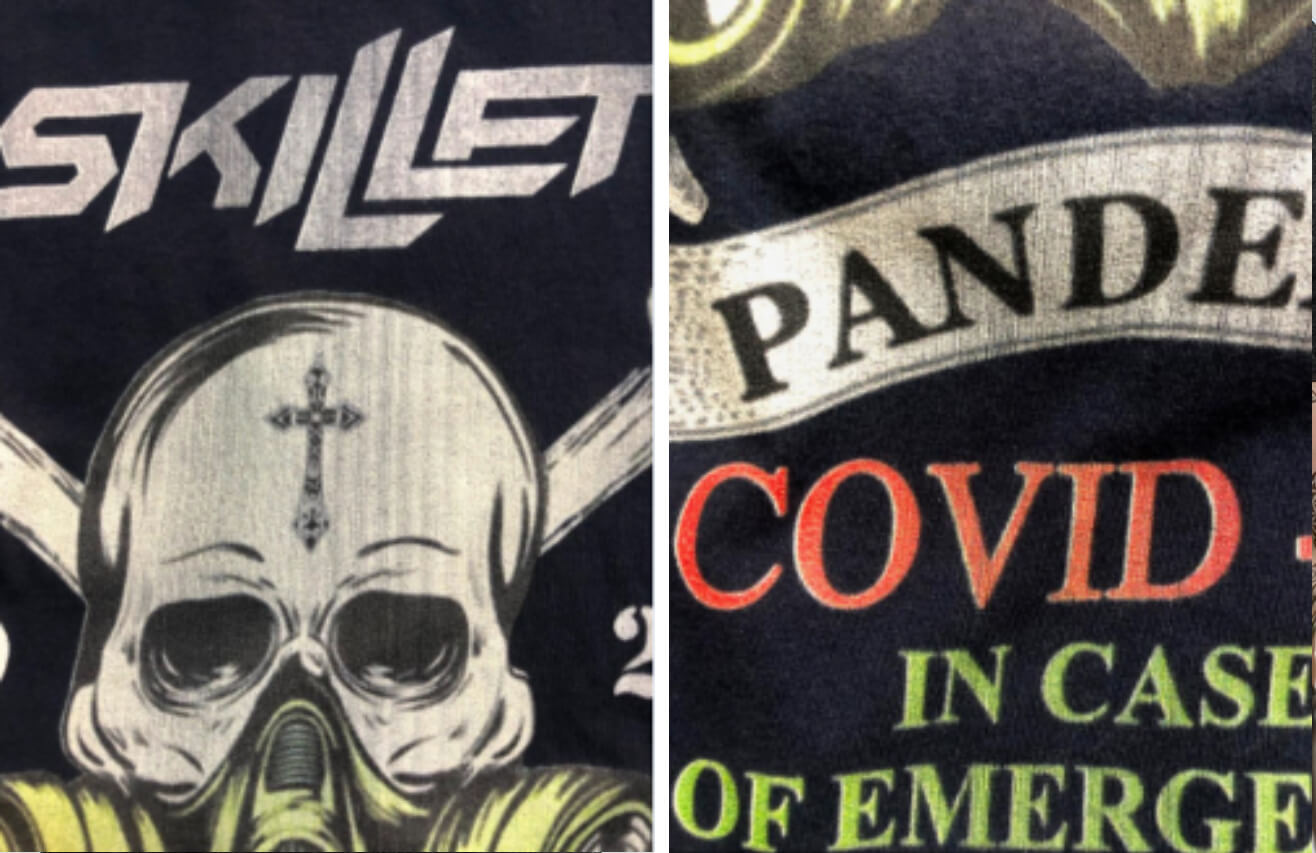 The images above illustrate how clogged print nozzles can result in print banding and poor print quality
Is there a difference in learning how to use a CMYK DTG printer vs. DTG printer with white ink?
Typically, people are able to operate a VersaSTUDIO BT-12 fairly quickly. Roland DGA offers step-by-step videos to help users that include unboxing the printer and setting everything up, tips and tricks for workflows, improved durability, and how to use the design software that's included.
White ink printers on the market have software videos and support content to guide you through the design and printing of white layers and CMYK overprint, but there will definitely be a longer learning curve to learn and perfect the pre-treatment and white ink printing process. Expect a bit more waste and a lot more practice on scrap pieces of fabric to get the process down.
Now that we've laid out a few key things to consider when choosing a DTG printer for your business, we hope this eases you in your buying process. If you're interested in Roland DGA's simple but incredibly effective desktop direct to garment printing solution, we currently have a $99-a-month VersaSTUDIO BT-12 direct-to-garment offer so that you can start the new year, printing onto apparel, tote bags, bandanas, and so much more.