Interview with Lee Ball, Lead Wrap Installer at Richard Childress Racing Graphics Center Powered by Roland DG
In the final installment of our blog series in which we showcase the very talented people at RCR Graphics Center powered by Roland DG, we interviewed Lee Ball who heads the installation team. He talked to us about how much the industry has changed over the last few decades and that the days of taking eight-to-ten hours to paint a NASCAR race car are long gone in an organization that can fully wrap a car in just a few hours, thanks in large part to the technology and resources provided by Roland DG.
Lee is the lead race car wrap installer at RCR, and this is his fourth year with the organization. Prior to joining RCR, he raced late models around local tracks and applied his own wet decals to his cars. After leaving high school he worked at Roush Fenway Racing in the paint and body shop, left the racing industry, and then returned to the racetrack to apply decals for Truck Series Team NTS Motorsports. Although he has a lot of vehicle graphics experience under his belt, he explained that nothing could prepare him for what he would walk into when he joined the RCR Graphics team.
"It has been incredible working here at the RCR Graphics Center. The Roland DG machines pump out an incredible amount of wraps each year. I couldn't believe the mass production of wraps that were done here. In 2018, I think we wrapped over 400 race cars!"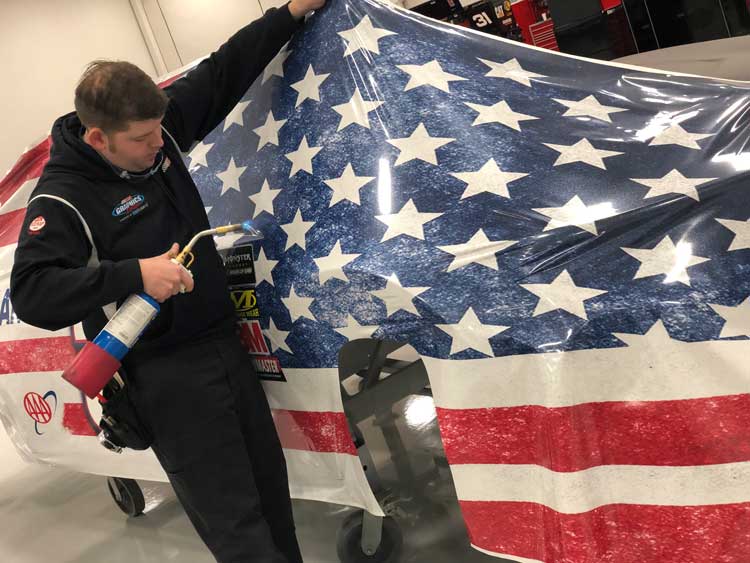 Lee Ball, skillfully installing racecar graphics for RCR Graphics Center— using an acetylene torch round the hard-to-wrap areas.
RCR Graphics Wrap Process
Lee described how his role in the process comes at the very end, when it's time to put the actual wrap on the vehicle. Only when Design Director, PJ Brassard provides a design and Production Manager, Mitch Miller has finished printing it on a Roland DG, do Lee and his team get to physically apply the printed wrap designs to the cars. The application process requires a great deal of prep work to ensure the wrap goes on the car smoothly and remains in place. Lee gave us a unique insight into how much care and attention goes into the wrap prep process at RCR.
"When we go to the shop to wrap a car, it has a base coat of sealer on it. We will clean the car with alcohol and a body solvent cleaner, then spray a quick coat of spray wax on the car to enable the wrap team to easily remove the wrap once they get back from a race weekend."
Lee also revealed an additional, handy piece of wrap advice that his team of top vehicle wrap professionals apply to their wrap work to ensure good adhesion and clean wraps.
We also put liquid glue down in our trouble areas where the wrap may want to lift and use a tack rag to clean any dust and particles off the car so that we have a clean wrap."
After the pretreatment stage, Lee and his installers use their immense skill and experience to apply the wrap to the car. Two installers will split the work with one working on the nose and hood, while the other handles the rear of the car, decklid and roof until the car is complete. His team members use an acetylene torch to help mold the vinyl material to those hard-to-fit areas on the car, such as the quarter panels and hood. Lee explains that with today's materials, the installation team doesn't have to deal with as many bubbles or creases that cause issues with the wrap application.
"Our material is so good these days that it has miniature air channels throughout the vinyl, allowing air to escape and prevent bubbles from occurring in the wrap. If you do have a bubble, you can usually just push on it a little bit and the air will disperse through those air channels."
Lee went on to explain the vast difference in todays vinyl films and materials when comparing them to the decal materials he had to deal with when he first started out in the business.
"I look back and see what people were doing back in the day, when they had to wet-apply all of the graphics, that was really something and it took a lot longer!"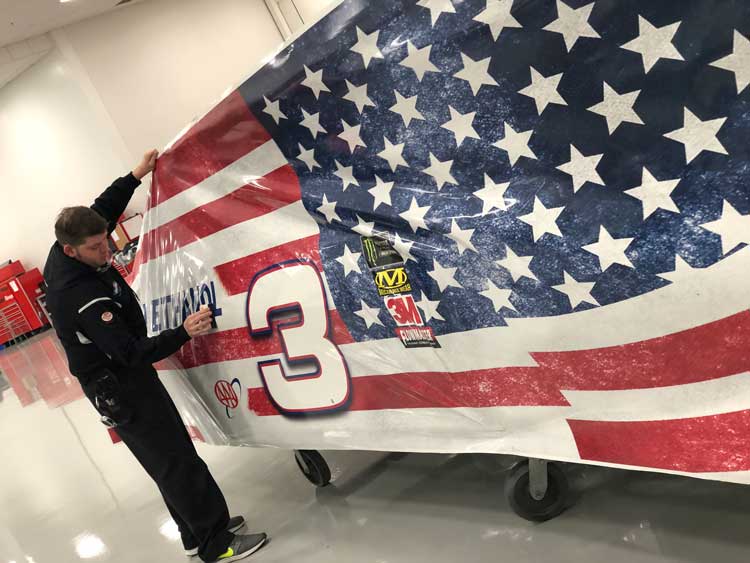 Lee Ball, stretching and smoothing down areas of the vinyl along the vehicle— although it still requires immense skill and precision, this process has been made easier with today's materials.
Wrapping During the Race
When working in a NASCAR wrap environment, installation doesn't end at the body shop and the road crew may have to remove and apply a new wrap to the car at the racetrack if an accident during practice requires body work. In order to get those crew members up to speed, Lee explains that his team provide training in wrap application during the offseason to ensure they are doing exactly what they need to be doing.
"All our guys are well-trained, and I feel pretty comfortable when they have to repair a car and rewrap the car while at the track. I don't worry about it too much. They do a great job and it always looks good on TV."
Throughout his four years as a part of the RCR Graphics Center, two wrap schemes really stand out to Lee as the most memorable. The first is the Dow scheme used on the No. 3 Chevrolet when Austin Dillon won the 2017 Coca-Cola 600 at Charlotte Motor Speedway. It was particularly memorable to Lee because it was part of the NASCAR Salutes Program, in memory of U.S. Navy SEAL Joshua T. Harris. It featured a wooden texture with an American flag to represent tradition and sacrifice. The unique design of the wrap was special to the entire RCR organization, but to see it end up in Victory Lane made it even more legendary for Lee and everyone in the RCR Graphics Center.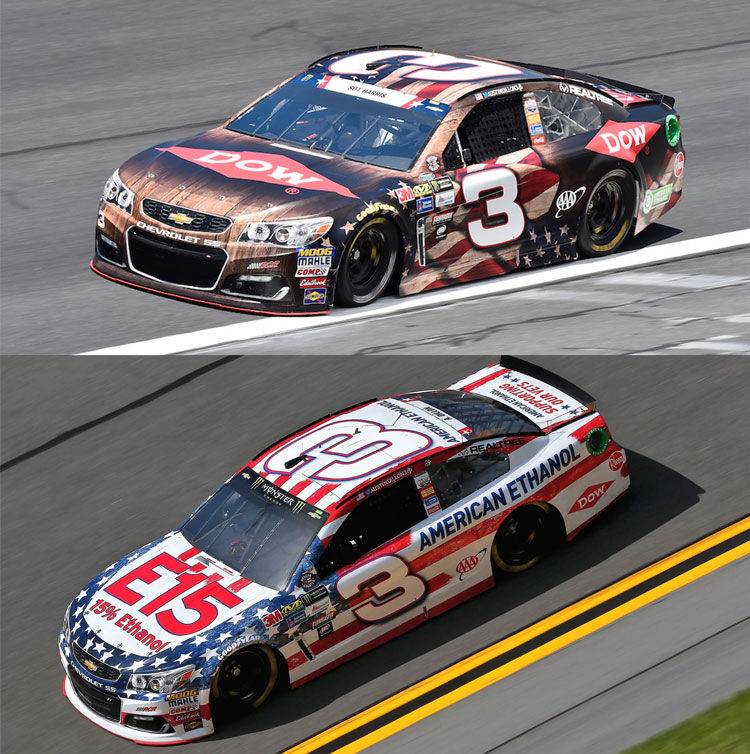 (Top) Austin Dillon race winning No.3 Dow Chevy at the 2017 Coca-Cola 600 at Charlotte Motor Speedway (Bottom) The No. 3 American Ethanol Chevy for the Fourth-of-July weekend race at Daytona— two of Lee Ball's favorite RCR wraps.
The No. 3 American Ethanol patriotic scheme that Dillon ran in the annual Fourth of July weekend race at Daytona International Speedway was another scheme that stands out to Lee. He described it as being particularly important to him because he personally designed and developed it.
"PJ gave me the reigns for that car, so it was neat to be able to design a wrap, put it on the car and see my work on TV."
As Lee starts his fourth year with the RCR Graphics Center , he talked to us about his goal for the group, to keep growing and improving.
"When I first started here, we were in a small building up by the road and I was just doing the Xfinity Series cars. Now, I am looking after the Cup cars, the Xfinity Series cars, we're doing our own paint protection film, and we have increased our overall business and moved into a larger building here on campus. If we continue the trend of growing, there are endless possibilities available to us."
Lee Ball is a supremely skilled and dedicated wrap professional. He enables the exceptional graphics created by the graphics team to look absolutely amazing by installing precisely wrapped vehicles that are ready for the NASCAR spotlight. Lee and the RCR Graphics Center team of professionals create quality products by using quality materials, printed on top-quality Roland DG print devices, allowing RCR Graphics Center to shine in the industry.