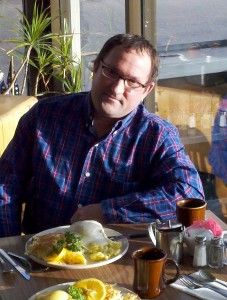 I had breakfast with Jack, one of Roland DGA's service managers this morning. We do this occasionally when he is in town from his home base of Wisconsin, and since greasy spoons are in pretty short supply here in southern Orange County, we always seem to wind up at The Snooty Fox. If you're ever visiting us for training or a demo, I recommend it.
Aside from consuming copious amounts of gravy, we spent most of the conversation discussing the support tools currently available at rolanddga.com. While I think we have the best support group in the business, they do take time off to do things like sleep, so we're constantly adding content online to address users' most frequently asked questions. The great thing about these documents, videos, and FAQ's is that they are available all the time. That means on a weekend or in the middle of the night when you are trying to get a job out and need to set up PerfCut, you can find out how to do it.
In fact, almost every product in the line has at least 5 or 6 videos associated with it, and lots of documentation covering specific help topics. These can be accessed through the support wizard, or directly from the "Technical Support" tab of every product page.
We always need help though, or at least a prod in the right direction. If you followed any of the links above, you probably noticed that you can contact us if you don't find what you are looking for. That feedback is how we know what to work on next, so please give it to us if we missed something. Or, comment here and let me know what additional support information we could offer to help you get the most out of your Roland DG.