Even though this year's SGIA Expo returned to the familiar Las Vegas Convention Center, for Roland DGA there was an increased buzz around our booth, with a new company mantra, "Built to Build Your Business". As part of our focus on providing technology, training, service and knowledge to support company success, our rotating stage featured the always popular vehicle wrap demonstrations, alongside a new series of "How I Built My Business" interviews with influential Roland DG end users.

With a new message and a heightened focus on what we can do for our customers, the Roland DGA booth at SGIA Expo demonstrated how we remain the leading choice for building print and graphics businesses.

The New Roland DG Booth Graphics and Exhibits
Throughout the Roland DG booth, attendees were wowed by our new graphics and print samples that highlighted the color, quality and application possibilities of Roland DG technology. In addition to the print and print/cut displays of TrueVIS printers, we also exhibited the many profitable capabilities of VersaUV printers, including our "Feel the Color" wall showcasing texture ink effects on a variety of substrates and our new COTO Design Software for easy printing onto multiple products with Roland DG UV flatbeds. Texart dye-sublimation displays presented both vibrant soft signage and ChromaLuxe metal signs that featured stunningly eye-catching designs.

Top) Stunning Texart printed graphics on a metal ChromaLuxe panel and on backlit fabric (center) Texart section with simply brilliant graphics and apparel (bottom) VersaUV printed graphics with cool, modern graphics to showcase the depth of color and image clarity

From attendee's reaction to the graphics and products on display at the Roland DG booth, it's very apparent that specialty graphics are garnering increased interest and playing a more prominent role at SGIA Expo as an essential new market for sign and graphics professionals. Roland DG printed lunchboxes, journals, bar stool seats, ukulele cases, and other exciting products and substrates generated a great deal of interest in attendees who are looking to expand their graphics output.

(Top) TrueVIS and VersaUV print samples illustrate the application diversity of Roland DG print solutions (centre) The VersaUV LEJ-640FT UV flatbed printer— printing directly onto tiles during the show (bottom) VersaUV printed graphics on bar stools, ukulele cases, phone cases and lunchboxes

Rather than just being about "feeds and speeds", this year's booth reflected the higher quality graphics output that Roland DG machines produce. Attendees got to see amazing skin tones, coloring and shading with our new, eye-catching imagery— showcasing the superior print abilities of our machines. There was a new focus on providing booth graphics and samples that attendees could interact with. The graphics were very "human" and personal, telling a story about the individual Roland DG brands in a harmonious use of brand colors and messages. Nicole DelPrato who manages Roland DGA's events explained how this year's graphics differed from last year:

"Last year's SGIA show we showcased the spirit of the city by wrapping a vintage Rolls-Royce and producing graphics that reflected the spirit of New Orleans. This year, we celebrated the graphics community with designs that captured the spirit of the Roland DG brand with stunningly beautiful and dynamic images of people."

~ Nicole DelPrato, Roland DGA Marketing Manager, Campaigns & Events

BLI Award for TrueVIS VG Printer/Cutters
With such graphic excellence on display at the Roland DG booth, it's was no surprise to anyone that the quality of output on our TrueVIS brand was recognized by Buyers Lab, the global experts in imaging equipment and solutions. A special in-booth ceremony at the show highlighted this special achievement with Roland DG's President, Digital Printing Business Division, Kohei Tanabe, accepting the award for TrueVIS VG series printer/cutters that won the prestigious BLI 2019 Pick Award for higher image quality, wider print gamut, high-speed productivity and dimensional stability.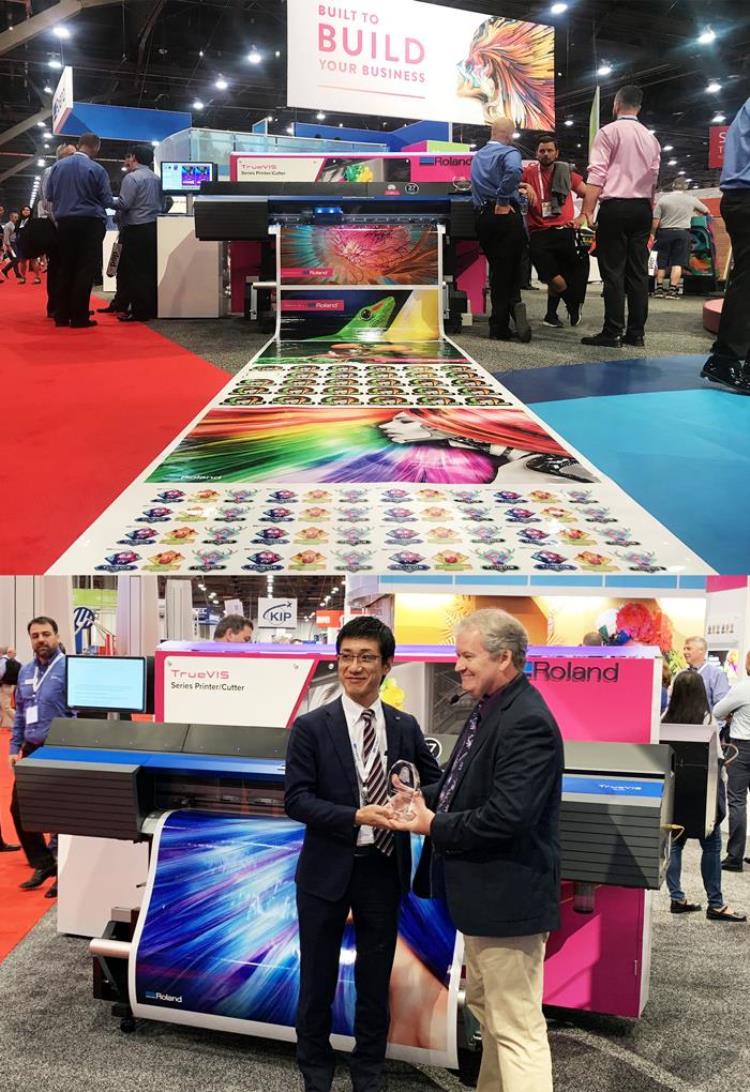 (Top) Vividly colorful and detailed prints coming off a TrueVIS printer/cutter at SGIA Expo 2018 (bottom) David Sweetnam, Director of Research and Lab Services for Keypoint Intelligence (right) congratulates Kohei Tanabe, Roland DG President, Digital Printing Business Division (left)

Energy and Excitement from the Roland DG Stage
One of the biggest draws to the Roland DG booth this year was the revolving Roland DG stage that hosted packed wrap exhibitions from Matt Richart and Dallas Fowler of Digital EFX Wraps and "How I Built My Business Interviews" in which Matt Richart spoke to a number of business luminaries from the world of sign, design and specialty graphics. Nick Woodward from Richard Childress Racing talked about high volume graphics production and NASCAR racecar wrapping while movie set print expert, Martin Charles shared his knowledge about designing and printing for major motion pictures like the Avengers and Minority Report. Audience members were given rare insights from these successful graphics and printing experts about running a business and discussed subjects that included "knowing when to say no to customers", diversifying products, and successfully integrating design and production into a sign and graphics business.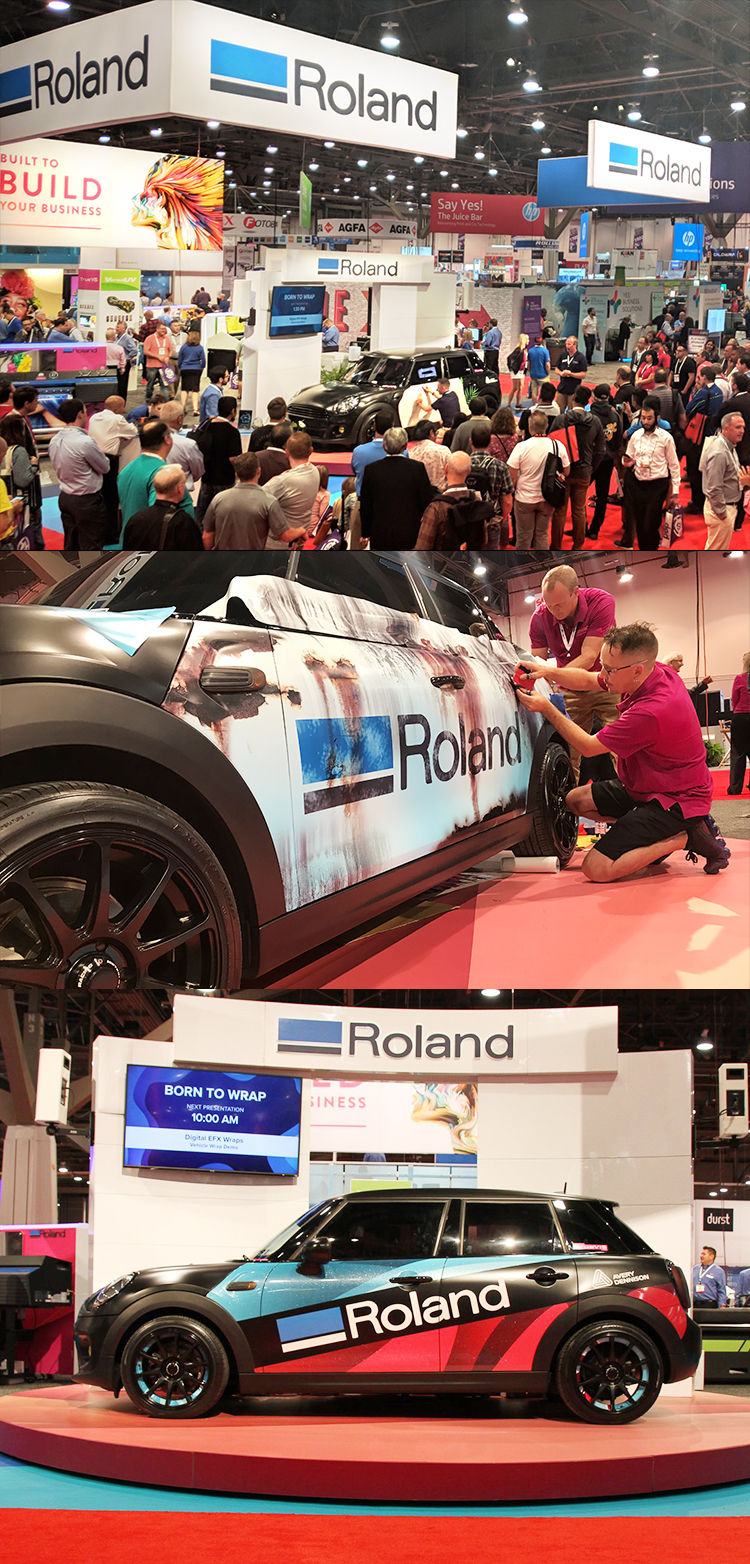 (Top) Roland DGA's Born to Wrap demonstrations continue to be a big draw for attendees at SGIA Expo (center) Matt Richart and Dallas Fowler from Digital EFX Wraps apply graphics to a mini to create a radical "rust effect" graphics (bottom) A fierce-looking mini on the revolving Roland DG stage

Matt also talked to sign and graphics business owner Luis Vivas who explained how he went from owning no machines and outsourcing print jobs, to owning multiple Roland DG printers and producing signage for Lucasfilm, Facebook, and Google. Closing out our series of interviews, Matt talked to James Atwood who has quadrupled profits at Impact Sign Company by convincing his company to invest in Roland DG VersaUV equipment and diversifying the company's output. Roland DG's Dan Wilson who was key to planning and organizing the interview series, described how the interviewees shared business stories that were inspiring to a crowd of SGIA Expo attendees:

"Judging by the crowd's reaction, SGIA attendees could really relate to the personal stories that mirrored their own business. I think what also struck a chord with audience members was the value of producing your best work in everything you do — quality output matters and that's why Roland DG is so important in the industry."

~ Dan Wilson, Roland DGA, Marketing Director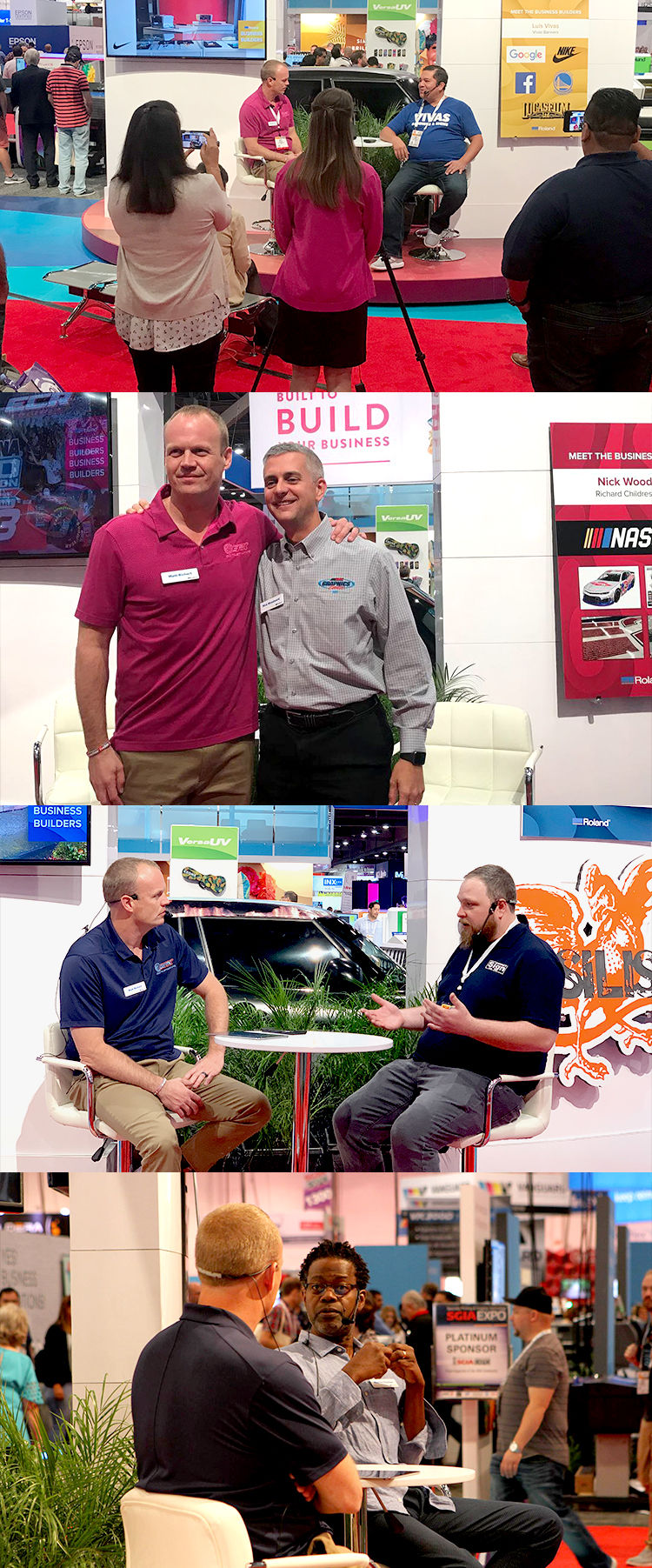 How I Built My Business Interview Series with Roland DG host, Matt Richart: (Top to bottom) Luis Vivas, Vivas Signs and Banners; Nick Woodward, Graphics Manager for NASCAR® team Richard Childress Racing; James Atwood, Graphics Manager, Impact Sign Company; Martin Charles, Film designer and The Oscars® Academy member

New Excitement About Printing and Specialty Graphics
Much of the Roland DG stand communicated the idea that the very same design that a customer might want on a vehicle can also be printed onto golf balls, metal, wood, etc. Specialty graphics and business expansion is now a major talking point for attendees and Roland DG representatives at SGIA. Within our booth, our products, applications, and Roland DG representatives who arranged private meetings with attendees to discuss new business solutions, showed how Roland DGA is facilitating a much easier shift into new applications with easy-to-use software combined with VersaUV, Texart, TrueVIS, and DGSHAPE machines.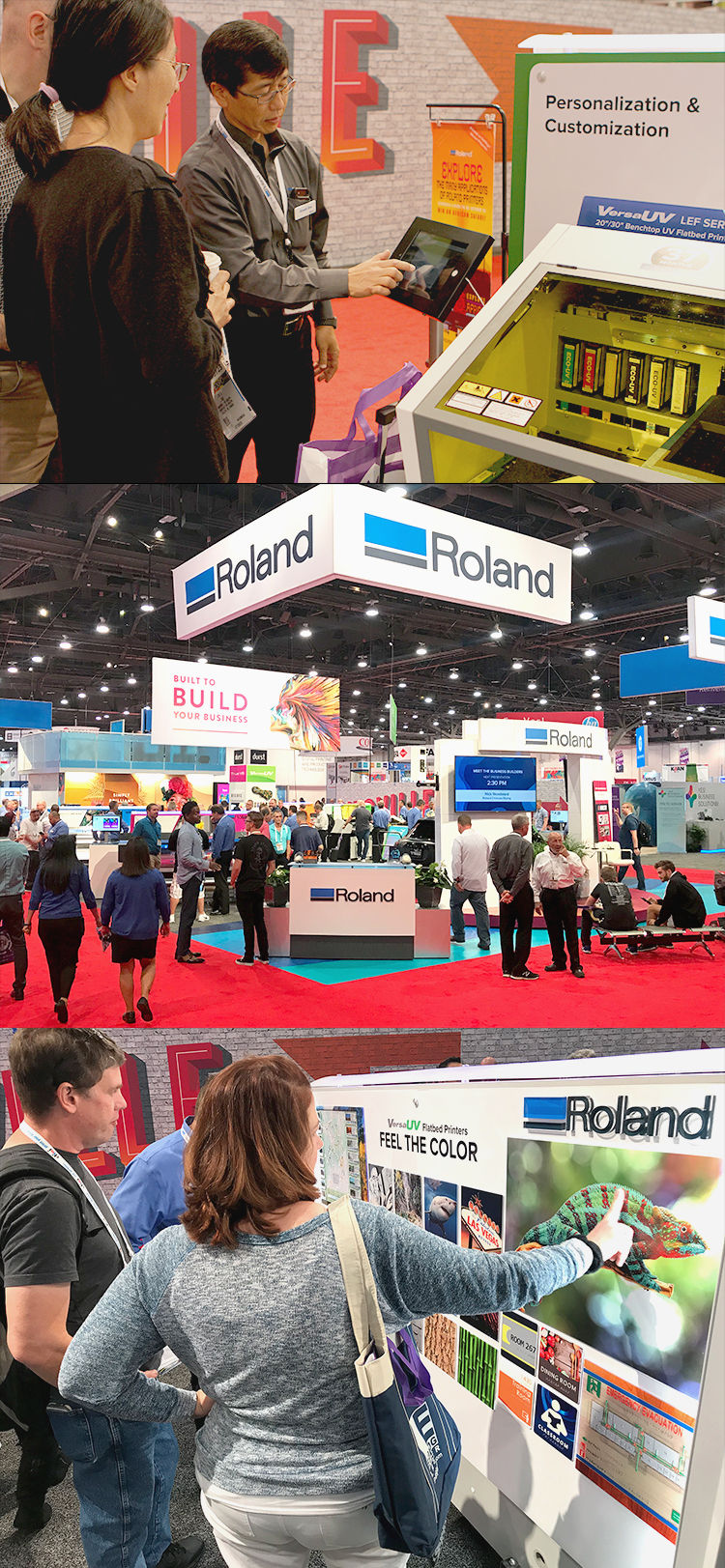 (Top) Hiroshi Ono, Roland DG, Senior Global Program Manager, demonstrates new COTO Design Software for VersaUV print customization (center) A constantly busy Roland DGA stand showcased a wide range of print customization and specialty graphics solutions (bottom) Attendee feels the texture of a print substrate on our VersaUV, Feel the Color wall

According to many of the Roland DG representatives at SGIA Expo 2018, we had one of our most successful shows of recent years. The conversations, demonstrations, wrap shows, and interviews caught people's interest and imagination, while the graphics were sophisticated and coordinated without being bland and corporate to reflect a creative community. From the floors to the walls, we made our booth about sign and graphics people— creating a more personal view of the Roland DG brand.

Please check back soon on the Roland DG News Views & How To's blog for our How I Built My Business Interviews– recorded from the Roland DG Main Stage at SGIA 2018.