Last week, I had the chance to spend some time with Roland DG end users at one of our "Digital Printing Boot Camp" classes, and as always, I enjoyed the experience, and came away impressed. One of the things I particularly noticed was just how varied our users are. Even with a class of about 10, we had Roland DG owners from every region of the US, as well as one from Canada.
While all of them were here to learn more efficient ways to produce and finish their output, they started from different points. At least one user bought her VersaCAMM strictly to decorate apparel, and was just starting to explore the idea of making signs and banners. Another was a sign shop who discovered the ability to decorate apparel while here. There was also a SOLJET owner that specialized in soccer uniforms, but prints vinyl, banners, and posters as well.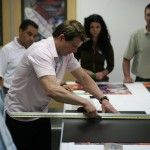 Instructor David Goetter showing the proper way to trim a substrate.
As you have probably read by now, we recently relaunched our training initiatives as "Roland DGA Academy." The process we went through while doing this gave us a chance to reevaluate our course offerings and our training methods. As a result of conversations with dealers, users, and students, we have kept some of our most popular courses like "Born to Wrap" and "Boot Camp" while adding new delivery methods.
Two weeks ago, Roland DGA offered our first training webinar for end users, and we will continue to offer them at regular intervals. That means Roland DG users can get great training and access to new information and techniques without taking time out of the office or worrying about travel. In fact, we will be launching a promotion soon that will waive the fee for webinars to any registered owner between now and the end of the year.
Now we need your help. While we do have the first several webinars already planned, we want to make sure we are providing classes that are up-to-date and relevant to Roland DG users. We would appreciate any feedback or suggestions on topics in the comment section of this blog. I can't promise that every suggestion will result in a new class, but we will do what we can to answer your questions and make the right content available.