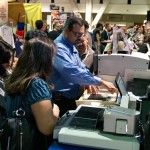 Rick demonstrating the Roland DG rhinestone solution.
Quick, look at the clothes you're wearing. If anything you are wearing has been embellished with printing, embroidery, a heat transfer, rhinestones, studs, or a host of other techniques, then it is officially decorated apparel. The ISS Long Beach Show opened today, and as usual, I saw some exciting and unexpected things. There were lots of blanks, including T-shirts, hats, bags, jackets, sweatshirts, and athletic gear, but there was also a booth full of slippers, and one full of dog clothing.
If you follow this blog, you may realize that this is my second post mentioning dog clothing. I swear it is just a coincidence. I have a dog, and I have never dressed him. Really.
The decorated apparel industry is dynamic and growing, and uses a lot of Roland DG technology, which I think says a lot about the flexibility of our cutters, engravers, and printers, and printer/cutters. Just at this show, there were rhinestone solutions based on EGX engravers, cutters and printer/cutters making heat transfers, and Roland DG dye sublimation printers. The users we talked to are dreaming up new and creative applications for our hardware daily. We'd like to hear what you're doing with your Roland DG and apparel, so tell us in the comments section. If you have a Roland DG and you aren't decorating apparel, check out this section of our website to see what it might be capable of. You will probably be surprised to find that the machine you bought to make trophies, banners or signs will also do a great job on T-shirts, hats, bags, and yes, even dog clothes.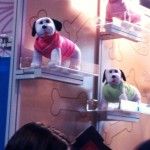 Dog clothes on display at ISS Long Beach