A New Beginning
SVN Designs | Miami, Florida
Last year, Facundo Miller, a successful printing business owner in Argentina, decided his business's future lay in the U.S. In June 2022, he and partner Brandon Quevedo started SVN Designs in Miami, Florida. While launching a new business is never easy, especially in a different country, within just a few months their shop had more than 165,000 followers on social media. All that exposure quickly led to orders – lots and lots of orders – for their unique printed artwork and signs.
Delivering quality products to a diverse audience worldwide is SVN Designs' hallmark. We talked with Facundo about bringing his business to the U.S., how they successfully marketed their new enterprise on social media, and what production equipment they are using to support this tremendous new beginning.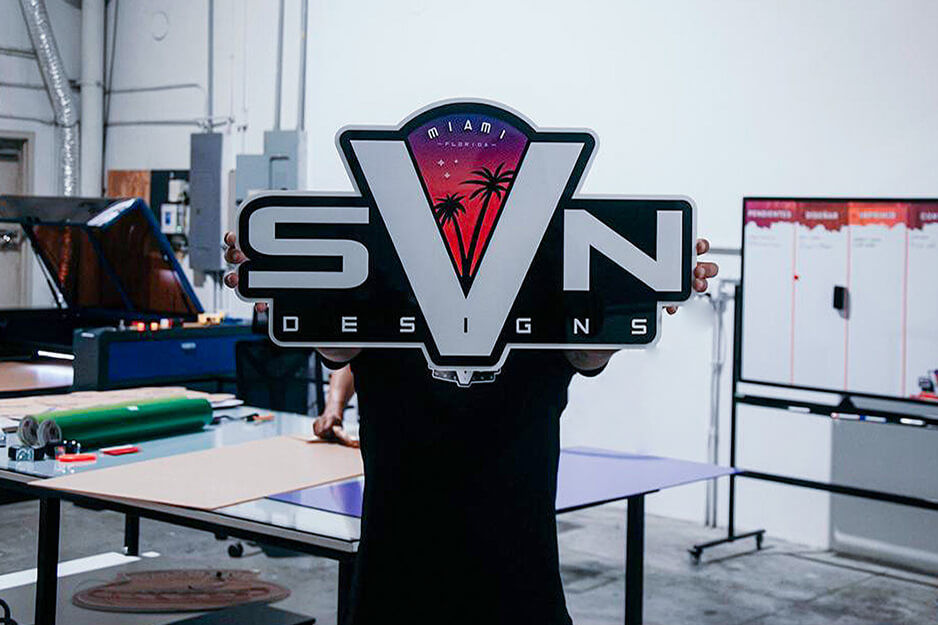 How did you decide to relocate?
Facundo Miller: We felt our business would have more success in the United States and decided to move to Miami. In Argentina, our company was called Grafica Tecno 7. The number seven was always very special for us, and we wanted to call our Miami business Seven Designs, however that name was already in use, so we went with SVN Designs.
"...We chose the TrueVIS for our shop because its output is vastly superior in terms of quality and color gamut to any others we've seen."
The first weeks were hard, like all beginnings, and even more so considering that we came from another country. On June 1st, we made our first post on social media and today we have more than 165,000 followers, which has had a giant impact on sales.
We had high hopes for our relocation, but even so, we have been surprised by how well we've been able to do here in the United States.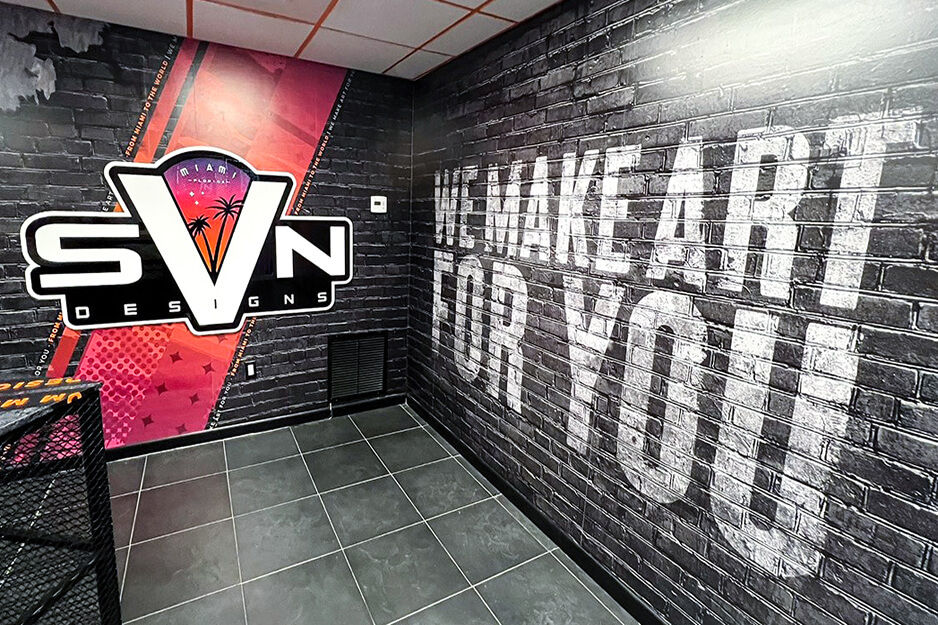 How is SVN Designs set up?
We currently have five people on staff, including myself and Brandon. Jose and Pipi handle production, and Fede is our graphic designer. We have a showroom in Miami, but our main sales channel is online sales, handled through our website.
All of our designs are our own. Brandon and I create them with Fede, our graphic designer.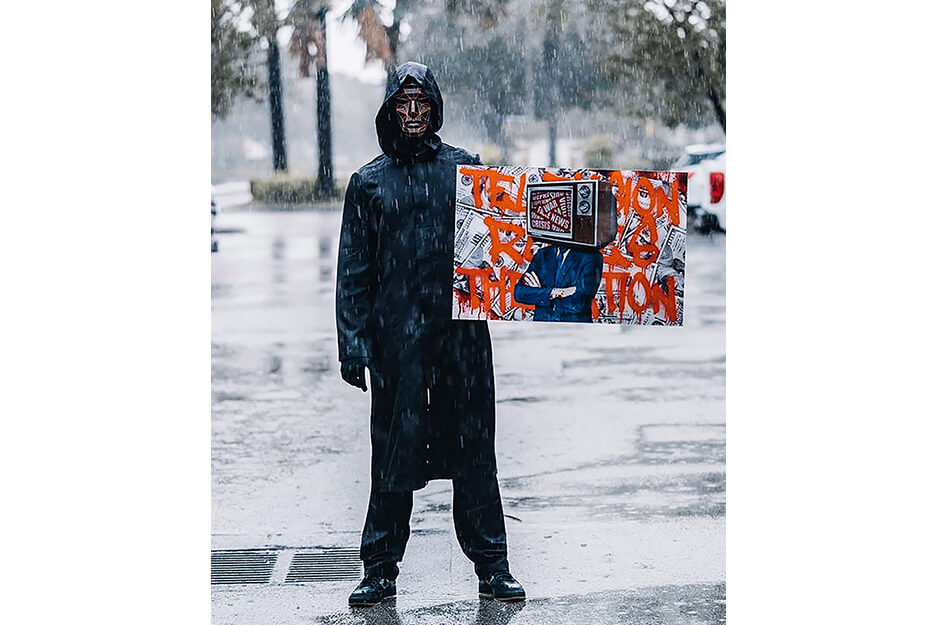 How did you attract clients to your new business?
One of our main slogans is "From Miami to the world" and that has been our guiding principle since the beginning. We wanted to start in the U.S. and eventually expand our reach worldwide, but everything happened much faster than we thought. We are already selling to clients from 17 countries in North and South America, Europe, and Africa. We hope to reach many more soon! We are very excited to be able to bring our art to all parts of the world.
Most of our clients find us through our posts on social networks, mainly Instagram and TikTok, but little by little we are also generating a surprising number of word-of-mouth referrals.
We have a good mix of clients. We have several corporate clients that are already frequent customers, who contact us when they need to promote their brand. We also have many individual customers.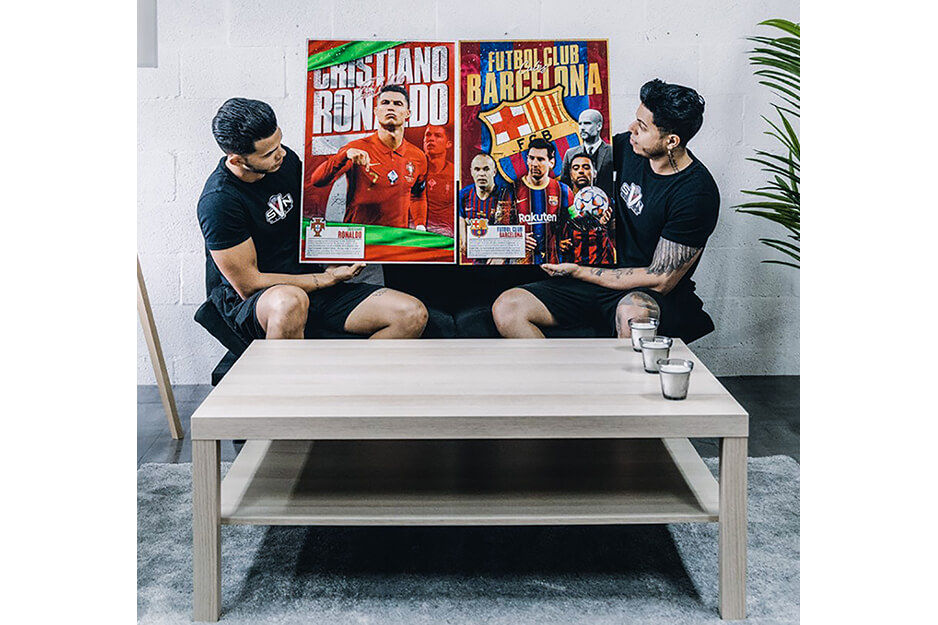 What are some of your most popular products?
Our star products are the logos we create for businesses. The corporate signage business is very important to us.
The original designs we publish on the website are growing in popularity with consumers. We know that we offer a premium product, and we want to make it available to as many homes and businesses as possible.
How is your production area set up?
Our production area has several laser cutting machines, a laminator, and a Roland TrueVIS VG2-640 wide-format printer/cutter. We use the 7-color configuration including, magenta, cyan, yellow, orange, light black, green and black, which provides outstanding color saturation.
We've used Roland DG inkjets before, and we chose the TrueVIS for our shop because its output is vastly superior in terms of quality and color gamut to any others we've seen. In addition, in Argentina as well as here in Miami, we have received excellent pre- and post-sales service.
What do you see for the future of SVN Designs?
We have experienced exponential growth in just a few months, so we hope that next year we'll be able to incorporate additional staff in production, graphic design, and social networks. In regard to equipment, we want to add new laser cutting machines and a UV flatbed printer from Roland. Having flatbed production capability would be a breakthrough for our company, allowing us to expand our product offerings and continue to provide superior quality with improved production times.