One of the ways we obtain valuable information is by sending out surveys to gather end user feedback that helps us make important decisions on the design and functionality of DGSHAPE devices, decisions that will have a positive effect on lab technicians and owners alike. Many of the responses we received from our most recent survey suggest that improving productivity should be our number one priority.

Our solution, is the newly designed DWX-52DC 5-Axis Dental Mill with Automatic Disc Changer. The DWX-52DC vastly increases productivity with the included Automatic Disc Changer (ADC), that allows users to insert up to six material adapters at one time. Mill with the most popular materials in disc form, as well as composite resin blocks using the pin-type material adapter, completing restoration jobs without pause. With its ability to mill unattended, the DWX-52DC is a machine that can truly revolutionize your restoration workflow and free up your nights and weekends. Plus, this new mill comes with all the unmatched support, automated maintenance, and ease of use you've been accustomed to with our previous mills.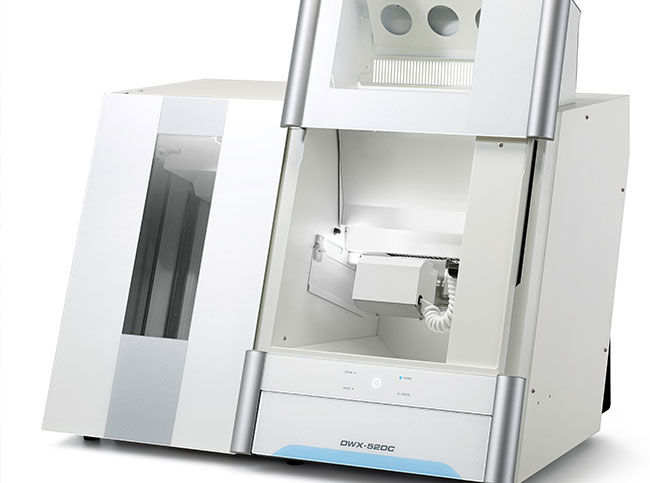 Looking at other disc-changing systems on the market, you may ask "what's so different about the DWX-52DC?" Well, for starters, the DWX-52DC features a smart Optical reader improving communication with the CAM software to ensure that your desired adapter is always used. In addition, we've employed an O-Clamping System that allows for the removal of milled restorations without removing the material from the adapter.

Each DWX-52DC adapter is barcoded. After placing these adapters in the stacker in the order you wish, the Optical reader is smart enough to recognize each newly inserted disc when that specific job is selected for production.

With the DWX-52DC you can load various types and shades of zirconia, as well as wax and PMMA, or even focus specifically on chrome cobalt sinter metal. That's right, the DWX-52DC can mill CoCr sinter metal – a new material that we've added to the lineup, along with fiber reinforced resins.

The DWX-52DC also lets you load fresh materials into the partitioned chamber of the ADC, even when the mill is running. Any slightly used material disc can be put back into production without repositioning it in the clap – saving time and giving you the freedom to mill any way you want.

Now that you know all disc adapter systems are NOT created equal, you'll be pleased to learn about the DWX-52DC's other unique features. For easy maintenance, an optional cleaning tool removes up to 97 percent of material waste from your restorations after milling is completed. Another innovation is the automatically adjusted air pressure that fine-tunes pressure based off the material you select in the CAM software. Finally, the mill has a 15-station automatic tool changer with integrated Intelligent Tool Control, giving users the flexibility they need in a high production machine.

The DWX-52DC is a dental mill that never stops working, is easy to maintain, and gives you consistent quality. It's a next-generation device that takes productivity, versatility, efficiency and convenience to a whole new level.