Ceramic Tile Printing Machines
Ceramic Tile Printing Machines
Roland DG supplies advanced ceramic tile printing machine technology that allows users to print onto decorative tiles, stone tiles, rocks and glass tiles. With customization solutions that include Texart dye-sublimation printers and VersaUV printers, you can achieve high-end, high-value customization results for art, home décor, branding, interior design, and other profitable applications.
Printing on Ceramic Tiles
Create unique interiors by adding company brands or original artwork to decorative tiles. Roland DG offers two ceramic tile printing machine solutions for creating custom graphics for backsplashes, murals and wall details in homes, hotels, restaurants, coffee shops and other locations. Print directly onto tiles with VersaUV printers or create printed graphics for dye-sublimation heat transfer application with Texart printers.
Tiles with Texture and Customization that Rocks
Directly print onto everything from ceramic tiles to glass tiles, and even slate and roughly-textured stone products with VersaUV flatbed printers. A range of ceramic tile printing machines that include desktop-sized LEF models offer quality color results as well as amazing Gloss ink textures for adding a unique tactile element to your designs that you can see as well as feel.
Fluorescent Tile Graphics and Metal Decoration
With a choice of sublimation tile blanks, Texart Dye-sublimation tile printing machines offer brilliant tile customization as part of a dye-sublimation workflow. Featuring fluorescent inks with a choice of hundreds of bold neon colors and subtle pastel shades, XT-640 and RT-640 printers are the ideal choice for tile and décor applications. In addition, Texart printers can produce graphics for ChromaLuxe metal photo panels, providing sophisticated custom tile applications.
Print Directly onto
Tile with UV Flatbeds
Roland DGA supplies a range of desktop, benchtop and large-scale UV flatbed printers that can directly print on ceramic, tile and rock surfaces. With the addition of Gloss inks, users can add unique textures and patterns, and raised text effects.
See UV Flatbed Printers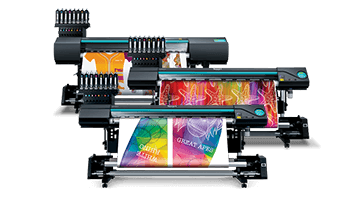 Create Graphics for
Tiles with Texart Printers
Available in 64-inch models, Roland DG Texart dye-sublimation devices offer simply brilliant heat-transfer printing onto tile blanks as well as ChromaLuxe photo panels and other décor items.
See Texart Dye-Sublimation Printers