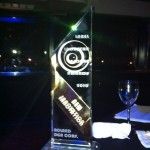 The Award Itself
Hey! Our Roland DG VersaUV just earned the Label Industry Global Award for new Innovation at Label Expo this week! How 'bout that!?! The VersaUV has been around for a few years now and although it's gained some momentum recently, it remains for the large part unknown among most of our target audience.
In case you are one of the many who don't know, the VersaUV LEC Series is an inkjet printer/cutter that uses UV-cured inks. It not only prints (on almost anything – including press materials), it also creases and cuts – all in one device, making it great for label prototyping and short run production, package prototyping, color proofing. The clear inks make it great for all sorts of short run specialty production.

So back to my story… I might be a bit biased, but I truly believe we have a great product. The challenge we face is that the technology is so new to the market, packaging professionals are creating comps and proofs the old way, unaware there is a better way. When the product DOES finally get their attention, and prospects comprehend its vast capabilities (it can even simulate spot varnish and embossing), their eyes light up with incredulity. My favorite such experience was with a customer who found the LEC online during a late night at the office after chucking his spray mount across the room in frustration. After reading about us online, visiting us at a local tradeshow, he still wanted to come in to a demo event at our facility. Turns out he thought the LEC was too good to be true and was trying to find the catch. He looked and looked, but couldn't find any reason NOT to buy the product, so he took the plunge and bought one.
Earning this award from the labeling industry is exciting for us. Perhaps we're not the only ones who think the LEC is revolutionary.
Before I go, here's one more link. We just posted some photos of the award and our booth at Label Expo, and we happen to have a few other LEC photos up there. Enjoy. Flickr Photo Fun
Dede