New 6-Pin Adapter Designed to Increase Milling Capacity of the DGSHAPE DWX-42W Wet Dental Mill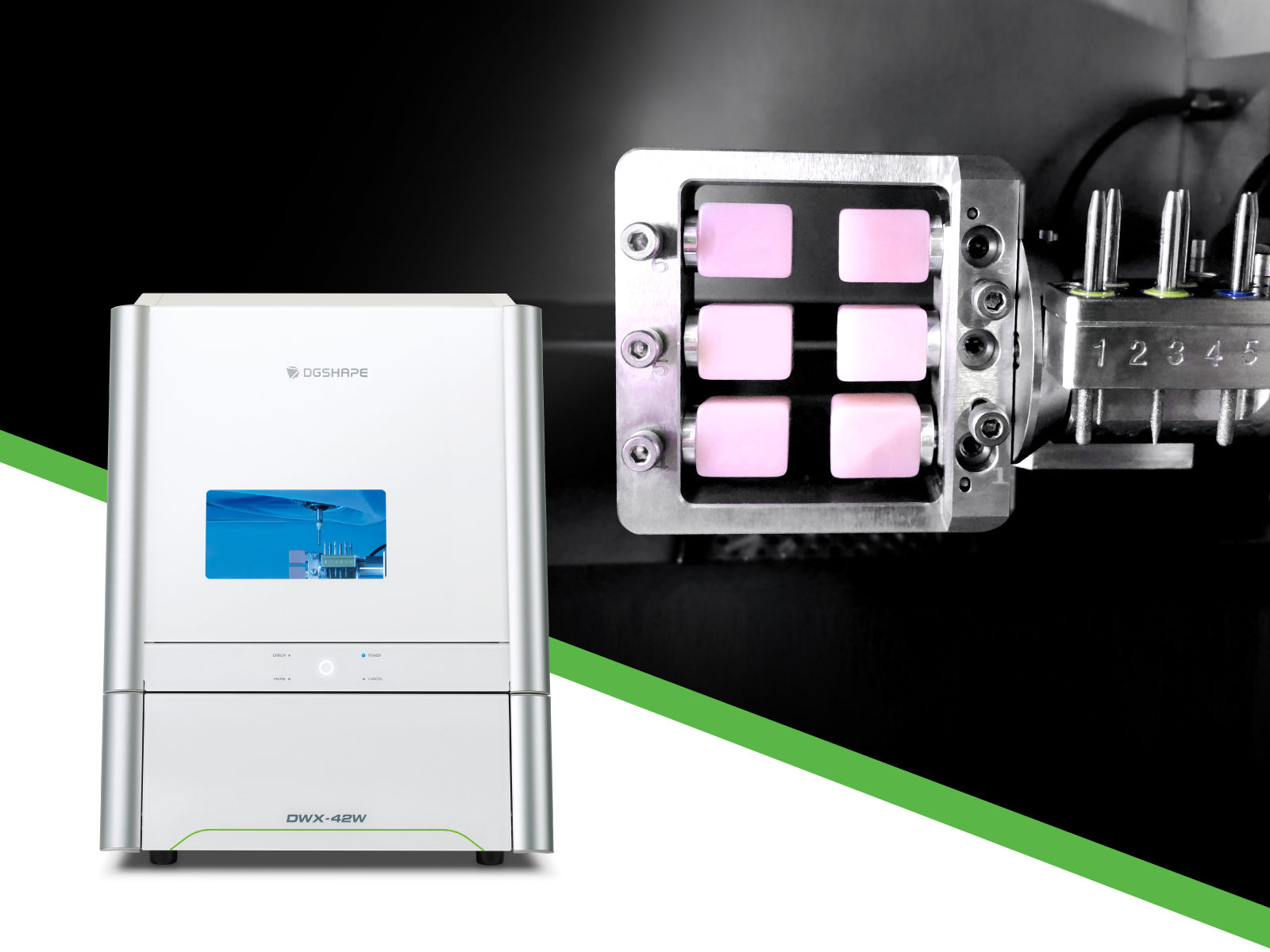 Irvine, Calif., February 23, 2021 – Roland DGA's DGSHAPE Americas dental business group has announced the availability of a new 6-Pin Adapter designed to increase the overall milling capacity of its advanced DWX-42W wet dental mill.
The new 6-Pin Adapter (part number ZV-42W) enables the DWX-42W to mill up to six 14 mm material blocks – twice the total allowed by the standard material adapter. In addition, the 6-Pin Adapter base can be used interchangeably with the DGSHAPE AK-1 Abutment Kit.
"This innovative 6-pin adapter is another great accessory developed to further expand the functionality and productivity of our state-of-the-art DWX series milling machines," said Roland DGA Product Manager of Dental Solutions, Lisa Aguirre. "Simple to install and easy to use, it significantly increases the DWX-42W's milling capacity, saving clinicians and dental lab technicians time and money."
The 4-axis DWX-42W wet dental mill is uniquely engineered for on-demand milling of glass ceramics, nano-composites, inlays, onlays, veneers, and even custom titanium abutments with the DGSHAPE AK-1 Abutment Kit. It incorporates a host of cutting-edge features – including open architecture, a 6-station Automatic Tool Changer, Virtual Machine Panel (VPanel), ethernet connectivity, new grinding burs, and more – to provide quick, cost-effective and highly esthetic CAD/CAM restorations.
Both the DWX-42W and the new 6-Pin Adapter (ZV-42W) are available through authorized Roland DGA dealers. The 6-Pin Adapter can also be purchased online at the Roland DGA Store. For more information on the complete line of DGSHAPE dental devices and accessories, visit https://www.rolanddga.com/dental.
About Roland DGA Corporation and DGSHAPE Americas
Roland DGA Corporation serves North and South America as the marketing, sales, distribution and service arm for Roland DG Corporation and its subsidiary, DGSHAPE. Founded in 1981 and listed on the Tokyo Stock Exchange, Roland DG of Hamamatsu, Japan is a worldwide leader in wide-format inkjet printers, engravers, photo impact printers and CNC milling machines. DGSHAPE Americas is the Roland DGA dental business group dedicated to the DGSHAPE line of products, most notable as a market leader in dental milling machines. To learn more about Roland DGA Corporation and DGSHAPE Americas, visit https://www.rolanddga.com/dental.
About DGSHAPE Corporation
DGSHAPE Corporation designs and manufactures hardware and software solutions for entrepreneurs who want to fulfill their dreams of creating something new to "Shape the Future." We cater to multiple industries, including medical, manufacturing and retail. We help innovators unlock their dreams by removing barriers to creation through intuitive technology that simplifies the user experience, including interface, software and maintenance, multi-axis rotary milling technologies, and Internet of Things (IoT) analytical platforms. Everything we do is motivated by creating tools to "Make Innovation and Make Life Better." To learn more about DGSHAPE Corporation, visit https://www.dgshape.com.