A Guest Blog Written by Rick Hatton, Banner Ups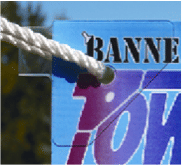 When it comes to banners, especially those being displayed outdoors, durability is just as important as eye-catching graphics and colors. It's crucial for an outdoor banner to be strong and capable of standing up to anything "Mother Nature" can dish out. While it might seem like steel grommets would be a stronger option for outdoor applications than a plastic tabs, in practice, just the opposite is true. Consider the effects of wind, for example. Because grommets focus the wind load into a tiny area, they often cut through the banner media and rip out when the wind blows. By contrast, Banner Ups tabs spread the force out over a much larger area, providing up to three times the resistance of grommets alone. Here are 10 ways you can use Banner Ups products to increase the strength of your banners, while reducing the cost of labor and materials reduce the cost of labor and materials:
To avoid grommet tear-out, install PowerTabs instead. They're about 2-3 times stronger and require a fraction of the time to install.

For long banners, instead of making a folded hem by sewing, welding or using double-sided banner hem tape, apply single-sided Banner Ups PowerTape along the top and bottom edges of the banner. When used with PowerTabs, fabrication can be completed in 3-4 minutes.
Does your customer require grommets? You can still use PowerTape to increase strength and reduce labor time. Just apply PowerTape and grommet through PowerTape and banner media.
For ultimate strength use Banner Ups MegaTape – a double-sided version of PowerTape made with the same super-strong film – to create a folded hem that can withstand high winds. To view amazing video of MegaTape withstanding hurricane-force winds, click here.
Accurately folding a banner hem with double-sided tape can be tricky. To learn a simple tip for installing MegaTape, or any double-sided tape, perfectly every time, click here .
Are you using scraps of vinyl to reinforce your grommet holes? Forget it! This adds almost no strength. Instead, grommet through a PowerTab. It will double or triple the strength.
Tired of the unsightly look of grommets? Banner Ups has developed a "Hidden Tab" trick that makes all reinforcing materials completely invisible. Interested? Click here.
PowerTabs and other Banner Ups products can be used to replace grommets for pop-up display stands. Install a tab on each corner and then insert the tension post through the tab center hole.
Looking to maintain profit on low-cost banners for churches, schools and other non-profit organizations? Sell them an unfinished banner plus PowerTabs. Installation is so simple they can do it themselves. Instructions are printed on the back of each sheet.
Need a simple way to convince your customer to select PowerTabs over grommets? E. L. Hatton will supply (at no charge) a convincing strength comparison test. Click here to view.
How to Submit a Guest Blog: Roland DG is now accepting "guest blogs," such as the one above, for possible posting at the "Tips & Tricks" section of our website. If you're interested in sharing application-related tips and pointers that would be of value to others within the industry, please contact Marc Malkin via e-mail, mmalkin@rolanddga.com, for details and guidelines.