Expand All
|
Collapse All
What is the Value Up Program? 
The Value Up program allows current TrueVIS SG-300/540 and VG-540/640 printer/cutter owners to upgrade to the newest TrueVIS TR2 Ink formulation and add many of the new generation TrueVIS production features to their existing model though a firmware update.
Why do I need to make this switch now? 
Because Roland is discontinuing TR INK by February 1, 2021. This means that you will need to upgrade sooner rather than later to make the necessary switch to superior TR2 inks and improved machine performance. You don't want to leave it too late and be unable to purchase fresh ink cartridges.
Is TR2 Ink less expensive? 
TR2 Ink is actually less expensive per ml than TR (TrueVIS INK) with a cost difference of $5.00 a cartridge. In addition, running cost will be lower overall due to optimized cleaning cycles when using new TR2.
Will I get the exact same color reproduction and output? 
Both TR2 and TR (TrueVIS INK) provide outstanding image quality and color gamut. This color quality is slightly different when comparing the two inks, due to enhanced dot patterns when using TR2 inks that provide improved image quality. This may also slow down print speeds in some modes by about 10%.
What are the major benefits firmware upgrade and transition to TR2 Ink?   
When using an SG or VG series printer with TR2 inks, the output is now covered under the manufacturer warranty from Avery Dennison (ICS). The VG series is covered by both Avery Dennison (ICS) and 3M (MCS) manufacturing warranties. TR2 inks also offer all the outstanding image quality and wide color gamut of original TR (TrueVIS INK) with added dot pattern color enhancement. Additionally, the firmware upgrade allows SG and VG users to utilize many of the updated features built into the new generation TrueVIS and Roland VersaWorks 6.
Will this affect the manual and automated cleaning cycles? 
Automated cycles will be shortened and happen less often. Manual maintenance prompt will change from once a week to once every two weeks. You can continue manual cleaning once a week if that is your current schedule.
What does the firmware set-up process consist of? 
STEP 1: Gather the items required for the upgrade Ink, Cleaning Pouch, Cleaning Liquid, Manual Maintenance Kit
STEP 2: Register user product or validate existing registration
STEP 3: Proceed to the download page for Firmware update and VW 6.3.2
STEP 4: Perform a printing test and check the condition of print heads
STEP 5: Install the firmware update and replace the ink
STEP 6: Install the update of VersaWorks 6.3.2
Do I change inks out one at a time? 
When converting to TR2 from TR (TrueVIS INK), you will have to change over all the inks at the same time.
What if an issue occurs to my machine during the upgrade process? 
Should any issues occur during the upgrade, you can contact your authorized Roland dealer, or Roland DGA technical support, here. Please note, standard warranty terms and conditions will apply, and machines out of warranty may incur additional service costs.
*Please note, TrueVIS printers not currently under warranty may incur costs associated with onsite support.
Will my current profiles still be active after I update? 
No, you will need to download updated profiles from the Roland Profile Center for your TrueVIS with TR2 inks.
Will my job settings in VersaWorks be affected? 
All job settings will not be saved when updating Roland Versa Works 6. Because the ink set is completely different, VersaWorks will accept the firmware upgraded printer as a fresh install.
What is a Value Up Kit and where is it available? 
The Value Up Kit contains all the items you need for transitioning your VG or SG to TR2 Ink set-up. It will be available to purchase through your local authorized dealer. There will be a specific part# that reflects the ink set you are using. The kit will reflect a 25% discount from MSRP if ordered on or before June 30, 2020 and includes TR2 Ink, TR2 cleaning pouch, and a manual cleaning kit.
Product
Product Number
Description
TrueVIS TR2 Ink
TR2-CY
TR2-MG
TR2-YE
TR2-BK
TR2-LC
TR2-LM
TR2-WH
Cleaning Pouch
TR2-CL
Cleaning ink Pouch 500cc
CLEANING KIT
(TR2-CL) SV 100ML
6000004662
Cleaning bottle for manual cleaning and cleaning sticks
Can I order a kit to change my current ink set to a different configuration 
No, the Value Up Program is only available to switch out like-for-like ink sets.
I use RolandPrintStudio not VersaWorks— are there any upgrade issues? 
There is one easily fixed error when upgrading to TR2 inks and using RolandPrintStudio software that relates to the ink configuration after updating to the new firmware. To fix this issue, make sure you activate the "Don't check printer inks" function as follows:
On the printer driver select the function key.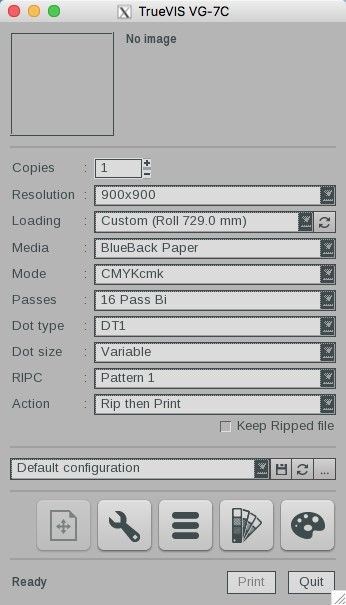 Activate the last check box and close the window.