New Features Added to Roland DG Connect App to Enhance Print Operation, Productivity, and Profitability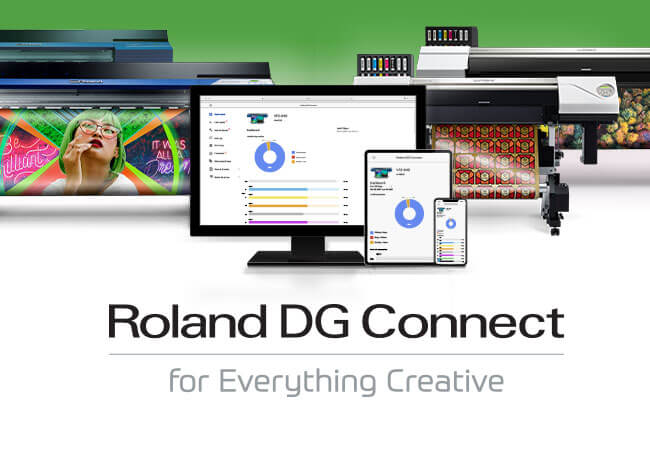 For more information, contact:
Marc Malkin
(949) 727-2100 ext. 1372
Irvine, Calif., October 26, 2021 – Roland DGA Corporation, a leading provider of wide-format inkjet printers and printer/cutters, has announced the release of Roland DG Connect version 1.1, which includes new features to increase the visualization of printer productivity, efficiency and profitability, now for an expanded range of Roland DG printers.
Introduced earlier this year, Roland DG Connect was developed to optimize customer satisfaction and success by providing a more powerful operating environment, improved workflow, and increased business insights, while benefiting people with different skills, goals and requirements.
The latest updates to the app include a new printer monitoring function that maximizes printer efficiency and production by allowing users to check the operational status of multiple machines in real time. Also new is a "business dashboard" that enables users to perform simple profit and cost calculations by entering the unit selling price of the output and the prices of ink and media. This system fosters greater profitability by setting appropriate sales prices and increasing cost awareness.
With the recent addition of new inkjets like the VersaUV® LEC2 Series UV-LED printer/cutters and the VersaUV® LEC2 S-Series flatbed UV printers – in addition to the already compatible TrueVIS™ printers – the Roland DG Connect app is now available to an even wider range of customers. Roland DG also has plans to expand this list of supported products in the future.
"The innovative new features included in this latest release of the app makes Roland DG Connect even more robust and useful for our customers," said Daniel Valade, Roland DGA Product Manager of Digital Print. "Version 1.1 not only makes it easy for users to observe the status of their printers, streamline workflow, and increase profits, it also helps expand their creative possibilities."
Updating to the latest printer firmware is required in order to use the app with compatible models. Roland DG TrueVIS and VersaUV LEC2 owners can get started by first registering online at the Roland DG Connect page, and then downloading and setting up the app.
To learn more about Roland DGA Corporation, or the complete Roland DGA product line, visit https://www.rolanddga.com.
About Roland DGA Corporation
Roland DGA Corporation serves North and South America as the marketing, sales, distribution and service arm for Roland DG Corporation. Founded in 1981 and listed on the Tokyo Stock Exchange, Roland DG of Hamamatsu, Japan is a worldwide leader in wide-format inkjet printers for the sign, apparel, textile, personalization and vehicle graphics markets; engravers for awards, giftware and ADA signage; photo impact printers for direct part marking; and 3D printers and CNC milling machines for the dental CAD/CAM, rapid prototyping, part manufacturing and medical industries.
About Roland DG Corporation
Roland DG Corporation is the world's leading provider of digital printing solutions. The company's inkjet printers, printer/cutters and cutting machines are widely used to create a broad range of promotional items including banners, signs, vehicle graphics, stickers, and labels, and to provide customization services for apparel and personal items like smartphone cases. Recently, Roland DG has embarked on a promising new digital transformation frontier with the launch of its cloud-based service called Roland DG Connect which improves customer satisfaction and success by providing a more comfortable and stable operating environment, improved workflow efficiency, increased business development and profitability. The company has also developed proprietary design and print management software which offers an unforgettable creative experience by enabling customers to design their own gifts, apparel, and treasured mementos.