Roland DGA Launches the World's First Laser Foil Decorator – the DGSHAPE LD-80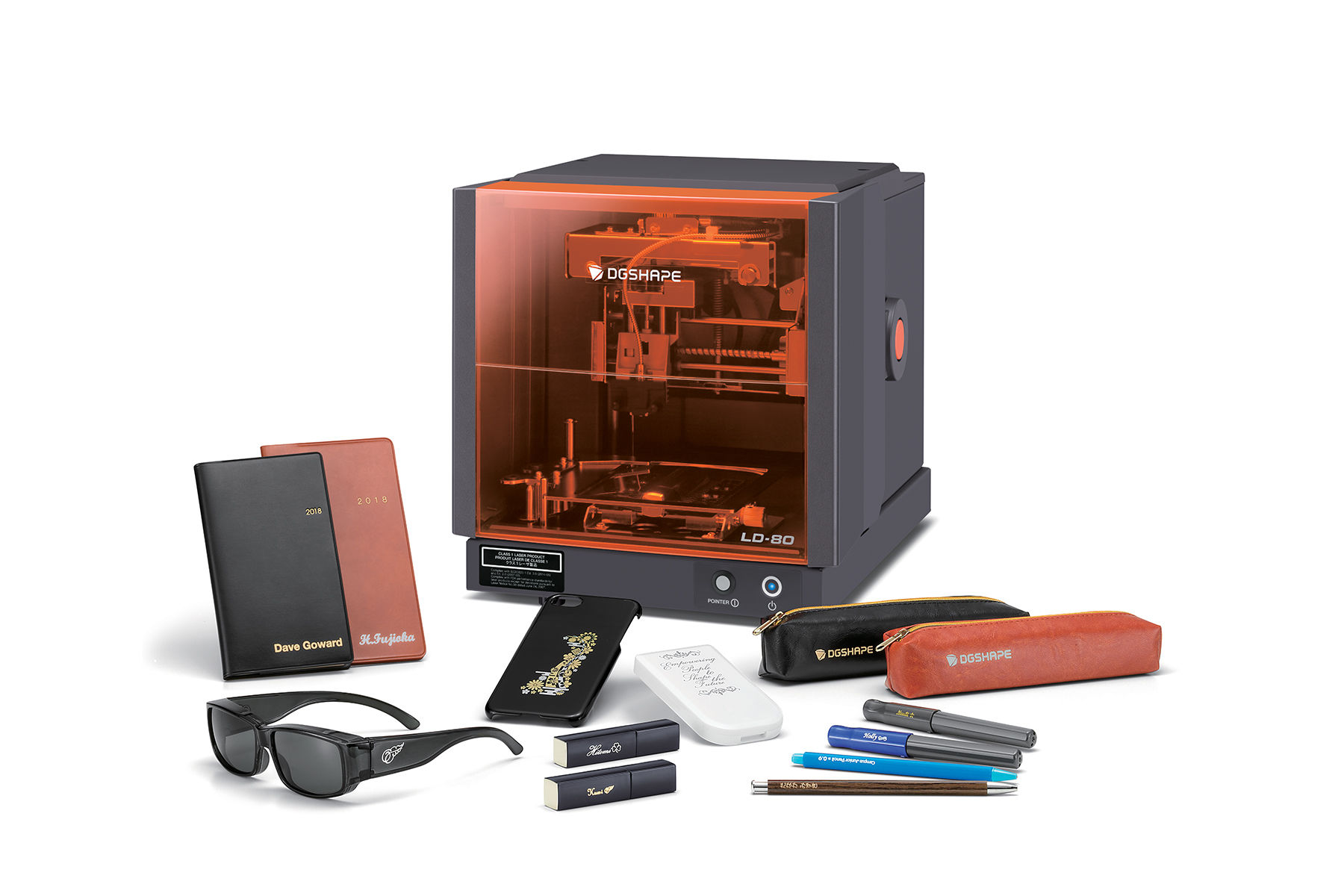 Irvine, Calif., March 22, 2018 – Roland DGA, a leading provider of wide-format inkjet printers, 3D milling machines, and other innovative digital devices, has announced the launch of the world's first laser foil decorator – the DGSHAPE LD-80. Engineered to enhance a vast array of items with text, logos and graphics using a variety of metallized and holographic foils, the LD-80 makes it easy to personalize and add value to small, off-the-shelf products such as pens, cell phone covers, stationery, and cosmetic accessories.
"While traditional methods typically perform adequately, they don't allow short runs, and they can overheat the plastics in some cases," said Matt Anderson, Roland DGA's Product Manager, 3D Solutions. "This is actually where the LD-80 excels. It's perfect for shorter runs and, with its focused laser, can transfer even small text and fine details to materials like acrylic, ABS and polycarbonate quickly, reliably and with incredible precision."
A variety of attractive foils can be used with the LD-80 to create stunning graphic results. Users can choose from a wide selection of gold, silver and other metallized foils, or even holographic foils, to produce a broad range of vivid, eye-catching designs.
The LD-80 comes bundled with a powerful, user-friendly software package that makes product personalization and customization simple. A wide selection of fonts are available, and settings like font size and spacing can be adjusted at the click of a mouse. Vector data can also be imported, including custom designs like illustrations and logos.
"Its small footprint and portability makes the LD-80 ideal for performing on-demand foil decoration just about anywhere," noted Anderson. "You can place and operate this desktop device in virtually any retail store or kiosk setting, plus it's easy to transport to special events like street fairs and festivals."
Compliant with the safest Class 1 International Standard* for products equipped with laser devices, the LD-80 incorporates a full-cover design to ensure it can be used safely without laser light being visible outside the unit. It also includes a failsafe design that stops the unit automatically if the cover is opened during operation. The exclusive design of the laser system eliminates dust or gas from being generated, ensuring maintenance-free operation. It also works on ordinary household power, requiring no electrical work for installation.
To learn more about the DGSHAPE LD-80 Laser Foil Decorator, visit https://www.rolanddga.com/products/engraving-machines/ld-80-foil-decorator. For more information on the complete Roland DGA product lineup, visit www.rolanddga.com.
* IEC 60825-1
About Roland DGA
Roland DGA Corporation serves North and South America as the marketing, sales and distribution arm for Roland DG Corporation. Founded in 1981 and listed on the Tokyo Stock Exchange, Roland DG of Hamamatsu, Japan is a worldwide leader in wide-format inkjet printers for the sign, apparel, textile, personalization and vehicle graphics markets; engravers for awards, giftware and ADA signage; photo impact printers for direct part marking; and 3D printers and CNC milling machines for the dental CAD/CAM, rapid prototyping, part manufacturing and medical industries.
About DGSHAPE Corporation
DGSHAPE Corporation was spun-off of Roland DG Corporation in 2017 as a wholly-owned subsidiary to develop and market the company's innovative 3D products, including DWX mills and DWP 3D printer for the dental industry, MPX photo impact printers and EGX engravers for the industrial labeling and personalization industries, and MDX and monoFab™ series of desktop milling machines for the rapid prototyping, manufacturing, and hobby industries. The company's products are distributed worldwide. To learn more about DGSHAPE Corporation, visit www.dgshape.com.