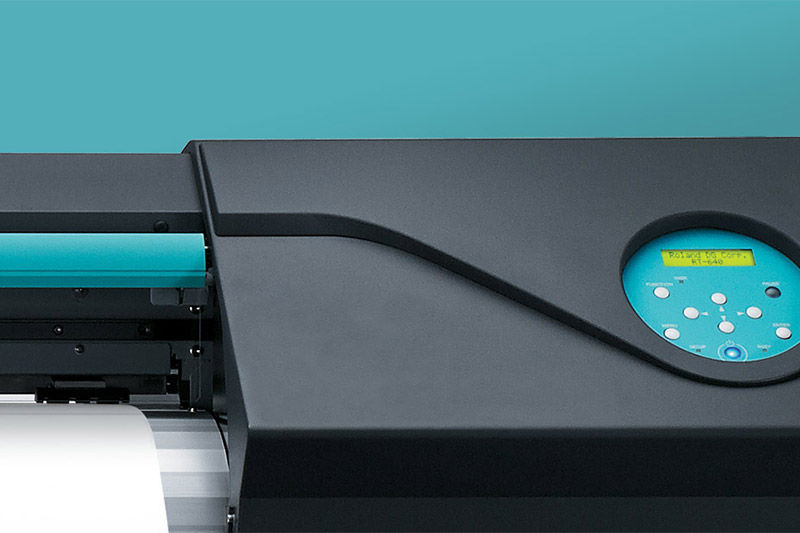 Texart RT-640 Dye-Sublimation Printer Features
More dye-sublimation substrates means more opportunity.
Dye-sublimation is a beautifully simple and affordable method of customization. With a large format set-up that includes an RT-640 and a price comparable heat press, you can get the most bang-for-your-buck as far as graphics and product branding goes. Simply print your design onto transfer paper and heat press it onto the available product blanks and dye-sublimation substrates:
Polyester fabrics
ChromaLuxe metal panels
Ceramic items
Flip-Flops
Lycra and performance Fabrics
Sporting goods
Smart Device Cases
Carpet tiles



Relieve tension with a smooth take-up system.
The RT-640 includes a feed adjustment function that combines with a TU3 take-up attachment to ensure a stable and uninterrupted production even in high-speed modes. The TU3
take-up system
includes a front-mounted roller and tension controlled take-up unit for smooth media feeding and tracking. Its main features include a roll media support that holds 110 lbs. (50kg), a dancer roller for effortless take-up, auto media release and auto media rewind, and a rotating shaft face to decrease resistance and ensure flawless feeding accuracy.


ErgoSoft is premium RIP software that's used extensively in the textile and dye-sublimation industry. ErgoSoft Roland DG Edition is specially designed for use with the RT-640 in 4-color and 8-color modes and features the following:
Work in print environments and print modes for the most common fabrics
Step & repeat and tiling features for advanced media saving and efficiency
Job cost calculation and other advanced production features
Superior color management with color replacement and extensive Colorbooks swatches
Combine RT-640 with Texart Transfer Paper for beautiful results.
Roland DG offers a premium transfer paper to meet the high-quality color and print demands of the RT-640. Specifically created for dye-sublimation and for use with the RT-640, Texart Transfer Paper is uniformly coated 95 gsm with excellent ink absorption, quick drying time and extremely high ink-release during sublimation. The combination of the RT-640 and Texart Transfer Paper saves money with decreased ink usage and produces high-resolution images, vibrant colors, and super-sharp text.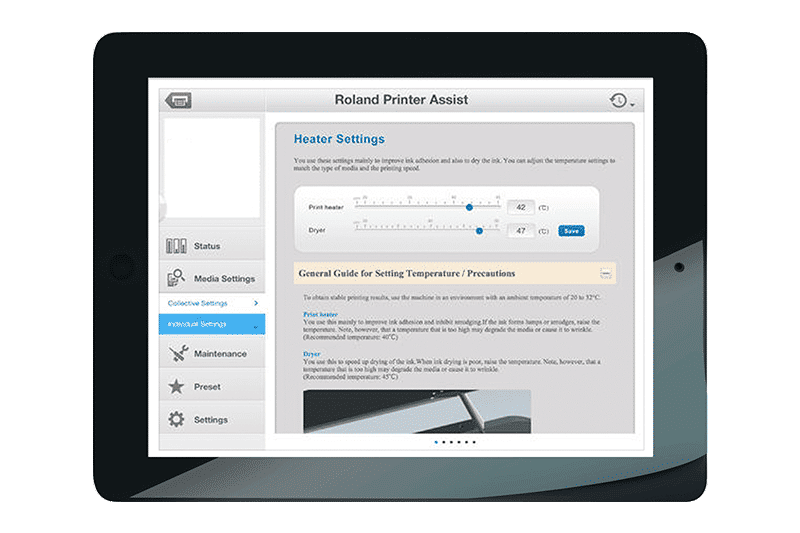 Remote controlled sublimation.
Manage your RT-640
dye-sublimation transfer printer
remotely from your tablet or smart device. Free-to-download from the iTunes App Store, the
Roland DG Printer Assist
app enables users to manage production from virtually any location. The main features of this incredibly handy and convenient tool include checks and interactive documentation of the amount of ink remaining and waste bottle status, Roland DG Printer Assist notification of consumable part replacement, managing test printing and machine cleaning, and power on/off controls.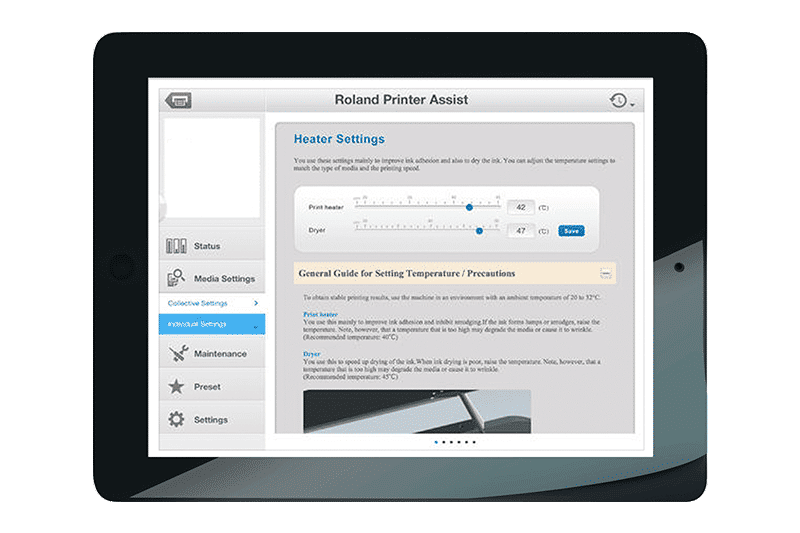 Presale Questions?
Chat is currently unavailable at this time. Please try again during our normal business hours, 7:00 AM - 5:00 PM PST.
Already Own a Roland?