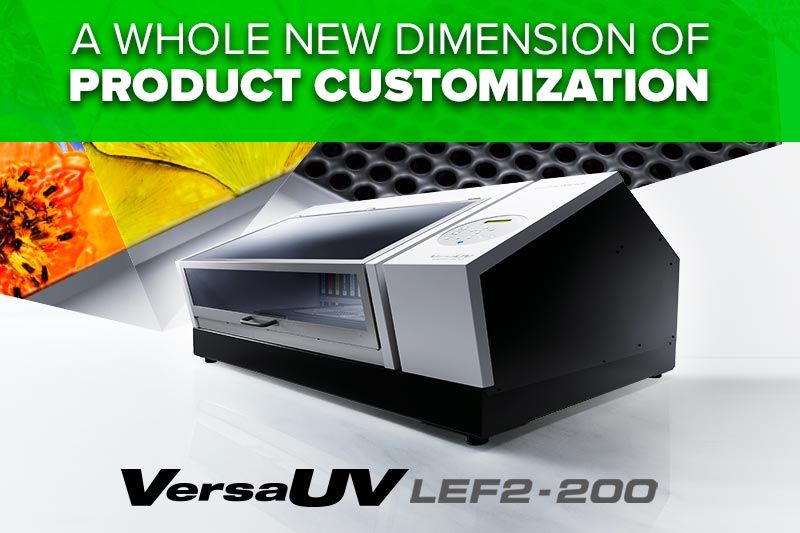 VersaUV LEF2-200 Benchtop UV Flatbed Printer
With optimized ease and efficiency, you can print directly onto accessories, giftware, ceramics, and countless other popular products. Create unique, desirable and highly-profitable custom items with the VersaUV LEF2-200 UV flatbed printer that offers brilliant color results, realistic textures and stylish embossed effects.
On-Demand Printing on One or Many Items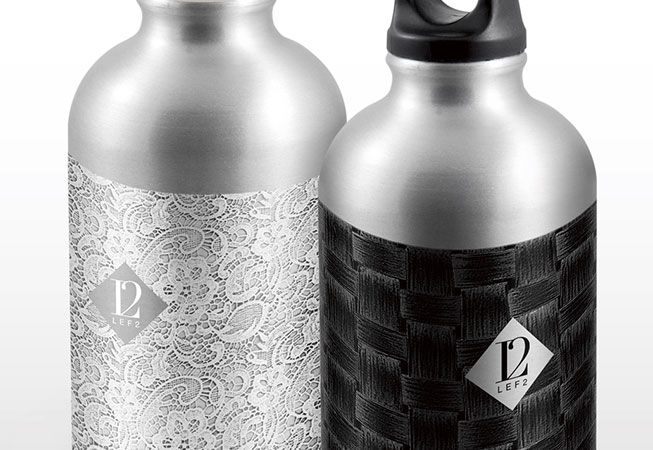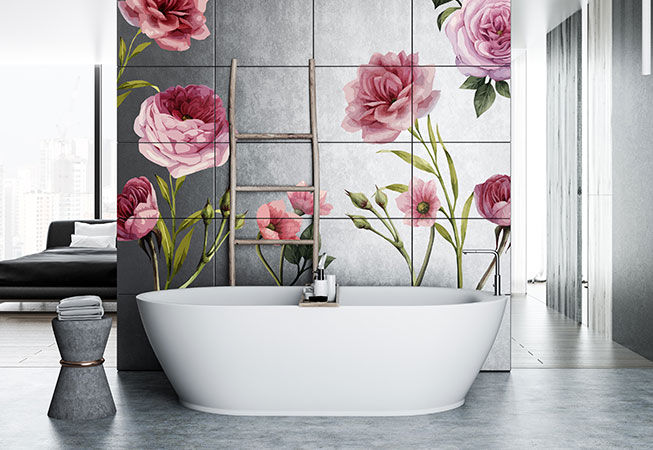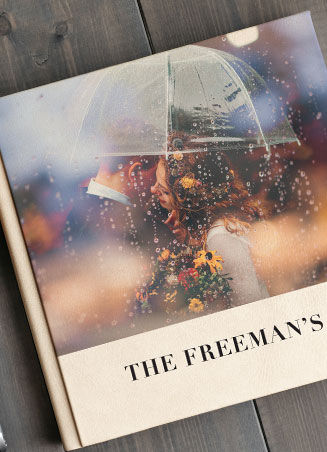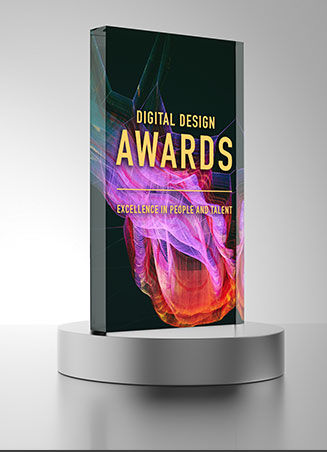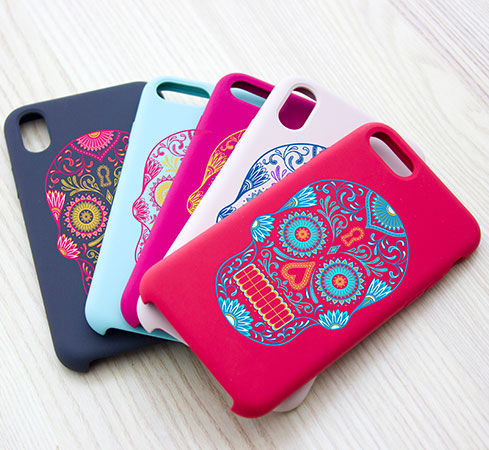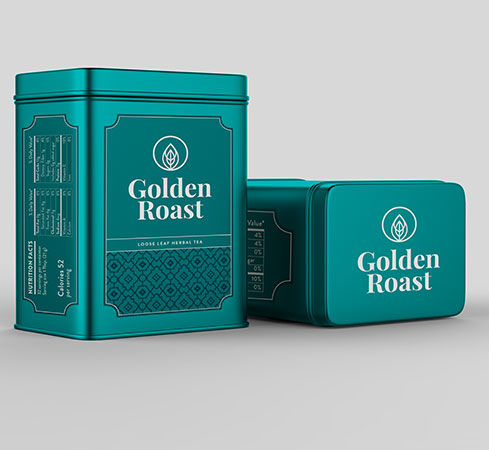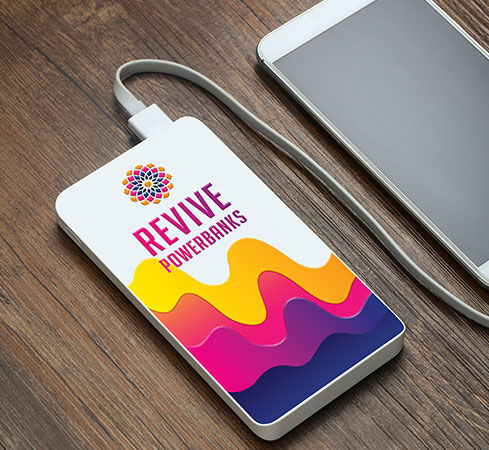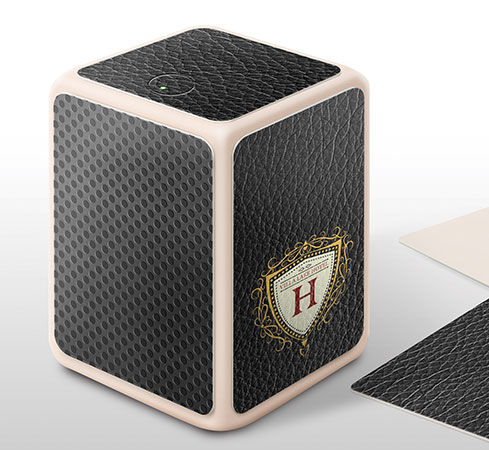 The Creative Possibilities of ECO UV Ink
Feel the Color with Gloss ECO-UV Ink
Print gloss/matte finishes, realistic textures, or 3D embossed effects to add an irresistible new dimension of "touch and color". Create your own special finishes or choose from seventy-two ready-to-use texture patterns in our Roland DG Texture System Library.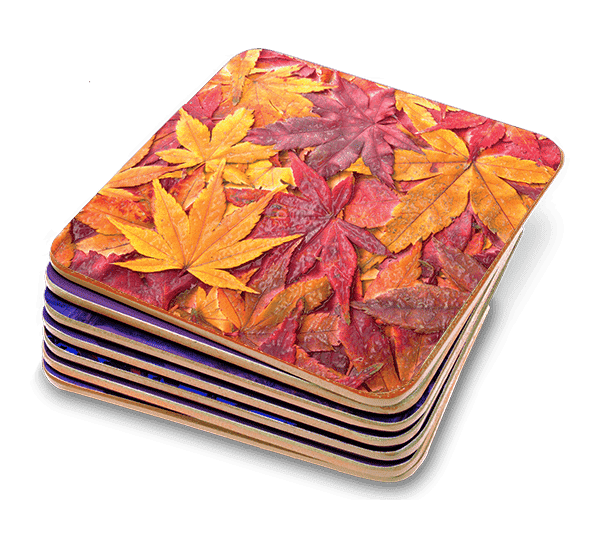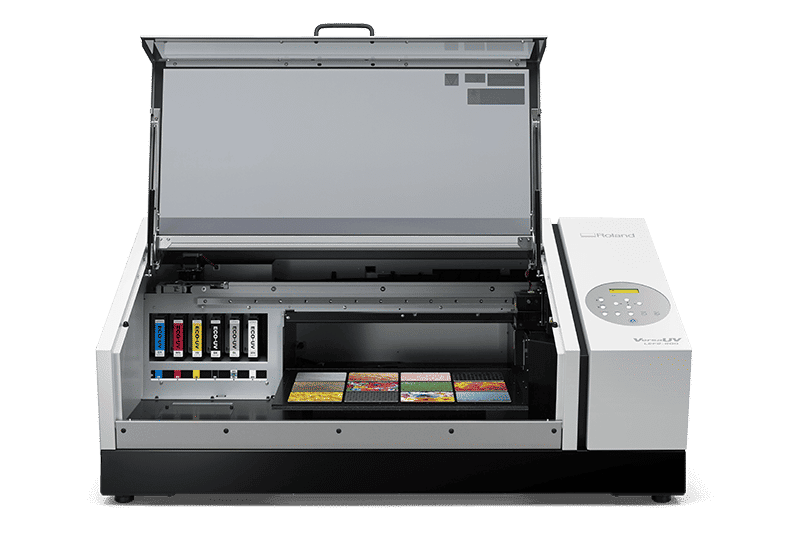 Advanced Ink Printing
Print graphics with consistent color and incredible detail on a virtually unlimited range of promotional products.
Produce stunning graphics with CMYK, White and Gloss ECO-UV® (EUV4) inks
White ink acts as a brilliant spot color, or to ensure that colors pop on dark or clear substrates
Optional Primer increases efficiency by prepping the surface of materials like acrylic and plastic for full-color customization*
An Automated Ink Circulation System prevents ink pigments settling in the ink lines for smooth consistency and density
Mist Filters catch the residual ink that mists off the edge of your media to prevent overspray and to keep ink from settling on internal components

* For best primer results, it is strongly recommended that users test for adhesion to specific substrates prior to final production.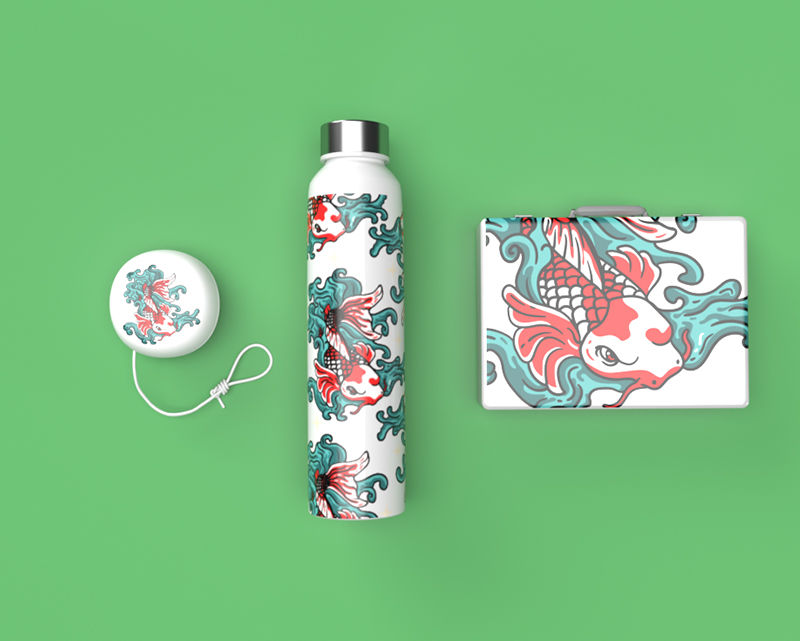 Open Your Business up to
More Opportunity
with V-BOND Ink
V-BOND Ink is an extremely versatile, durable and cost-effective UV ink solution for VersaUV LEF2 series flatbed printers. Proven to be a great all-around UV ink, V-BOND Ink delivers vibrant, long-lasting, scratch-resistant graphics that adhere well to just about any three-dimensional object or substrate. And, because of its nickel–free properties, low VOC emissions and regulatory compliance, V-BOND Inks remain a great choice for water bottles, lunch boxes and children's products.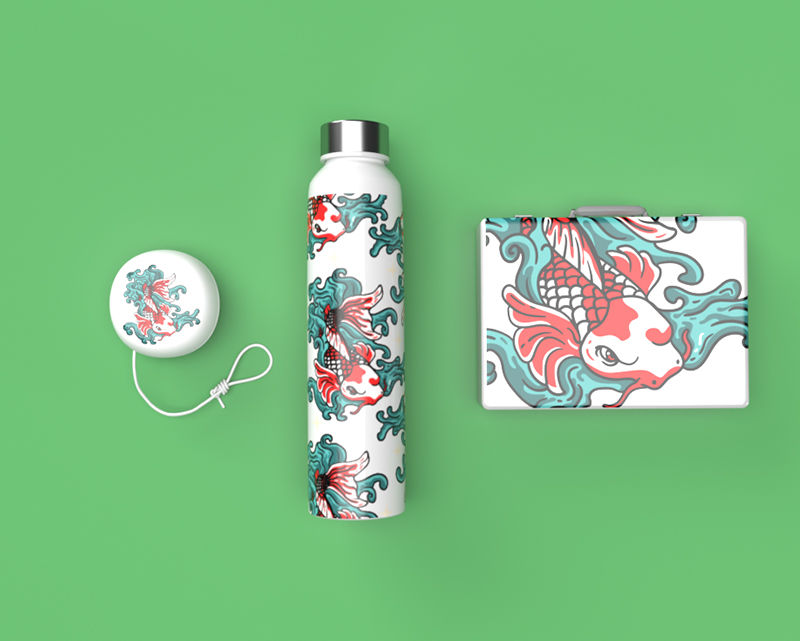 A Convenient, Clean, and Supercool Machine Experience
With state-of-the-art, low-heat UV-LED lamps, and self-wicking ink features, the fully-enclosed LEF2-200 flatbed UV printer is simple-to-operate and runs clean and cool with a safeguarded operation. In addition to eliminating additional machine movements of previous models to give you a more efficient operation, it offers new machine advantages to streamline your print process.
Head Refresher
Removes any ink remaining on the printheads and cleans the printhead surface to maintain the health and ink cost-efficiency of your printer.
Easy-Positioning Fixtures
Easily affix corner brackets to the print bed to simplify your set-up and the alignment of items for printing.
Nozzle Mask Function
If a nozzle on the printhead is clogged and misfiring, you can minimize printer downtime with the ability to turn off a specific nozzle band to allow continued production.
New Machine Panel Options
For efficient job set-up and operation, the machine menu now includes media height display, custom setting the origin point, and custom preset naming.
Start Timer Function
Automatically complete the setup operation of printhead cleaning and white ink circulation, so you can begin printing immediately after loading items— an auto wake-up feature acts like an alarm clock, alerting your LEF2-200 to start these cycling procedures.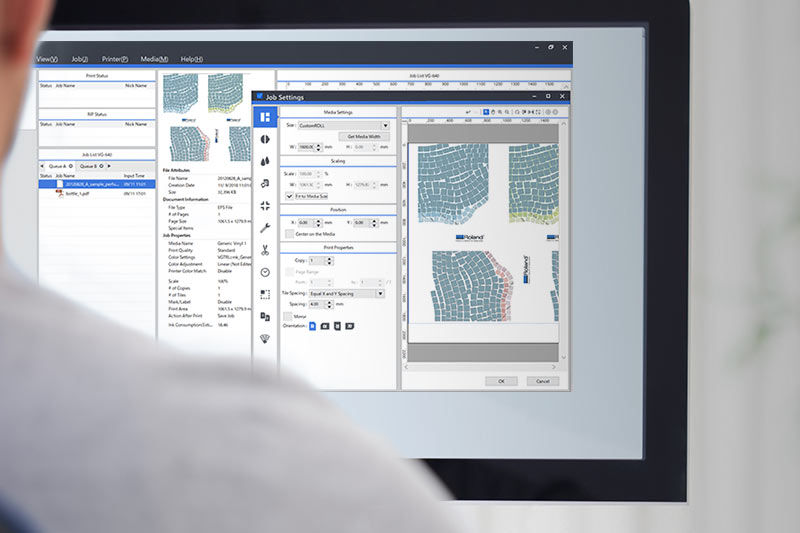 Included VersaWorks 6
RIP Software
The latest edition features powerful new 64-bit processing and RIP capabilities, plus the easy cropping, tiling, nesting, and other advantages of the world's most popular RIP software.
New features include new print queue options, UV post cure within the RIP, and 16-pass print mode (standard 720x720)
Automatically generate White, Gloss and Primer layer directly in the RIP software with a Special Color Plate Generation feature.
Variable data options for printing multiple images and text onto items in a single print run.
Rotate, set spacing and maintain clip position within the RIP to give you more control when printing graphics and applying Gloss ink effects.
Match color output between different printers and print modes from a single printer with Printer Color Match Settings that integrates profiling tools such as the i1 Pro3 and new VW-S1 color measuring tool. Read the FAQ's
Productivity Features
LED Pointer Set-Up
A new LED pointer precisely pinpoints the origin point of your print job.
Roland DG Intelligent Pass Control
Controls dot placement between each pass for faster throughput and excellent image quality in all print modes.
BOFA Unit
An optional BOFA air filtration system ensures proper ventilation while also functioning as a stand and storage unit.
Roland DG OnSupport
Get unattended, worry-free printing with e-mail or smart phone alerts that inform you of low ink or when a job has been completed.
Vacuum Bed
An optional vacuum bed holds media perfectly steady to ensure print stability.
Rotary Rack Accessory
An optional machine attachment enables users to get better print results when printing on cylindrical objects.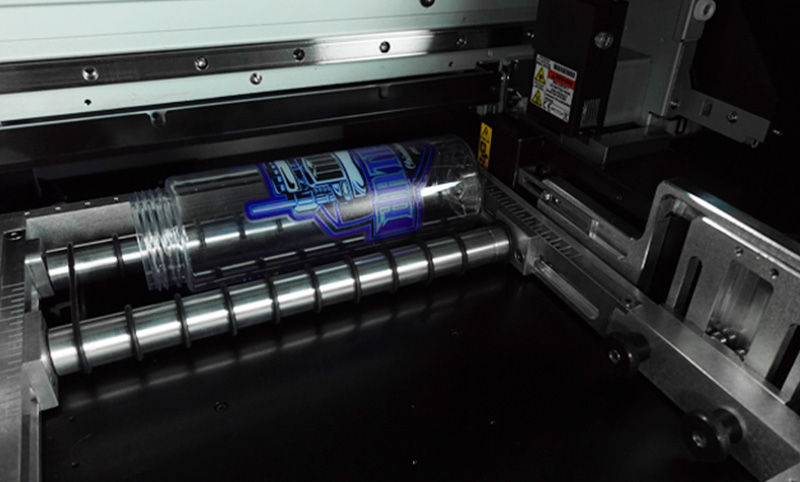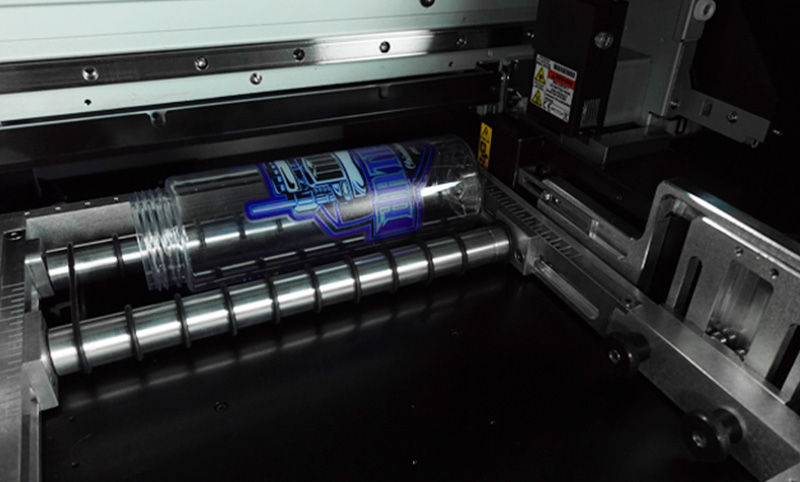 New! Rotary Rack for Printing on Cylindrical Objects
The Rotary Rack option for LEF series flatbeds makes printing directly on cylindrical objects easier and more affordable than ever. A metal frame design and non-flex rollers ensure durability and consistent, high-quality results. With a superior design and simple set-up, you'll be printing and profiting in no time.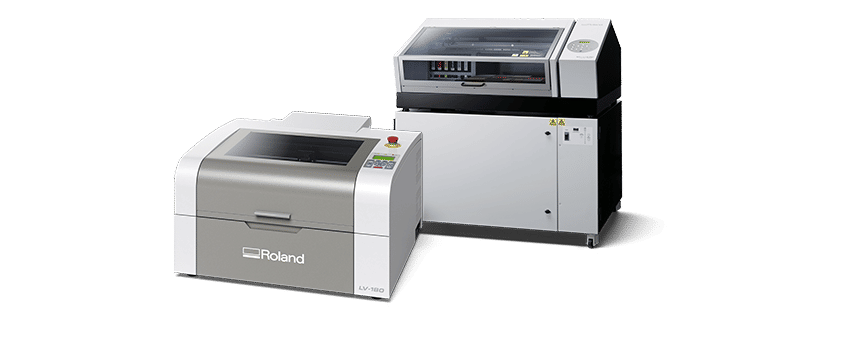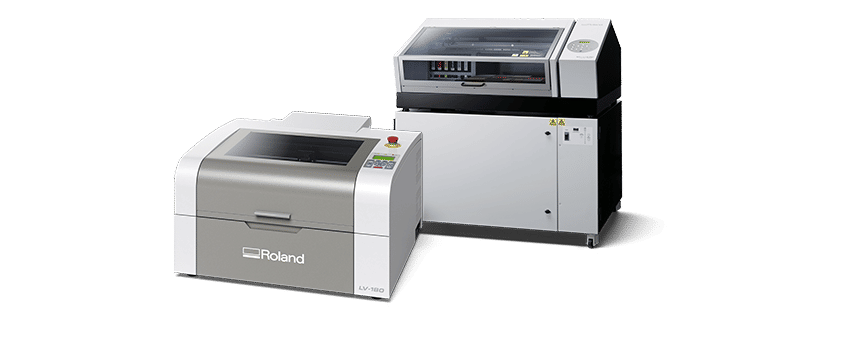 The LV/UV Combo
Get Machine Savings Over $10,000
Combine a Roland DG VersaUV LEF flatbed printer with a Roland DG LV laser engraver/cutter to create a complete personalization solution. Cut-out and engrave materials with an LV-180 and add full-color graphics and Gloss textures with an LEF2-200.
Offered at a massively reduced price, the LV/UV combo includes air filtration units for both devices and other machine essentials.
Find Out More About the
LV/UV Combo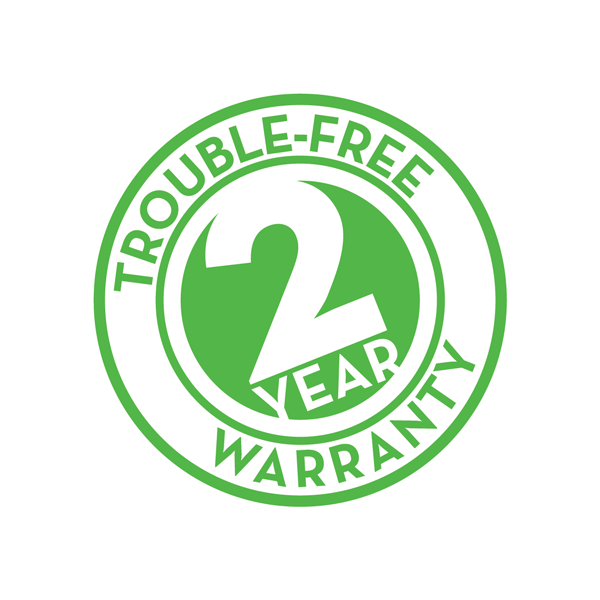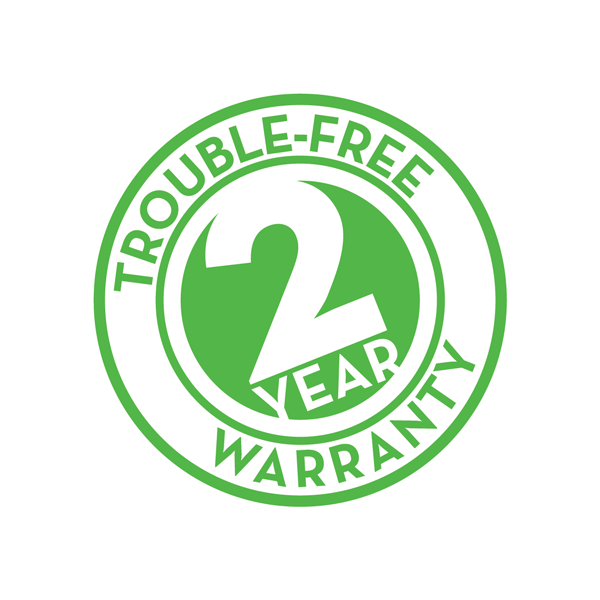 Industry-Leading Warranty, Service and Support
For over 35-years, Roland DGA has provided the most dependable technology and a higher level of service and support to ensure that industry professionals can keep producing and keep profiting. In addition to industry leading service, the VersaUV LEF2-200 flatbed UV printer is supplied with a Two-Year Trouble-Free Warranty to give you added peace-of-mind.
Additional Information
Expand All
|
Collapse All
Choose an LEF to Suit Your Budget and Your Business 
VersaUV LEF-12i
VersaUV LEF2-200
VersaUV LEF2-300
Maximum Print Area
12" × 11"
305 mm × 280 mm

20" × 13"
508 mm × 330 mm

30" × 13"
770 mm × 330 mm
Ink Configuration Options
CMYK + Clear (gloss) + White

CMYK + Clear (gloss) + White

CMYK + Primer + White

CMYK + White + White

CMYK + Clear (gloss) + Clear (gloss)+ White

CMYK + Clear (gloss) + White+ Primer

Included RIP Software
VersaWorks 6
Accessories
BOFA air filtration system (optional)

Rotary Rack cylindrical printing attachment (optional)

Ideal For
Short-run customization of USB drives, smart phone covers, photo frames and other small objects.
Short-run customization of small to medium-sized items, plus pre-primed printing onto various substrates and unique surfaces.
Volume production of small to medium-sized items, plus pre-primed printing onto various substrates and unique surfaces.
Explore LEF-12i
Explore LEF2-200
Explore LEF2-300
Brochure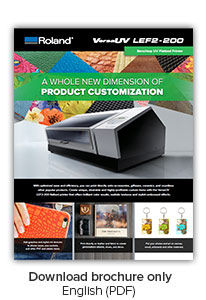 Download Your VersaUV LEF2-200 Brochure
Get your digital guide to all the features, applications, benefits and specifications of the Benchtop UV Flatbed Printer.
Download Brochure
Specifications 
LEF2-200
Model
LEF2-200
Printing method
Piezo ink-jet method
Attachable objects to be printed on
Width
Max. 21.2 in. (538 mm)
Length
Max. 14.2 in. (360 mm)
Thickness
Max. 3.94 in. (100 mm)
Weight
Max. 11 lb. (5kg)
Maximum printing width / printing length
Max. 20 (width) × 13 (length) in. (508 (width) × 330 (length) mm)
Ink
Type
ECO-UV (EUV, EUV4) 220 ml cartridge
Colors
Five colors (cyan, magenta, yellow, black, and white)
Five colors (cyan, magenta, yellow, black, and white) and primer
Six colors (cyan, magenta, yellow, black, white, and gloss)
Ink-curing unit
Built-in UV-LED lamp
Print resolution (dots per inch)
Max. 1440 dpi
Distance accuracy*
Error of less than ±0.3% of distance traveled or ±11.8 mil (±0.3 mm), whichever is greater.
Connectivity
Ethernet (10BASE-T/100BASE-TX, automatic switching)
Power-saving function
Automatic sleep feature
Power requirements
AC 100 to 240 V ± 10%, 1.8 A, 50/60 Hz
Power consumption
During operation
Approx. 149 W
Sleep mode
Approx. 13 W
Acoustic noise level
During operation
60 dB (A) or less
During standby
49 dB (A) or less
Outer dimensions
47.3 [W] × 37.9 [D] × 21.6 [H] in. (1,202 (W) × 962 (D) × 549 (H) mm)
Weight
242.5 lb. (110 kg)
Environment
During operation
Temperature: 68 to 89.6°F (20 to 32°C) (71.6°F (22°C) or higher recommended),
Humidity: 35 to 80% RH (no condensation)
Not operating
Temperature: 41 to 104°F (5 to 40°C), Humidity: 20 to 80% RH (no condensation)
Included items
Power cord, software RIP, cleaning liquid, drain bottle, manuals, etc.
* Temperature: 25°C (77°F), Humidity: 50% RH
This device is capable of printing on a wide variety of substrates. However, the print quality or the ink adhesion may vary according to the substrate used and it is strongly recommended to test the substrate for compatibility to ensure optimal print results.
Vaporized components may slightly irritate the eyes, nose and/or throat during and following printing with this product. If continuously printing in a closed space, the density of volatile compositions will accumulate and may irritate the eyes, nose and /or throat. Roland DG strongly recommends that you install a ventilation system and use this product in a well-ventilated room. For more information, please contact your local distributor or dealer.
VersaWorks 6 System Requirements

| | |
| --- | --- |
| Operating System | Windows® 10 (32/64-bit), Windows® 8.1 (32/64-bit), Windows® 7 Ultimate / Professional (32/64-bit) |
| CPU | Intel® Core™ 2 Duo, 2.0 GHz or faster recommended |
| RAM | 2 GB or more recommended |
| Video card and monitor | A resolution of 1,280 x 1,024 or more |
| Free hard-disk space | 40 GB or more recommended |
| Hard-disk file system | NTFS format |
| Optical drive | DVD-ROM |
| Other | Internet connection recommended |