Roland User Westwind Design Wins 2017 Digital Output Application of the Year Award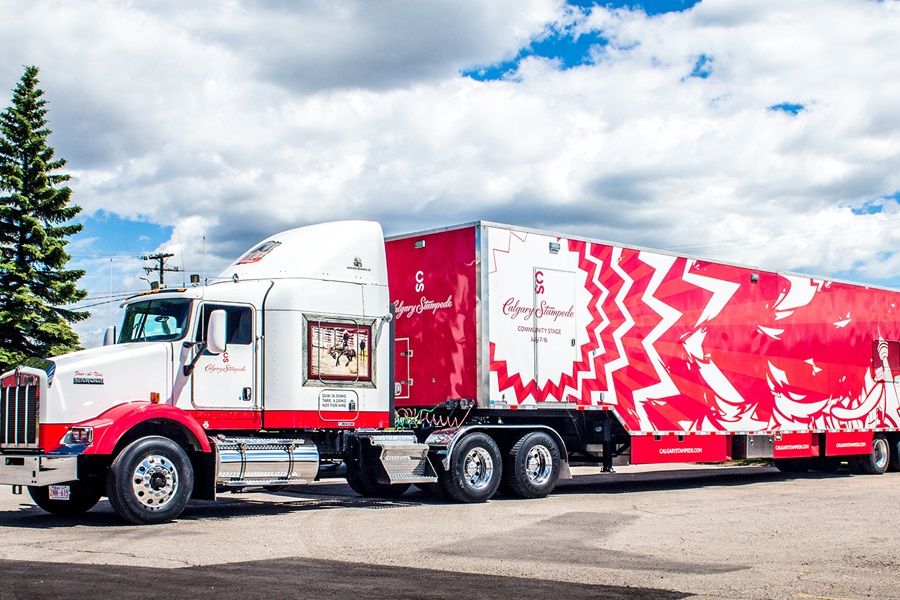 Irvine, Calif., Sept. 14, 2017 – Westwind Design Group, a full-service spatial design firm based in Calgary, AB, Canada, was recently named the first-place winner in Digital Output magazine's 2017 "Application of the Year" awards competition. Westwind Design's submission – graphics production and installation done for the Calgary Stampede, Promotions Committee, Community Stages Group – was selected for top honors by Digital Output's readers from a total of 20 entries received and displayed at the publication's website.

The award-winning Westwind Design Group entry featured eye-catching graphics that incorporated a modern Western theme, along with Calgary Stampede's distinctive branding. Calgary Stampede, a first-time client, chose Westwind Design based on the firm's impressive portfolio of previous work, and the company's talented team didn't disappoint. Westwind Design delivered easily identifiable, inspirational graphics showcasing the client's year-round community involvement using a mobile sound stage. The vibrant imagery, which includes the Calgary skyline and elements of the Canadian flag, were designed to be seen on all exterior sides of a semi truck trailer incorporated into an open outdoor stage backdrop. Westwind Design relied on the advanced digital printing capabilities of their Roland TrueVIS™ VG-540 wide-format printer/cutter and TrueVIS™ INK to turn their creative vision into reality.

"In total, we produced over 40 pieces for the final wrap – enough to install media on the sides, front, back, roof, and interior of a 50-foot trailer," noted Ryan Pearse, graphics designer at Westwind Design Group. "The bright and vivid colors, along with the white point and glossiness of the vinyl, really made the trailer graphics pop."

To learn more about the Digital Output 2017 Application of the Year Awards, or Westwind Design Group's winning entry, visit http://www.digitaloutput.net/application-of-the-year.

About Roland DGA

Roland DGA Corporation serves North and South America as the marketing, sales and distribution arm for Roland DG Corporation. Founded in 1981 and listed on the Tokyo Stock Exchange, Roland DG of Hamamatsu, Japan is a worldwide leader in wide-format inkjet printers for the sign, apparel, textile, personalization and vehicle graphics markets; engravers for awards, giftware and ADA signage; photo impact printers for direct part marking; and 3D printers and CNC milling machines for the dental CAD/CAM, rapid prototyping, part manufacturing and medical industries.