Roland DGA's V-BOND Ink Now Compatible with VersaOBJECT CO Series and VersaUV LEC2 S-Series UV Printers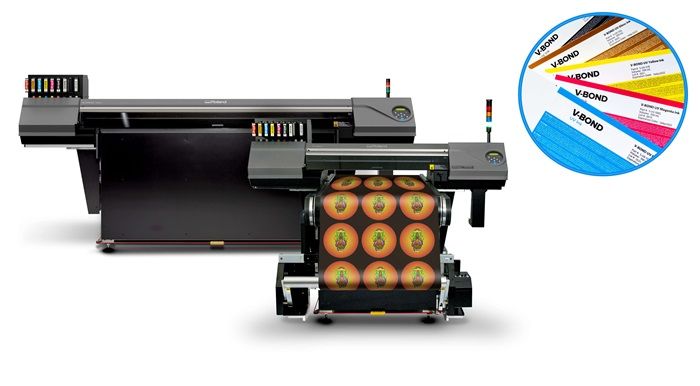 For more information, contact:
Marc Malkin
(949) 727-2100 ext. 1372
Irvine, Calif., Aug. 31, 2023 – Roland DGA Corporation, a leading provider of large-format inkjet printers, printer/cutters, vinyl cutters, and other advance imaging devices, has announced that its specially formulated V-BOND Ink can now be used with VersaOBJECT™ CO Series and VersaUV® LEC2 S-Series UV printers. Previously V-BOND Ink was only available for use with Roland DGA's VersaUV LEF and LEF2 benchtop UV printers.
V-BOND Inks have gained significant popularity worldwide as a safer alternative to standard UV inks. These durable, cost-effective inks image beautifully, adhere well to a wide variety of substrates, and are extremely scratch- resistant. They offer an expanded color gamut, with a magenta density that results in more vibrant reds, adding an extra level of vibrancy to your prints. In addition, V-BOND Inks are California Proposition 65 and Consumer Product Safety Improvement Act (CPSIA) certified, Nickel-free, Phthalate-free, and air-shipping compliant. They're also less aggressive to the rubber and plastic parts of the printer's capping station, significantly improving the health and longevity of the printheads, thereby reducing maintenance requirements.
Customers who purchase new CO Series or LEC2 S-Series UV printers have the option of enabling their devices for V-BOND Ink use by performing a few simple steps, including downloading the latest (version 1.50 or later) firmware and updating their VersaWorks® output software to version 6.18 or later. Existing LEC2 S-Series owners who want to add V-BOND Ink capability to their printers can do so through an authorized Roland DGA dealer at a cost that the dealer will determine.
"Having the ability to use V-BOND Ink further enhances the versatility of our CO Series and LEC2 S-Series flatbeds, opening up new and lucrative creative opportunities for users," said Jay Roberts, Roland DGA UV Printer Product Manager. "Along with the safety and compliancy benefits, these wide-gamut, cost-effective inks offer additional advantages over other UV inks – like superior surface adhesion and scratch resistance, faster tactile build, and better long-term outdoor durability, just to name a few."
To learn more about V-BOND Ink and the use of V-BOND with Roland DG's VersaOBJECT CO Series and VersaUV LEC2 S-Series UV printers, visit https://www.rolanddga.com/vbond.
About Roland DG Americas
Roland DG Americas serves North and South America as the marketing, sales, distribution, and service arm for Roland DG Corporation. Founded in 1981 and listed on the Tokyo Stock Exchange, Roland DG of Hamamatsu, Japan is a worldwide leader in wide-format inkjet printers for the sign, apparel, textile, personalization, and vehicle graphics markets; engravers for awards, trophies, and giftware; photo impact printers for direct part marking; and 3D printers and CNC milling machines for the dental CAD/CAM, rapid prototyping, part manufacturing and medical industries.