Roland DGA's New TrueVIS TR2 Eco-Solvent Ink Technology Receives Avery Dennison ICS Performance Guarantee and Six-Hour Outgassing Approval for Printed Graphics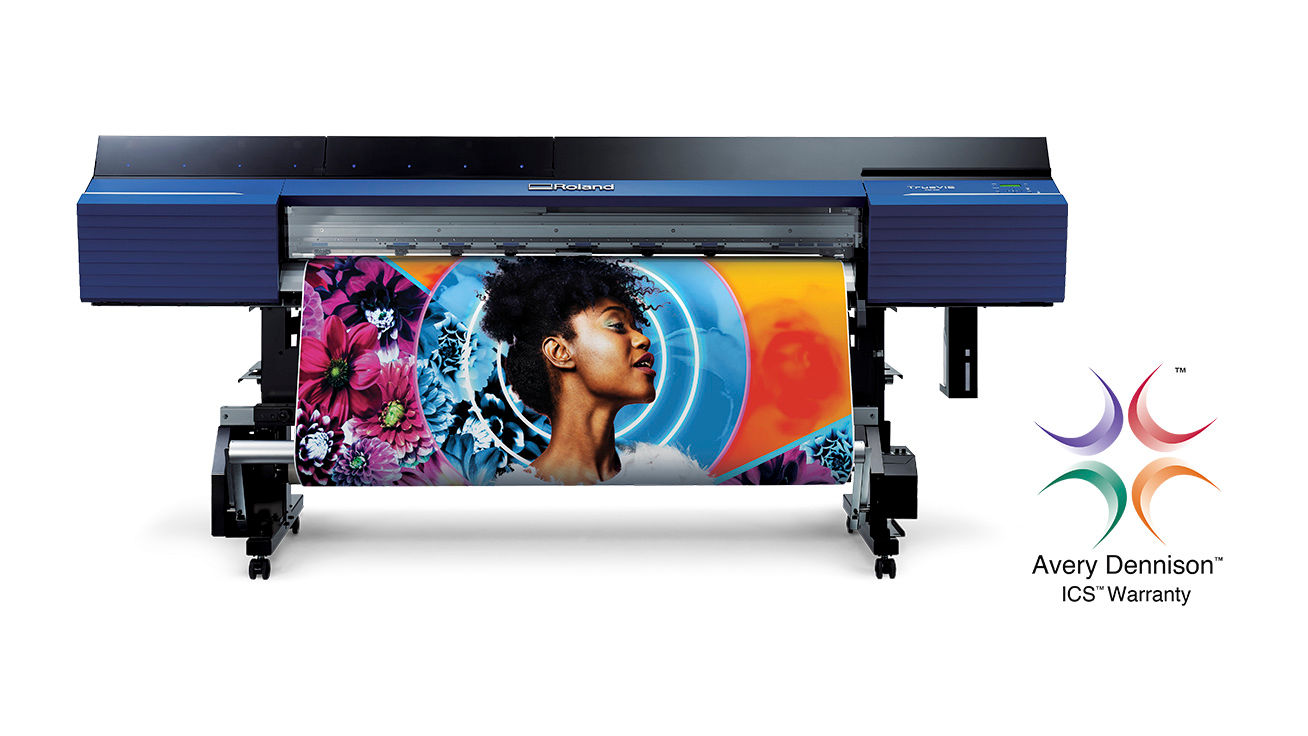 Irvine, Calif., March 6, 2019 – Roland DGA Corporation, a leading provider of wide-format inkjet printers and printer/cutters worldwide, has announced that Avery Dennison has awarded their advanced ICS Performance Guarantee for graphics printed with new TR2 eco-solvent ink and the new TrueVIS VG2 series 64" and 54" wide-format eco-solvent printer/cutters.

The ICS Performance Guarantee provides up to four years of warranty protection for outdoor printed graphics and up to seven years for indoor graphics. "This is an important assurance for those who will be using our next-generation VG2 printers with Avery media," noted Daniel Valade, Roland DGA Product Manager, Color Products and Cutters. "What's more, after rigorous testing, Avery has set the recommended outgassing time for this combination at just six hours – a 75 percent reduction in the timeframe recommended for traditional solvent technology. That means businesses with tight project turnaround times, like vehicle wrap shops, can easily perform same-day printing and lamination while retaining a full graphics warranty."

According to Avery Dennison OEM Relationship Manager Paul Roba, the testing process required close collaboration between Avery and Roland DG. "We work closely with printing experts like the engineering teams at Roland DG to create production solutions that offer superior performance and peace of mind to our customers," said Roba. "We are happy to add another high-quality print platform with the TrueVIS VG2 series and TR2 ink to our extensive Integrated Component System Warranty Program. We continue to provide thoroughly tested solutions to our PSPs, increasing confidence in graphic performance and identifying throughput improvement processes."

In addition to incorporating a host of features for increased efficiency, productivity and ease of use, Roland's TrueVIS VG2 series adopts a new generation of eco-solvent TR2 ink. In order to take full advantage of the VG2's superior color reproduction capability and the wide color gamut provided by TR2 ink, a True Rich Color preset was also created, allowing vibrant colors to be combined with neutral greys, smooth gradations and natural skin tones for stunning graphic results.
"Our VG2 series printer/cutters, together with our specially formulated TR2 ink, give demanding graphics professionals what they need to succeed in today's competitive marketplace – durable, high-quality output, brilliant color, and fast turnaround times," said Valade. "The Avery ICS Performance Guarantee, along with the six-hour outgassing capability, gives customers even more reasons to invest in this cutting-edge technology."

To learn more about the new TrueVIS VG2-640/540 large-format printer/cutters, or the complete Roland product line, please visit www.rolanddga.com.

About Avery Dennison's ICS Performance Warranty
Avery Dennison's Integrated Component System (ICS) Warranty Program offers a peace of mind solution for all Avery Dennison customers. The ICS Performance Guarantee combines our films with qualified components to form a system which is guaranteed to be compatible and provide outstanding performance. Granted to all customers working according to the relevant Avery Dennison Technical Bulletins, the ICS Performance Guarantee offers a range of choice and flexibility. You choose the application, production method, qualified printer, ink and application tape coupled with our films – and we provide the warranty. For more information contact your Avery Dennison sales representative, or go to https://graphics.averydennison.com/en/home/services/warranty.html.
About Roland DGA Corporation
Roland DGA Corporation serves North and South America as the marketing, sales, distribution and service arm for Roland DG Corporation. Founded in 1981 and listed on the Tokyo Stock Exchange, Roland DG of Hamamatsu, Japan is a worldwide leader in wide-format inkjet printers for the sign, apparel, textile, personalization and vehicle graphics markets; engravers for awards, giftware and ADA signage; photo impact printers for direct part marking; and 3D printers and CNC milling machines for the dental CAD/CAM, rapid prototyping, part manufacturing and medical industries. For more information, visit www.rolanddga.com.

About Roland DG Corporation

Roland DG Corporation is the world's leading provider of digital printing solutions. The company's inkjet printers, printer/cutters and cutting machines are widely used to create a broad range of promotional items including banners, signs, vehicle graphics, stickers and labels, and to provide customization services for apparel and personal items like smartphone cases. Recently, Roland DG has embarked on a promising new retail frontier by capitalizing on individuals' increasing desire to create their own, uniquely designed and decorated items. The company's COTO business division has developed proprietary design and print management software which enables customers to design their own gifts, apparel and treasured mementos, and to enjoy an unforgettable creative experience. For more information, visit www.rolanddg.com.