The Nation's First 4-H Fab Lab Holds Grand Opening Event
Roland DGA Provides Digital Equipment for State-of-the-Art Digital Fabrication Facility Open to Students and Community Members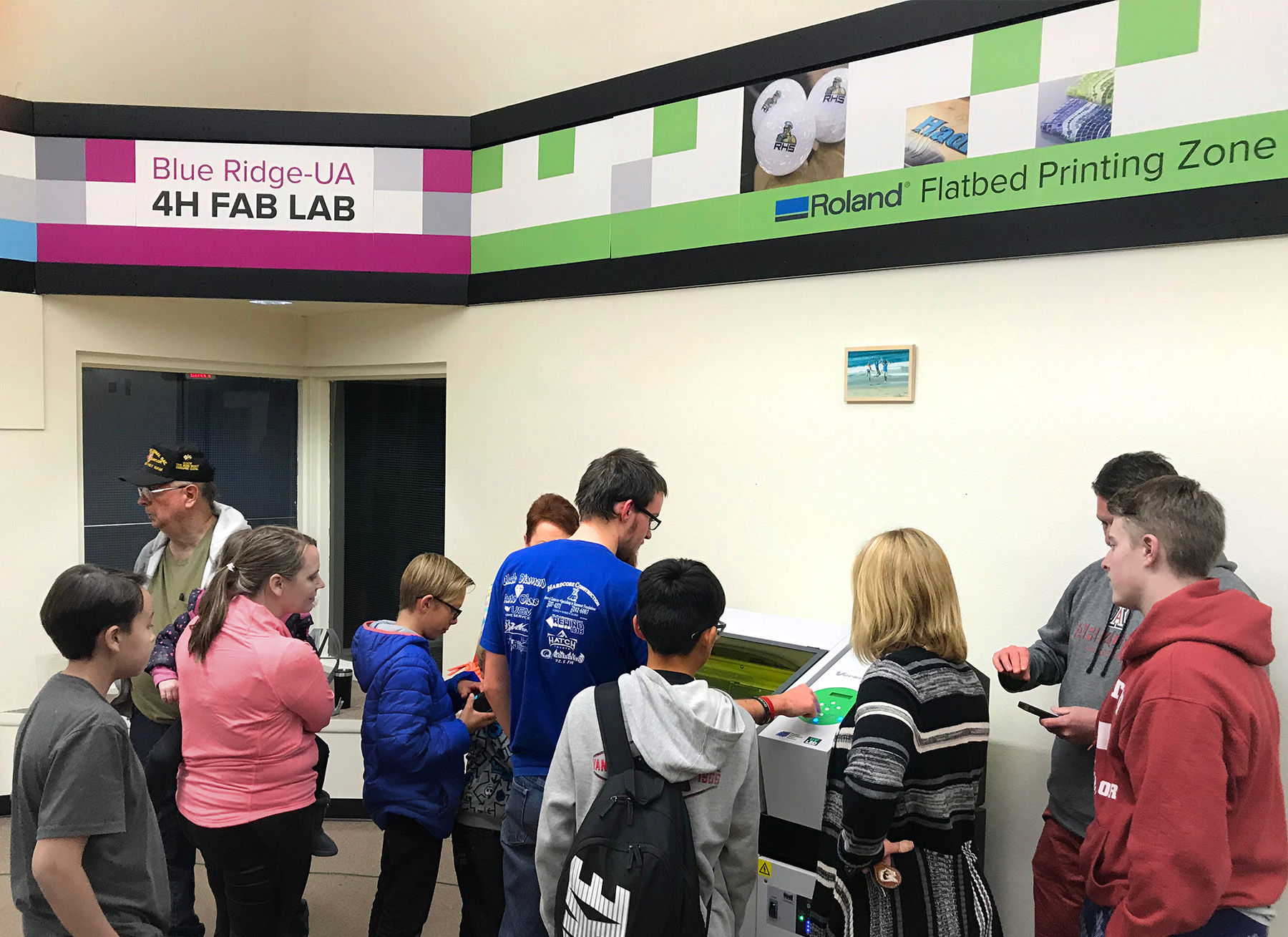 Irvine, Calif., Jan. 26, 2018 – The Blue Ridge/University of Arizona 4-H Fab Lab – the first public school Fab Lab established in Arizona and the first 4-H Foundation Fab Lab in the U.S. – held its Grand Opening ceremony on January 18 in Lakeside, Arizona. The cutting-edge facility, located at Blue Ridge High School and funded by the University of Arizona, is designed to train the next generation of STEAM (Science, Technology, Engineering, Art and Math) professionals through the use of real-world digital fabrication hardware and software. For its printing, cutting and milling equipment, Blue Ridge chose Roland DGA, a leading provider of 3D mills, flatbed inkjet printers and other advanced digital imaging devices. Included with the equipment were Roland DGA's Project Based Learning (PBL) modules, which make it easy for students to learn through hands-on, step-by-step projects.

The Blue Ridge 4-H facility will serve as Arizona's main 4-H Fab Lab, with smaller "mini-labs" planned in other locations throughout the state. Each Fab Lab will utilize the existing 4-H youth development network and programs. Within Arizona alone, 4-H programs record more than 185,000 student contacts per year.

According to Kevin Woolridge, director of the Blue Ridge/UA 4-H Fab Lab, this facility will spark the creation of a network of affiliated mini-labs in Arizona, and possibly additional 4-H Fab Labs in other states nationwide. "There are 15 Arizona county cooperative extension offices and hundreds of individual clubs throughout the state – each of which can equip their own mini-labs as part of the network and use our flagship lab for added capabilities," Wooldridge noted. "Our goal is to have a mini-lab in every Arizona cooperative extension office within the next two years, and in every 4-H community over the next five years. Additionally, we'll be sharing our program with 110 land grant universities throughout the country. Having the support from the University of Arizona and technology manufacturers like Roland DGA makes our success possible."

The Blue Ridge 4-H Fab Lab will provide students with free access to an array of innovative digital fabrication machines, such as Roland's MDX-40A milling machine, LEF-12 flatbed UV printer, SP-300i wide-format printer/cutter, and GS-24 desktop vinyl cutter. Included with each device are PBL modules to make learning quick and easy, even for novices.
"We're excited about playing an integral role in the opening of the country's very first 4-H Fab Lab," said Roland DGA President Andrew Oransky. "While the machines we have provided incorporate cutting-edge technology, they are also incredibly simple to operate. Within no time at all, students of all levels can be using our devices to learn and apply STEAM education in fun, practical ways."

To learn more about the Blue Ridge/UA 4-H Fab Lab, visit http://brusd.org/cms/One.aspx?portalId=421616&pageId=10558214.

For more information on the complete Roland DGA product lineup, including PBL for education, visit www.rolanddga.com/edu.

About the Blue Ridge 4H Fab Lab

The Blue Ridge/UA 4-H Fab Lab is an "open source, open door" K - 12 digital fabrication facility, where students and community members have access to digital design tools, electrical platforms, hardware/software, coding and training opportunities to make their projects a reality.

The Fab Lab concept, started by MIT's Fab Foundation, is to be a place and program where students, parents and community members interact, learn and create in an atmosphere of 21st century learning, skills and tools.

About Roland DGA

Roland DGA Corporation serves North and South America as the marketing, sales and distribution arm for Roland DG Corporation. Founded in 1981 and listed on the Tokyo Stock Exchange, Roland DG of Hamamatsu, Japan is a worldwide leader in wide-format inkjet printers for the sign, apparel, textile, personalization and vehicle graphics markets; engravers for awards, giftware and ADA signage; photo impact printers for direct part marking; and 3D printers and CNC milling machines for the dental CAD/CAM, rapid prototyping, part manufacturing and medical industries.