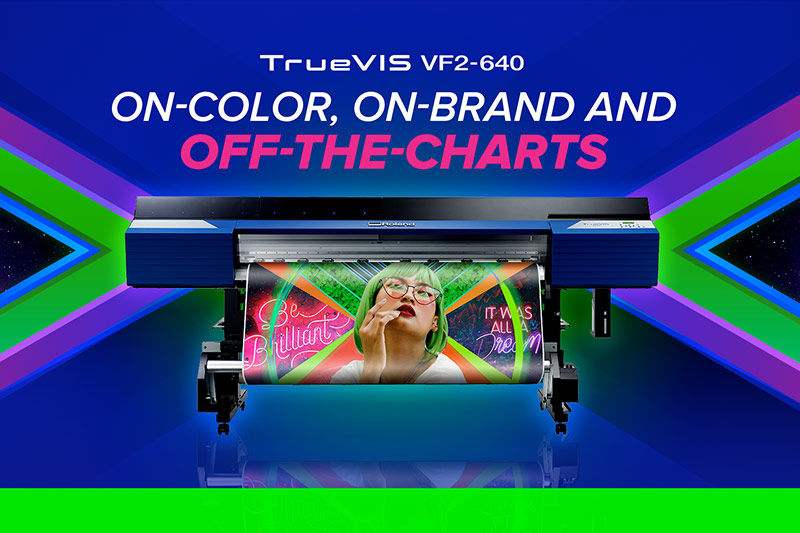 "Build brands, build your reputation, and build success
with absolute color control and quality."
TrueVIS VF2-640 Wide Color Gamut Printer
The TrueVIS VF2-640 large format printer doesn't just widen your color gamut, it takes your color completely off-the-chart with our richest and most vivid TrueVIS color output yet that allows you to perfectly target specific brand colors.
Award-winning TR2 Inks feature new Green and Orange ink choices to target previously unreachable or difficult-to-match colors
A smooth, seamless print operation with enhanced design, job sequences, software functions, operation panel and "two-mode" take-up unit
3M™ MCS™ Warranty and Avery Dennison™ ICS™ Warranty Program certified for added print confidence
Deliver Perfectly Branded Displays, Promos, Wraps and More
with the Color Power of the VF2-640
As part of the new generation of TrueVIS technology, the VF2-640 large format printer has been developed for unprecedented gamut expansion, exceptional close-up detail, and the unique ability to achieve both vividness and natural color reproduction. The VF2-640 answers the exact color requirements of your clients and rises above the quality standards of your competitors.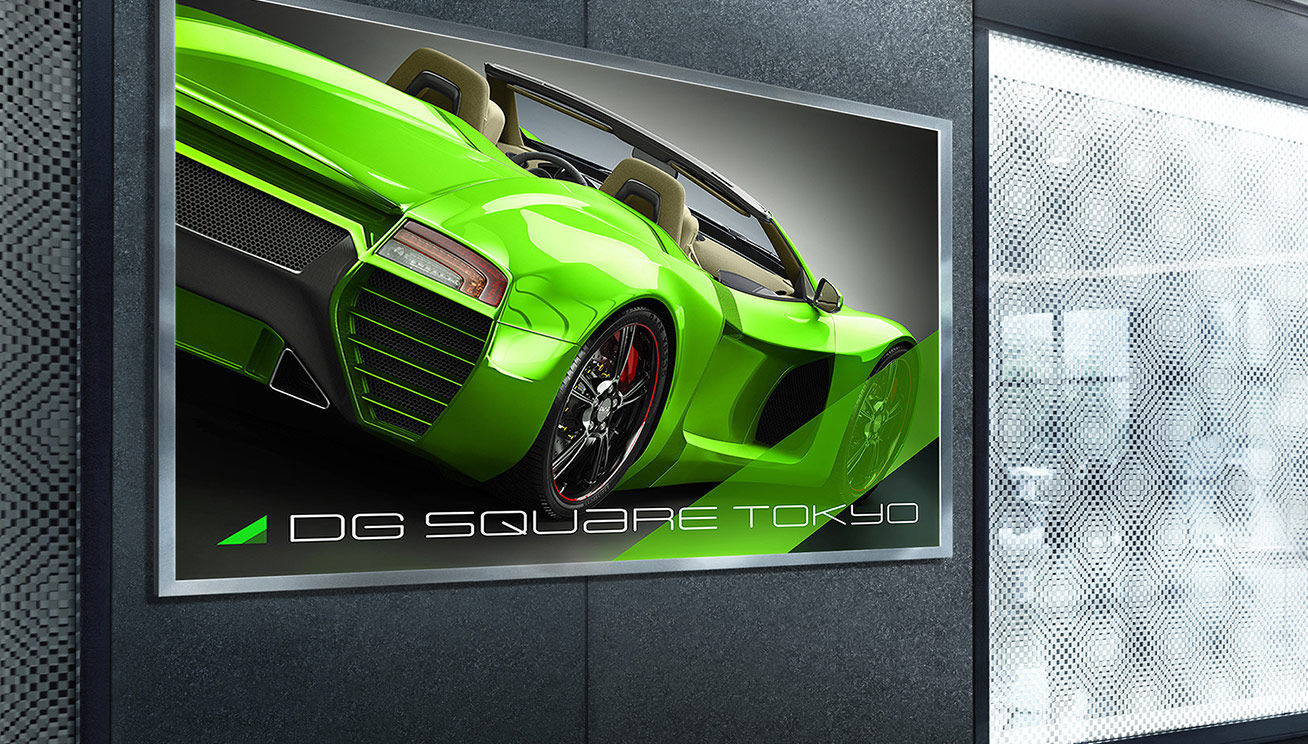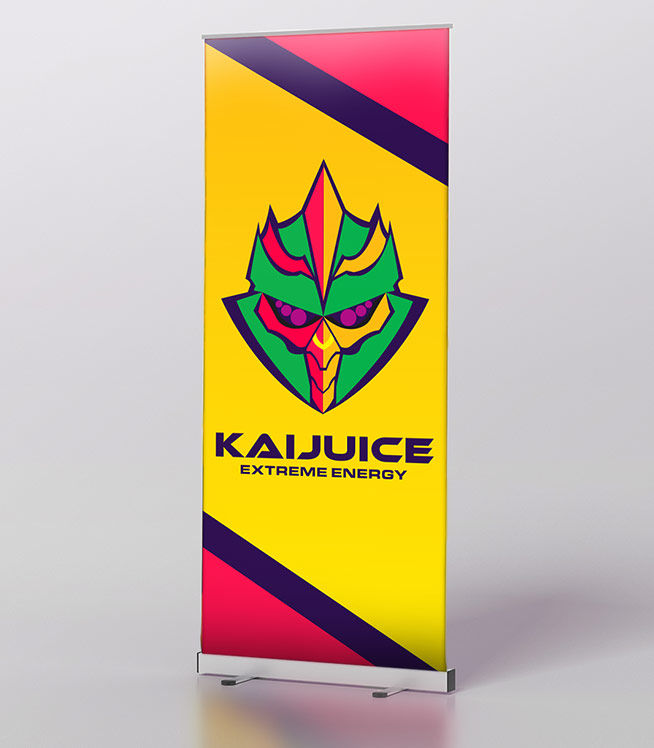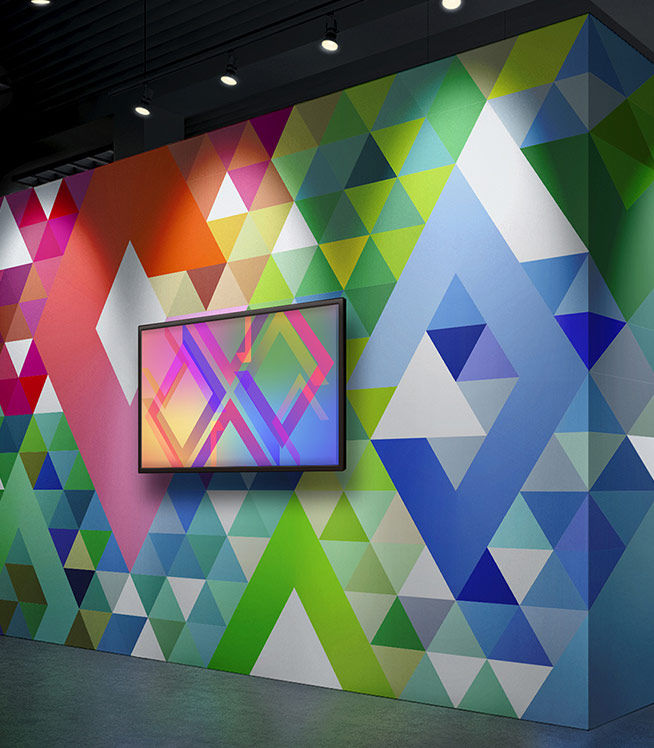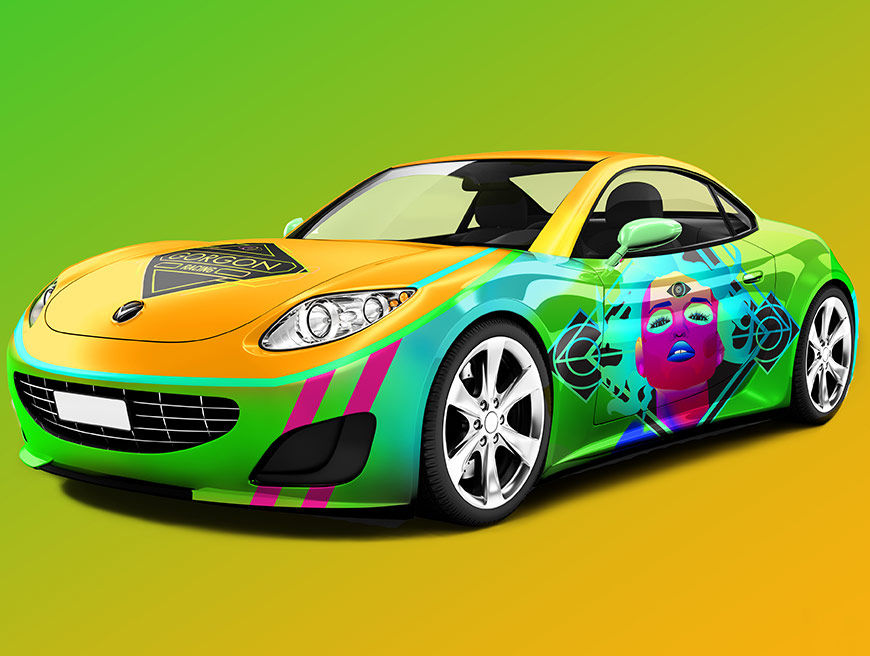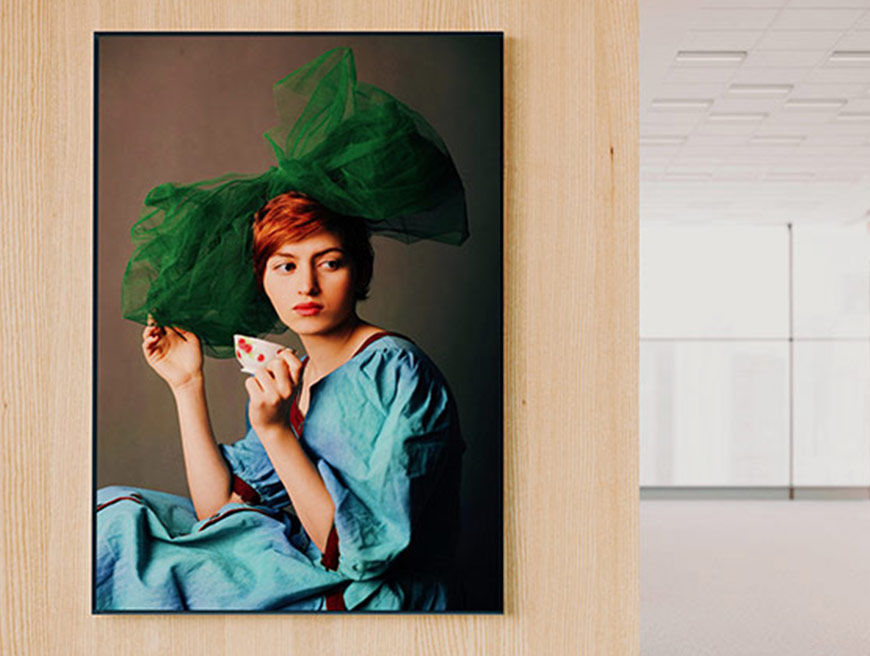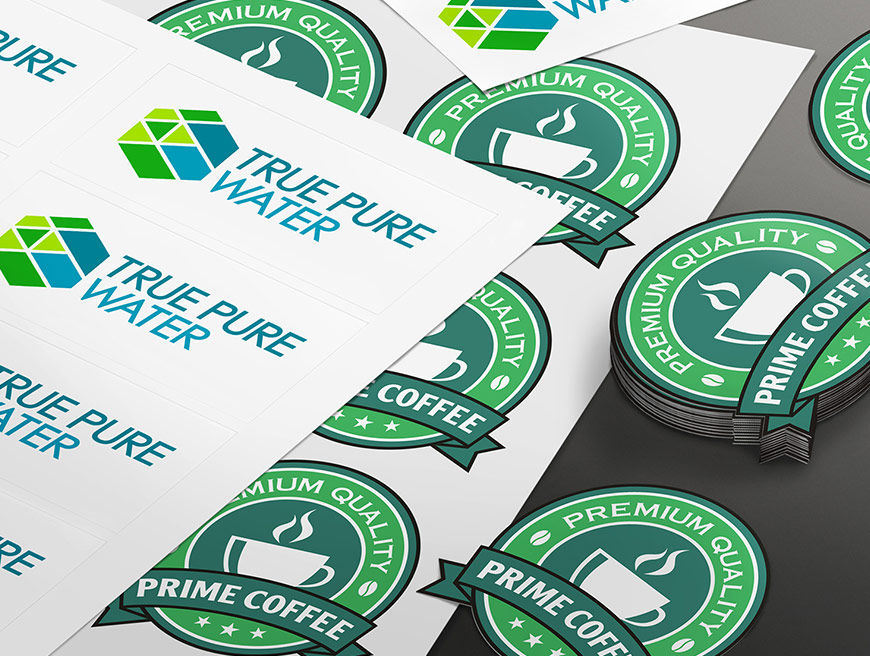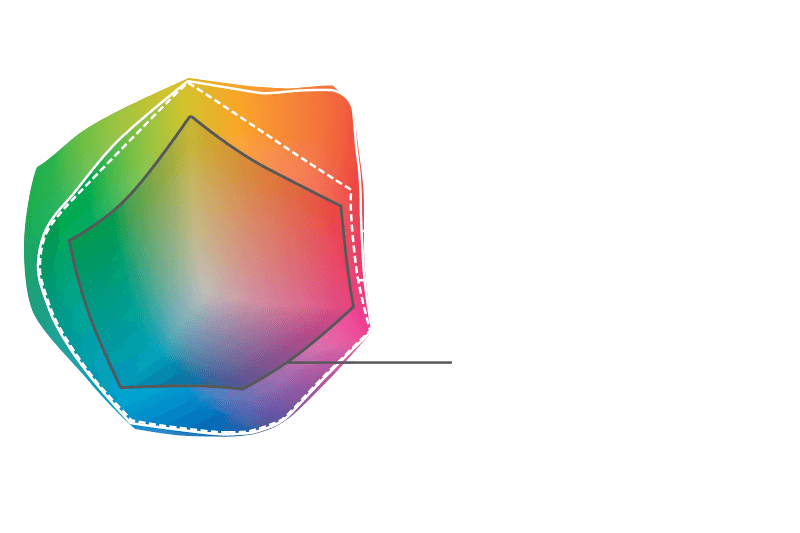 Our Best Ever Color Output
with True Rich Color 2
The True Rich Color 2 preset in VersaWorks 6 RIP software takes full advantage of Greenguard Gold Certified TR2 Inks in CMYK, Light Cyan, Light Magenta, Light Black, White, Orange and Green ink configurations. The off-the-chart color gamut of True Rich Color 2 maximizes the potential of both printer and ink for ultimate vibrancy combined with neutral greys, smooth gradations, and natural skin tones.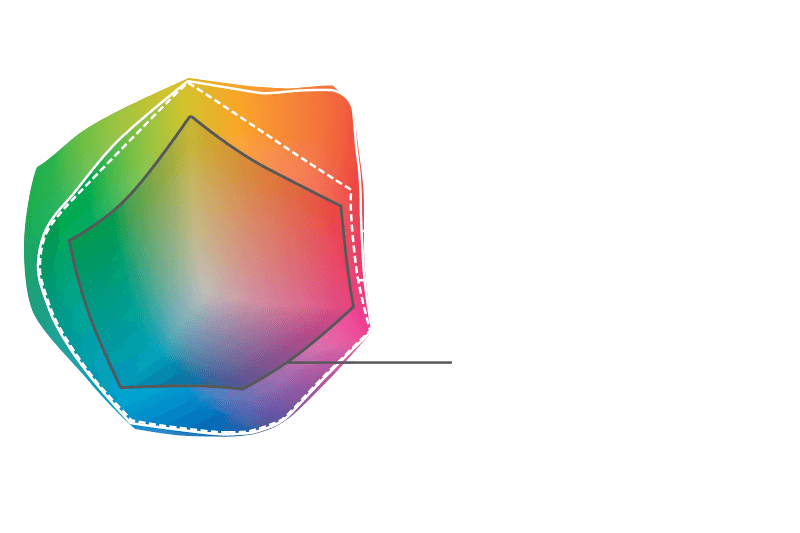 Quality Ink Certifications
for Added Confidence and Assurance
Global print material providers, 3M and Avery Dennison offer warranty coverage for graphics printed with the VF2-640 and TR2 ink— with Avery Dennison offering warranty coverage for same day print, lamination and wrapping.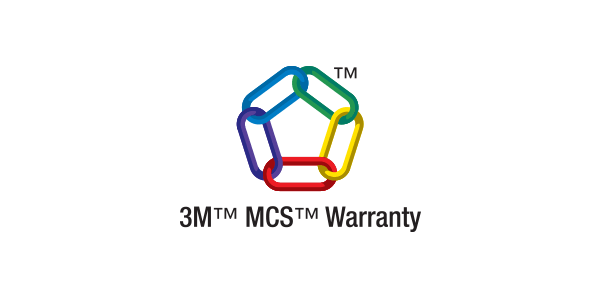 The combination of VF2-640 and new TR2* Ink is certified for long-lasting results under the 3M™ MCS™ Warranty. It provides your customers with assurance of the quality and reliability of their graphics.
*The 3M™ MCS™ Warranty covers printing onto 3M products with standard TR2 inks.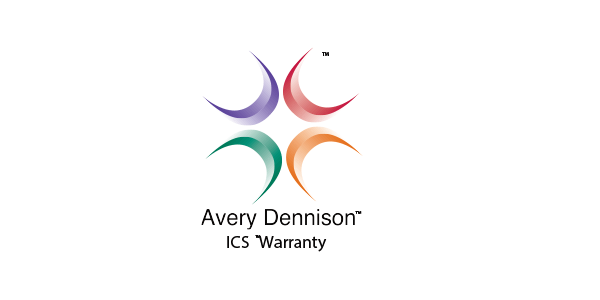 The VF2-640 with new TR2** Ink is also certified by Avery Dennison's ICS Performance Guarantee which provides added protection and warrants prints for same-day lamination.
**The Avery Dennison™ ICS Performance Guarantee covers printing onto Avery Dennison products with standard TR2 inks.
Learn More About
Avery ICS Performance Guarantee
Productivity Features
Improved Machine Operation
With improved machine operation, the VF2-640 offers smooth production and print efficiency to help build your business.
New Media Take-Up
An included TUC4 take up system offers two modes to expertly handle everything from thin films to heavy canvas materials and provides take-up stability for a smooth post process.
Nozzle Mask Function
If a nozzle on the printhead is misfiring, minimize printer downtime by turning off a specific nozzle band to allow continued production.
Roland DG Mobile Panel 2
A newly improved Bluetooth enabled mobile panel allows you to test print, clean and troubleshoot your VF2-640 from your tablet or smartphone.

Included VersaWorks 6
RIP Software
With the latest edition of the world's most popular RIP software, you can effortlessly manage your print output.
Improved speed and file handling with HARLEQUIN RIP dual core engine and 64-bit native processing.
Simplified new drag-and-drop interface to quickly add jobs to the print queue.
Five print queues, five hot folders and unlimited queue settings.
New Job Assistant function to layout and edit cut lines in VersaWorks 6 for dual machine print then cut workflows.
All the advanced and easy cropping, tiling, nesting and other features of VersaWorks.
Match color output between different printers and print modes from a single printer with Printer Color Match Settings that integrates profiling tools such as the i1 Pro3 and new VW-S1 color measuring tool. Read the FAQ's
Create cut data directly in VersaWorks 6 by extracting PDF data from your design file to use as a cut line— changing vector data into cut line data, merging multiple cut lines together, creating perf cut lines, and other intuitive features.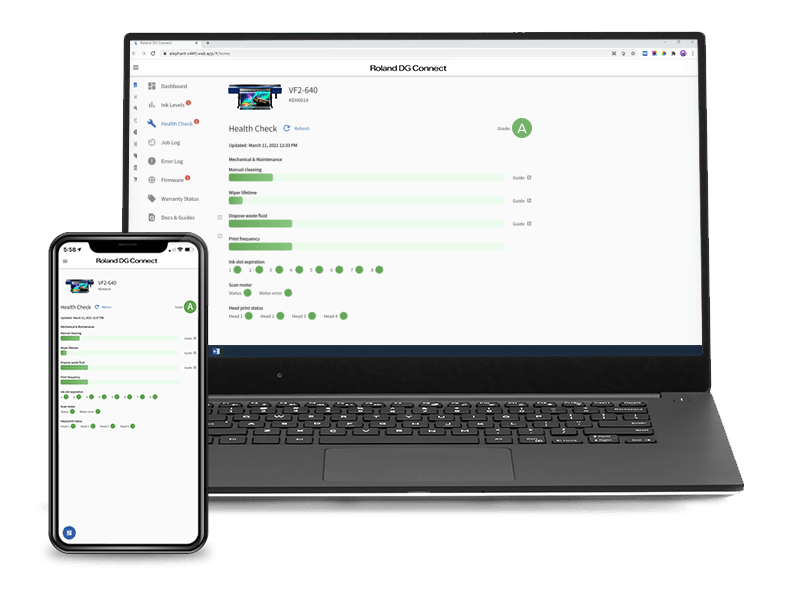 Roland DG Connect App
For Everything Creative
Reduce downtime and improve work efficiency with a machine monitoring assistant that helps you gain a detailed understanding of your entire print operation while keeping your device running at optimum performance.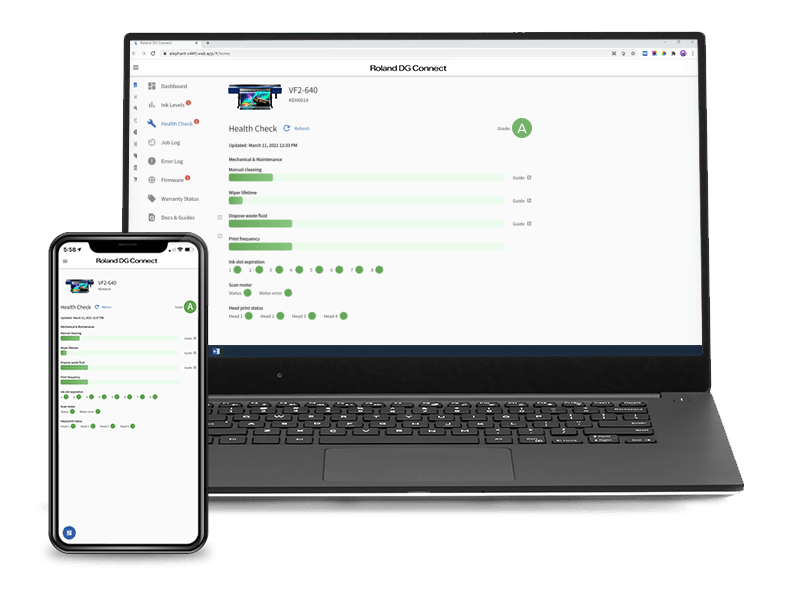 Multi-award winning TrueVIS technologies provide head-turning color and image quality to give you an edge over your competition. Engineered in Japan with uncompromising attention to detail and ever-lasting machine reliability, the VF2-640 was designed for passionate professionals like you, who need quality, dependability and versatility to build new levels of business success.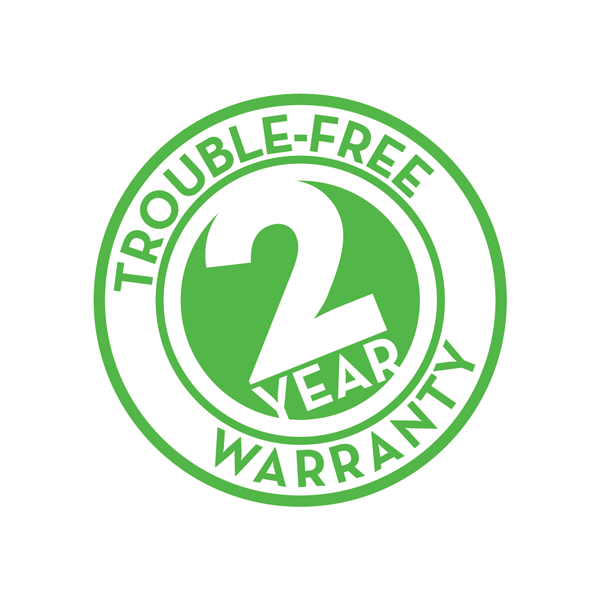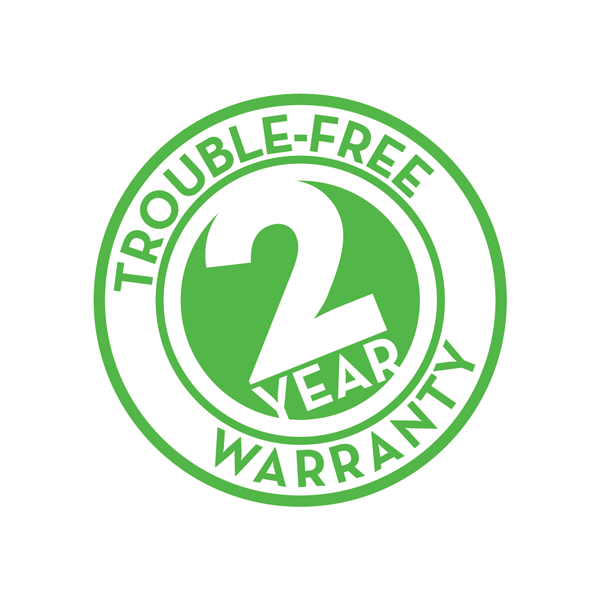 Roland DGA's Industry-Leading Warranty and Support
For over 35 years, Roland DG has provided industry professionals with the most advanced and reliable machines, backed by unmatched customer service and technical support. The VF2 is supplied with a Two-Year Trouble-Free Warranty to give you added peace-of-mind and machine support.
Additional Information
Expand All
|
Collapse All
Specifications 
TrueVIS VF2-640


VF2-640
Printing method
Piezo ink-jet method
Media
Width
10.2 to 64 in. (259 to 1,625 mm)
Thickness
Max. 1.0 mm (39 mil) with liner

Roll outer diameter
8.3 in. (Max. 210 mm)
Roll weight
88 lb. (Max. 40 kg)
Core diameter (*1)
3 in. (76.2 mm) or 2 in. (50.8 mm)
Printing width (*2)
63.6 in. (Max. 1,615 mm)

Ink
Type
TR2 INK 500 ml pouch (only white 250 ml)

Colors
8 colors (Cyan, Magenta, Yellow, Black, Light Black, Orange, Green, and White)
8 colors (Cyan, Magenta, Yellow, Black, Light Cyan, Light Magenta, Light Black, and White)
8 colors (Cyan, Magenta, Yellow, Black, Light Cyan, Light Magenta, Light Black, and Orange)
7 colors (Cyan, Magenta, Yellow, Black, Light Black, Orange and Green)
4 colors (Cyan, Magenta, Yellow, and Black)

Printing resolution (dots per inch)
Max. 1,200 dpi

Distance accuracy (*3)
Error of less than ±0.3% of distance traveled or ±0.3 mm (±11.8 mil), whichever is greater.
Media heating system (*4)
Print heater set temperature: 86 to 112°F (30 to 45°C)
Dryer set temperature: 86 to 122°F (30 to 50°C)
Connectivity
Ethernet (100BASE-TX/1000BASE-T, automatic switching)
Power-saving function
Automatic sleep feature
Power requirements
AC 100 to 120 V ±10%, 8.0 A, 50/60 Hz or AC 220 to 240 V ±10%, 4.1 A, 50/60 Hz
Power consumption
During operation
Approx. 1,090 W
Sleep mode
40 W
Acoustic noise level
During operation
63 dB (A) or less
During standby
53 dB (A) or less
Dimensions (with stand)
116 [W] × 28.8 [D] × 51.6 [H] in. (2,945 (W) × 730 (D) × 1,310 (H) mm)

Weight (with stand)
440.9 lb. (200 kg)
Environment
During operation
Temperature: 68 to 90°F (20 to 32°C), humidity: 35 to 80% RH (no condensation)
Not operating
Temperature: 41 to 104°F (5 to 40°C), Humidity: 20 to 80% RH (no condensation)
Included items
Dedicated stands, power cord, media holders, replacement blade for separating knife, cleaning liquid, drain bottle, user's manual, etc.
*1 The media holders of this machine are designed to be used exclusively with media that has a paper tube (core) with an inner diameter of 3 inches. To use 2-inch media, the optional media flanges are required.
*2 The length of printing is subject to the limitations of the application software.
*3

Media type: Media specified by Roland DG Corporation
Temperature: 77°F (25°C), humidity: 50%RH
Roll media must be loaded correctly.
Excluding expansion/contraction of the media
Not assured when the print heater or dryer is used.
Assumes all correction and adjustment functions of the machine have been used properly.
Print travel: 39.4 in. (1 m)

*4

Warm-up is required after power up. This may require 5 to 20 minutes, depending on the operating environment.
Depending on the ambient temperature and the media width, the set temperature may not be reached.
Brochure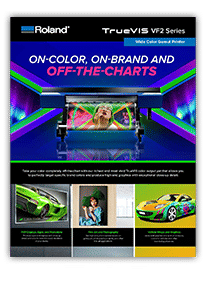 Download Your VF2-640 Brochure
Get your digital guide to all the features, applications, benefits and specifications of the Wide Color Gamut Printer.
Download Brochure