Roland DGA Recognized as NADL 2019 Supplier of the Year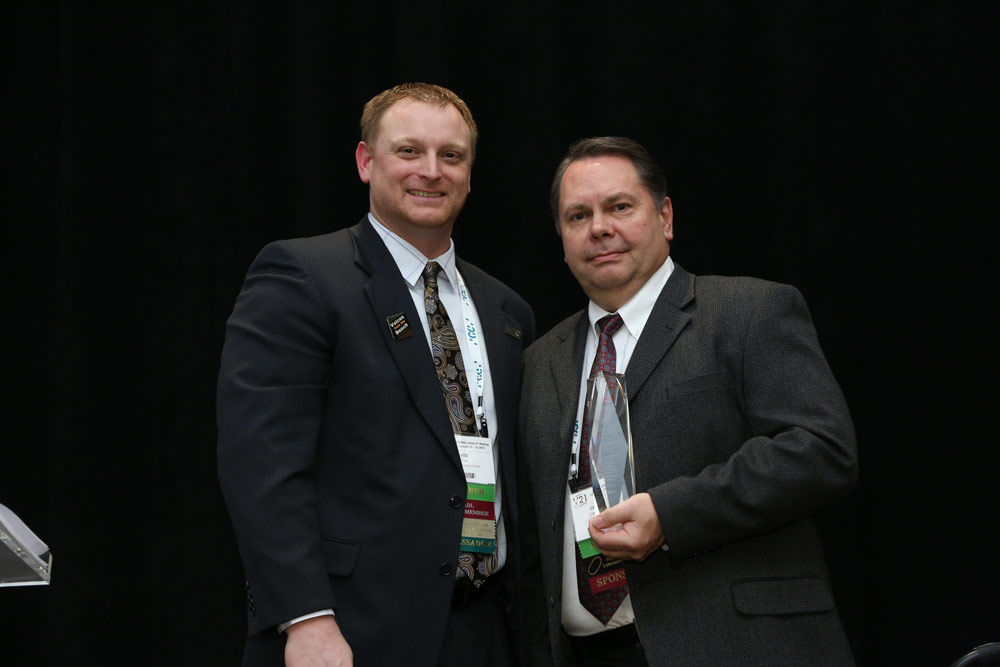 Irvine, Calif., Feb. 5, 2019 – Roland DGA Corporation, a leading provider of advanced milling machines and 3D devices for the dental market, has received the National Association of Dental Laboratories' (NADL) Supplier of the Year Award for 2019. This prestigious award is presented annually to a company that has made significant contributions to and demonstrated leadership in the dental laboratory industry. NADL presented the award to Roland DGA during an evening ceremony at the recent NADL Vision 21 Meeting in Las Vegas.

"Roland DGA has earned the 2019 NADL Supplier of the Year Award not only for bringing innovative products to the market, but also for its very strong customer service culture," said NADL President Travis Zick. "The company embodies high standards in terms of its own workforce, the education and support it provides to the industry, and its social responsibility within their community."

In addition to advancing digital dentistry with its cutting-edge DGSHAPE DWX dental mills and 3D devices, Roland DGA is renowned for its best-in-class customer service and support, which includes a dedicated in-house support team as well as a channel of certified technicians. The company is a leader when it comes to education as well, offering online resources, regularly scheduled webinars, continuing education clinics, instructional workshops, and more.

Supplying labs with state-of-the-art dental equipment is just part of Roland DGA's overall operation. The company is also a top supplier of wide-format inkjet printers for the sign and graphics industry, rotary engravers and impact printers for gifts, awards, ADA signs and part marking, and 3D milling machines for industrial design and engineering.

"Being recognized by the NADL as the industry's top vendor for 2019 is a great honor," said Roland DGA president, Andrew Oransky. "At Roland DGA, we are committed to providing products and services that enable the success of our customers and the industry as a whole. We're equally committed to the wellbeing of our employees, our partners and our community."

According to Oransky, all these factors have made it possible for Roland DGA's dental business to grow from virtually non-existent just eight years ago into a leading provider of dental mills today. "Roland DGA isn't the type of company that rests on its laurels," added Oransky, "We are constantly working on improving our products, developing new technologies, and coming up with ways to deliver more value to users and the industry."

To learn more about Roland DGA, visit www.rolanddga.com. For more information on the complete line of DGSHAPE dental solutions from Roland, visit www.rolanddga.com/dental.

About Roland DGA Corporation

Roland DGA Corporation serves North and South America as the marketing, sales, distribution and service arm for Roland DG Corporation. Founded in 1981 and listed on the Tokyo Stock Exchange, Roland DG of Hamamatsu, Japan is a worldwide leader in wide-format inkjet printers for the sign, apparel, textile, personalization and vehicle graphics markets; engravers for awards, giftware and ADA signage; photo impact printers for direct part marking; and 3D printers and CNC milling machines for the dental CAD/CAM, rapid prototyping, part manufacturing and medical industries.

About DGSHAPE Corporation

DGSHAPE Corporation was spun-off of Roland DG Corporation in 2017 as a wholly-owned subsidiary to develop and market the company's innovative 3D products, including DWX mills and DWP 3D printer for the dental industry, MPX photo impact printers and EGX engravers for the industrial labeling and personalization industries, and MDX and monoFab series of desktop milling machines for the rapid prototyping, manufacturing, and hobby industries. The company's products are distributed worldwide.