For artists, designers, developers, photographers and other creative people, Los Angeles Convention Center was the place to be from October 15-18. Ron Howard was there, Questlove was there, Spiderman was there, and Roland DGA was there.
For the third year running, Roland DGA teamed up with Adobe for this year's Adobe MAX 2018 in the "Make it Experience" section of the Community Pavilion. Using Roland DG VersaUV direct-to-substrate printers, attendees were able to print their photos, designs and illustrations on journal covers to create one of the conference's most highly-prized giveaways. The results were a vivid and colorful representation of a conference with incredibly creative professionals.

(Top) Lines of Adobe MAX attendees queued for their chance to design and print their own personalized journals with help from Roland DG and Adobe team members. (Center) Graphic Designer, Hahau Yisrael creates his journal design in Adobe's "Make it Experience" space. (Bottom) Roland DG's Garrett Smawley manages and prints thousands of designs with Roland DG VersaWorks RIP software and Roland DG VersaUV flatbed printers.
Personalization at Adobe MAX with VersaUV Technology
At the "Make it Experience" space, attendees used Adobe Creative Cloud applications and software to access their files and design their journals before sending them to RIP and print using Roland DG's latest VersaWorks 6 software and VersaUV LEF2-300 flatbed printers that worked non-stop to supply an excited crowd of attendees with custom-printed journals.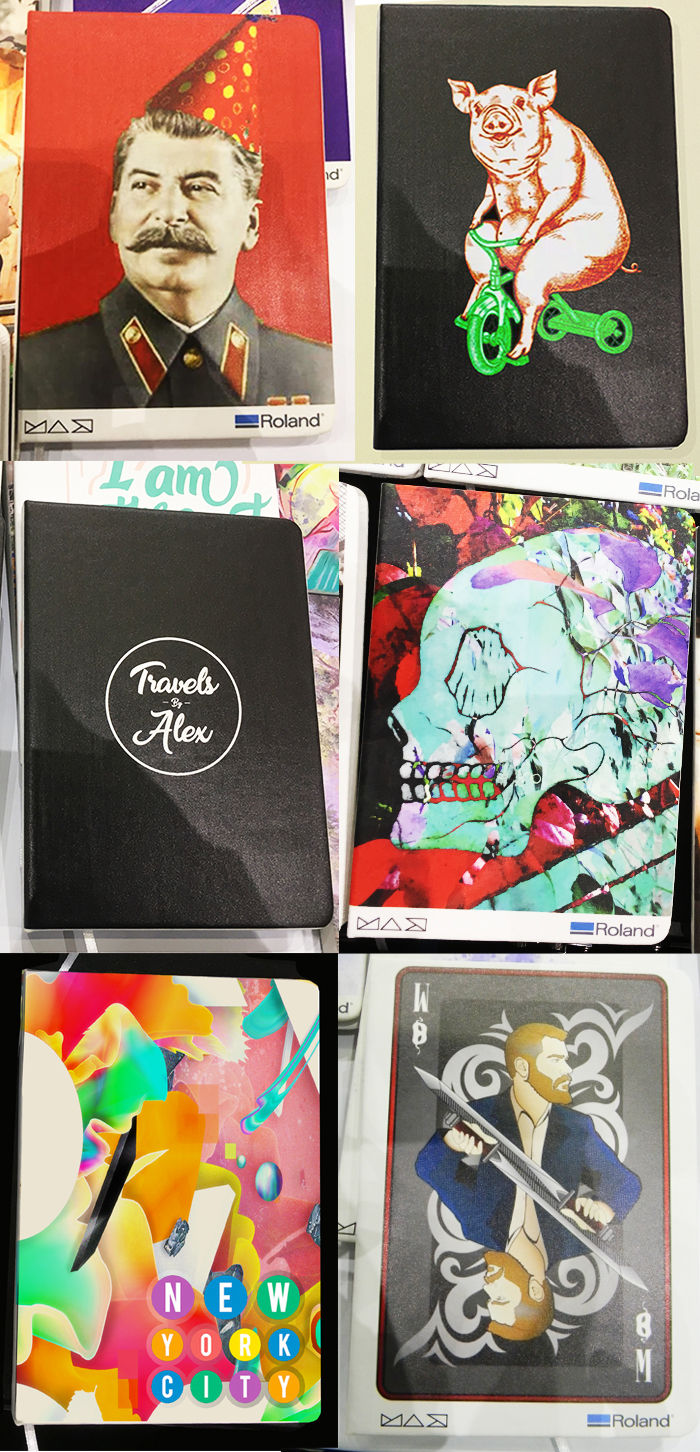 Cool, edgy and fun journal designs at Adobe MAX included everything from portfolio pieces to a pig on a tricycle.
Thousands of Custom Journals for Students, Teachers and Professionals
Adobe MAX attendees came from all countries and from all corners of the US to share ideas, gain new experiences and to score some seriously cool swag from the industry-leading sponsors and vendors in the Community Pavilion. The thousands of attendees who designed and printing custom journals included Harry Hill, a Graphic Designer at Holyoke Community College in Springfield, Heather Marie, a Graphic Design and Hand Lettering Expert from Glendora, and A. Brooke Hise, a freelance designer from Los Angeles.

(From top to bottom) Harry Hill with his Batman inspired design, A.Brooke Hise with her graphic design work, and Heather Marie with her typographical design
Nio Subaran, a graphic designer from Seattle, designed and printed two journals, including one with his own personal logo on it. He told Roland DG how happy he was with his custom printed journals and was complimentary of the print quality and the clarity of color and imagery.
"The journals came out with super crisp, smooth images and color – I would love to own one of these machines at home; giving me the chance to put my illustrations and design work on virtually anything."
~ Graphic Designer, Nio Subaran

(Top) Nio Subaran poses at home with his newly printed journals (bottom) a detailed view of his logo journal
The underlying theme of this year's Adobe MAX was mentorship and giving support to other designers and artists. Roland DGA had a blast at Adobe MAX and continued in its company role as a major resource for designers, photographers and other creative people who are looking to find exciting new ways to apply their work. It was amazing to see such talented people create a myriad of creative output with VersaUV flatbed printer technology.