Have you seen a runway show lately? Did you happen to watch the US Open of tennis? The world has gone fluorescent mad with sportswear and fashion – completely embracing hyper-bright colors that add fun and excitement to events.
For print service providers who are considering using solutions like Roland DG's new new dye-sublimation fluorescent inks, the following post discusses this trend and offers some inspirational examples of fashion items and sportswear.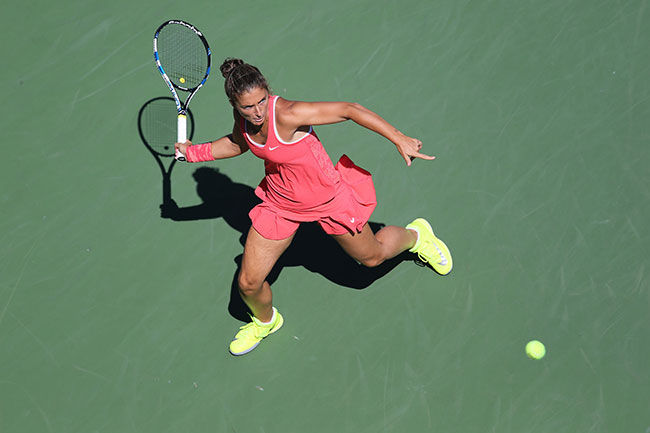 Professional tennis player Sara Errani of Italy in action at the US Open 2015 at National Tennis Center in New York – rocking bright fluorescent colors instead of traditional whites.
Trending Fluorescent
Every decade seems to revisit fluorescent colors. In the 80's it ruled new wave fashion and sportswear, in the 90's it was huge with hip-hop and rave culture and now, in 2016, it's back in a big way. The need for neon in fashion reflects people's longing for brighter colors as an antidote for difficult times – fluorescent as anti-depressant.
Fluorescent colors are like pop music and energy. They represent a transition from the simple colors, strict lines and shapes of the last few years to a rebirth of color and a resurgence of unstructured style that rebels against design subtlety.
Fluorescent Fashion Collections
Designers like Astrid Andersen, Raul Peneranda, Tahir Sultan and even fashion heavyweights like Michael Kors have recently produced collections, showcasing fluorescent color as a key color – as seen in the following examples: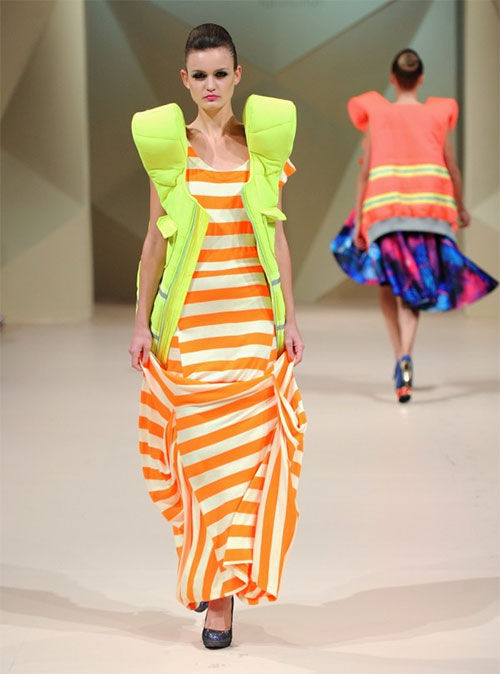 Image courtesy of thebestfashionblog.com
Popular Indo-Kuwaiti fashion designer, Tahir Sultan presented his new Spring-Summer 2015 collection with bright fluorescents.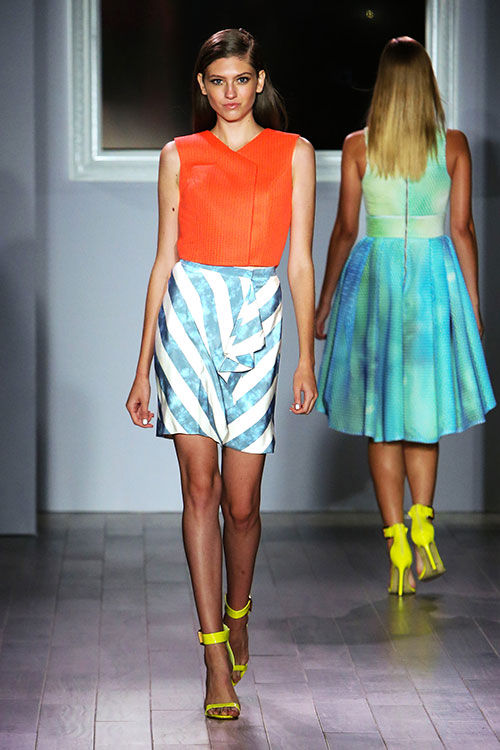 Image courtesy of Anton Oparin
Raul Peneranda presents his new collection that included pieces with fluorescent brilliance at this year's New York Fashion Week
Ready-Wear Fluorescent
This trend is also being reflected in the ready-wear fashion and accessories market with high street stores like Target and Forever 21 creating stylish fluorescent pants, ties, shorts, handbags, jewelry and footwear. Large online retailers, such as boohoo.com are also supplying beautifully stylish neon fashion pieces.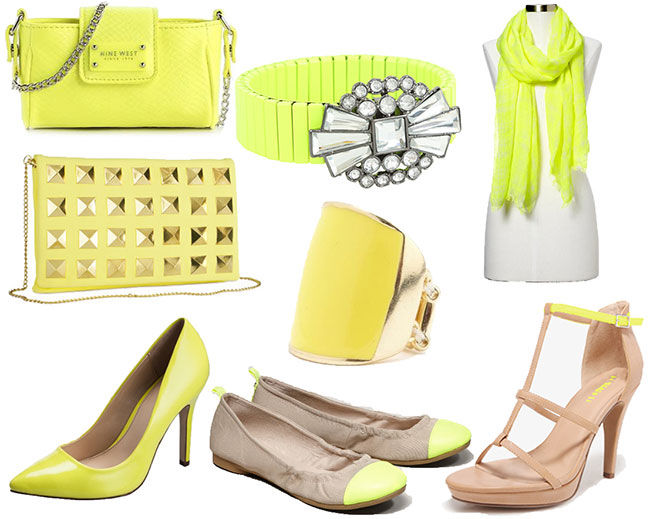 Image courtesy of styledarlingdaily.com
Yellow neon accessories from Prabal Gurung, Target, American Eagle Outfitters, and
Forever 21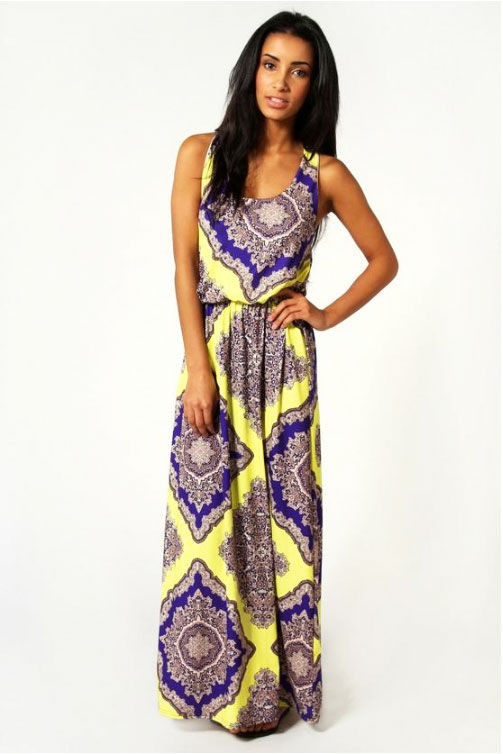 Image courtesy of boohoo.com
A loose and comfortably stylish summer dress from online retailer, boohoo.com that perfectly combines bright fluorescent color with decorative patterns
Youthful Fluorescent Appeal
Fluorescent fashion has always been popular with the youth market but it's all grown-up now, appealing to adult trendsetters and adding super stylish touches to outfits. It takes the fun and childlike aspects of youth fashion and co-opts them to fit into the sophisticated adult world of fashion.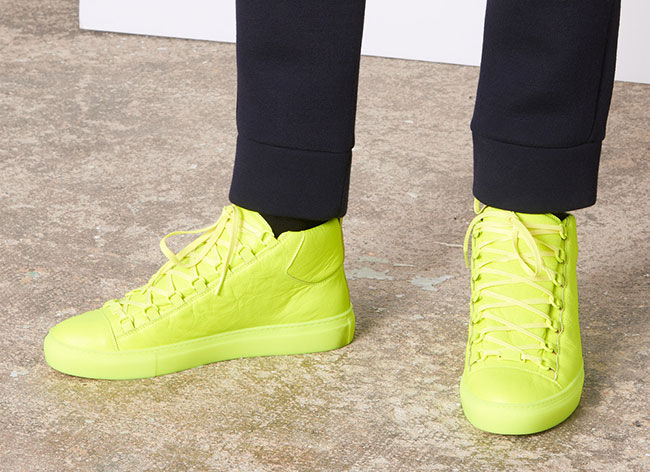 Image courtesy of balenciaga.com
Hightop lambskin sneakers from Balenciaga combine youthful fluorescent fashion concepts with high fashion style
Fluorescent Sportswear
Fluorescent sportswear has not seen such a renaissance since the 1990's when Andre Agassi was running round the court in fluorescent pink shirt with matching neon headband to hold down his signature locks. Fluorescent adds color and dynamism to sportswear. It also represents a practical solution for sports coverage in which spectators can easily see the players.
With such an array of bright colors on display, it's impossible not to notice all the professional jerseys and kits are now sporting fluorescent colors. This trend can be seen in soccer, NFL Football, tennis, beach volleyball, ice hockey, active wear, winter sports and just about everything else.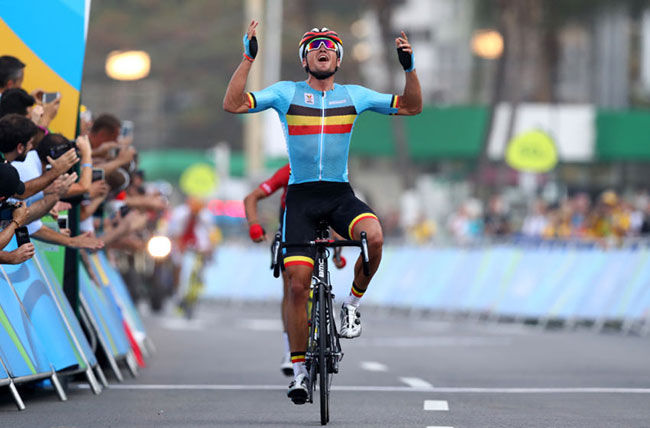 Image courtesy of Fansided.com
Belgium rider, Greg van Avermaet celebrates winning the gold medal at Rio 2016 while wearing a cool fluorescent blue cycling jersey created by Bioracer Speedwear with a Roland DG dye-sublimation printer.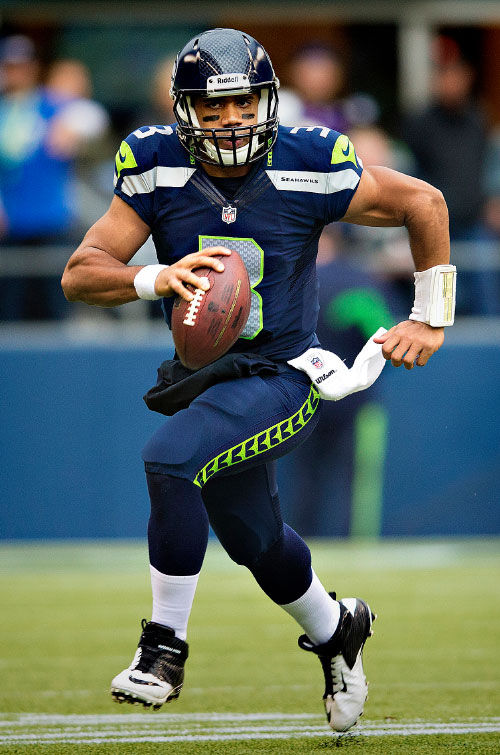 Image courtesy of Larry Maurer
Seattle Seahawks quarterback, Russell Wilson sporting the neon seahawks uniform with bright green fluorescent highlights.
Fluorescent Swimwear
Swimwear has always utilized the radiant color of fluorescent to add fun and sunshine to swimwear. The new fluorescent trend has further made neon a fashion essential for swimwear design. From the runway to the high street, to the Internet, fluorescent is big in bikinis.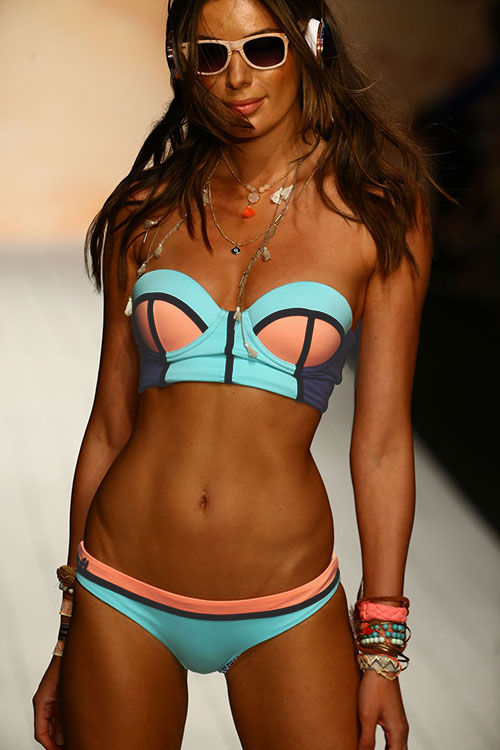 Image courtesy of Anton Oparin
An example of designer swim apparel showcased at the Maaji Swimwear fashion show for Miami Swim Week, 2015 – it shows a new fluorescent style that's made for a sophisticated fashion market
As the fashion and sports worlds embrace fluorescent colors, textile decorators can add fluorescent inks to their dye-sublimation output. By combining Roland DG's Texart dye-sublimation printers with Texart fluorescent inks, you can create your own stylish fluorescent fashions.