Turn Your Ideas Into Reality
3D mill parts and prototypes from your desktop.
monoFab SRM-20 Desktop Milling Machine
MSRP

WAS $4,995 US
NOW $3,995 US*

* U.S. only. For Canada, Latin America and Caribbean pricing, please call (949) 727-2100, or contact an Authorized Roland DGA Dealer in your area.
As a small milling machine, the SRM-20 offers compact size and powerful functionality at an affordable price. Production of realistic parts and prototypes is made simple and convenient with a device that fits into any office, home, or classroom environment. For users looking for advanced milling capabilities without the need for expert operating skills, the SRM-20 is the easiest and most precise CNC mill in its class.

Create Realistic Prototypes
A wide range of materials, including modeling wax, chemical wood,
foam
, acrylic, poly acetate, ABS and PC board can be precision milled using the SRM-20 small milling machine, allowing you to create realistic 3D prototypes that are virtually identical to production parts.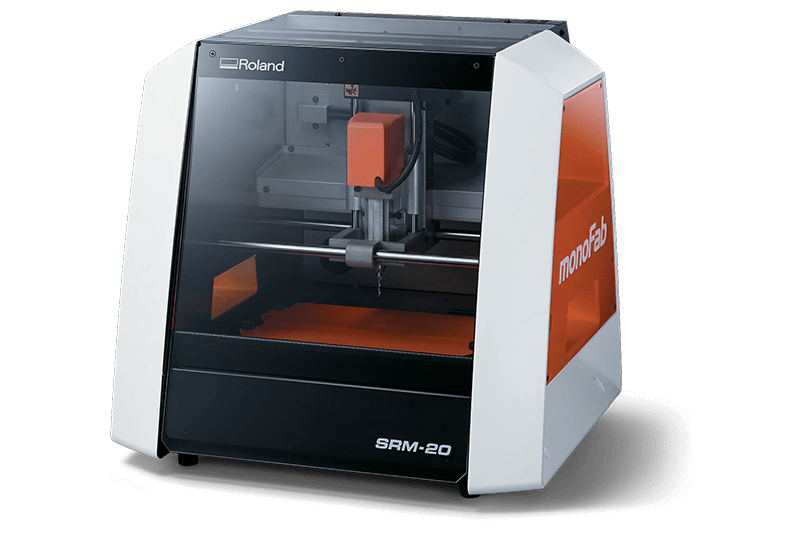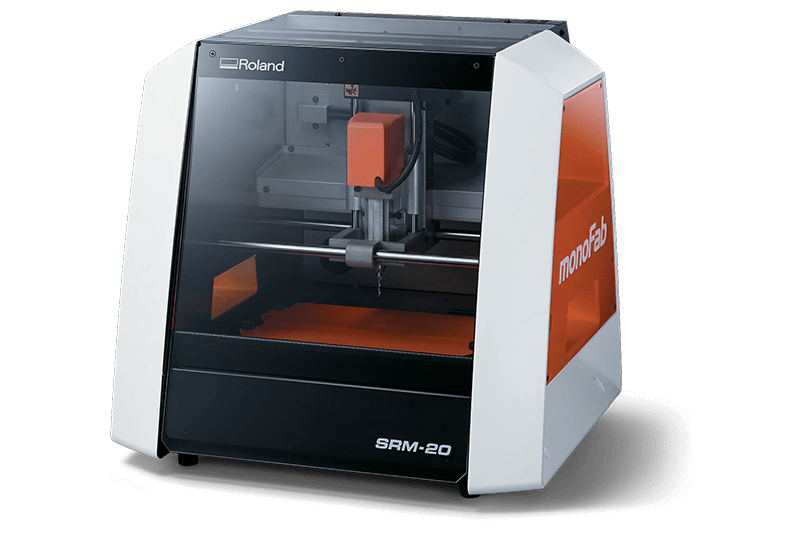 Precision and Productivity
Engineered for optimum efficiency and productivity, the SRM-20 is a next-generation desktop mill that boasts a micro-step motor drive system for clean and precise contours and a phenomenal feed rate that's two times faster than previous generations.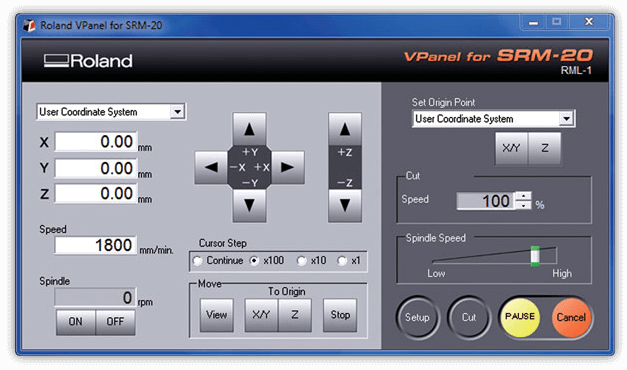 Multi-axis milling is as easy as X, Y and Z
The SRM-20 was designed with a number of technological advancements that include a touch-button VPanel controller to regulate feed rate, spindle speed and milling on a complete X, Y, Z axes, and a new independent collet system that allows for faster setting of the Z-axis base point and quick tool changes.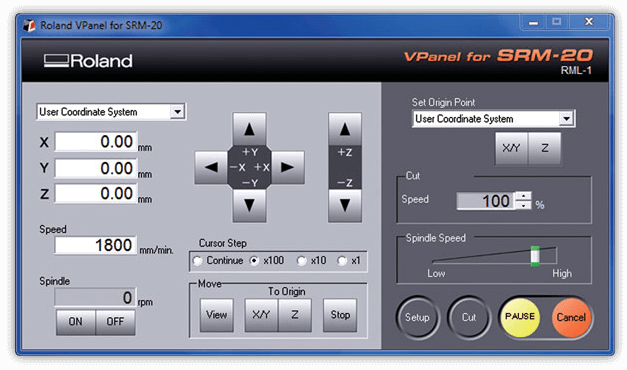 Additional Information
Expand All
|
Collapse All
Brochure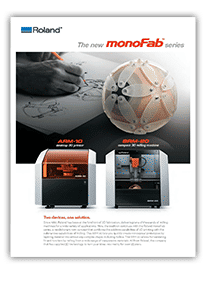 Download Your monoFab SRM-20 Brochure
Get your digital guide to all the features, applications, benefits and specifications of the Desktop Milling Machine.
Download Brochure
Specifications 
MODEL
SRM-20
Cuttable Material
Modeling Wax, Chemical Wood, Foam, Acrylic, Poly acetate, ABS, PC board
X, Y, and Z Operation Strokes
8 (X) x 6 (Y) x 2.38 (Z) inches,
203.2 (X) x 152.4 (Y) x 60.5 (Z) mm
Workpiece table size
9.14 (X) x 6.17 (Y) inches,
232.2 (X) x 156.6 (Y) mm
Distance From Collet Tip to Table
Maximum, 5.15 in
(130.75mm)
Loadable Workpiece Weight
4.4 lbs (2kg)
X-, Y-, and Z-Axis Drive System
Stepping motor
Operating Speed
0.24 – 70.87inch/min,
6 – 1800mm/min

Software Resolution
0.000039 inches/step (RML-1), 0.000039 inches/step (NC code),
0.01 mm/step (RML-1), 0.001mm/step (NC code)

Mechanical Resolution
0.0000393 inches/step,
0.000998594 mm/step
Spindle Motor
DC motor Type 380
Spindle Rotation Speed
Adjustable 3,000 – 7,000 rpm
Cutting Tool Chuck
Collet method
Interface
USB
Control Command Sets
RML-1, NC code
Power Requirements
Machine: DC24V, 2.5A,
Dedicated AC adapter: AC 100-240V ±10%, 50/60Hz
Power Consumption
Approx. 50W
Operating Noise
During operation: 65 dB (A) or less (when not cutting),
during standby: 45 dB (A) or less
External Dimensions
17.76 (W) x 16.80 (D) x 16.78 (H) inches,
451.0 (W) x 426.6 (D) x 426.2 (H) mm
Weight
43.2 lbs, 19.6 kg
Installation Environment
Temperature of 41 to 104 °F (5 to 40°C),
35 to 80% relative humidity (no condensation)
Included Items
USB cable, AC adapter, Power cord, Collet (6mm, .236 inches), Collet set screw, Spanners (7,10mm / 0.28, 0.39 inches), Hexagonal
wrench (size 2,3 mm / 0.059, 0.12 inches), Positioning pins,
Double-sided tape, Start-up page guidance card, Cutting tools not included
System Requirements
Operating system (OS)
Windows 7/8/8.1 (32-bit/64-bit edition)*
CPU
Intel® Core 2 Duo or more (Core i5 or more recommended)
Memory (RAM)
1GB (2GB or more recommended)
Video card and monitor
A resolution of 1,280x1,024 or more recommended
Free hard-disk space required
as a working space
100 megabytes or more recommende
Other requirements
Internet connection and web browser,
Internet Explorer version 10 or more recommended