Roland DGA Launches TrueVIS Value Up Program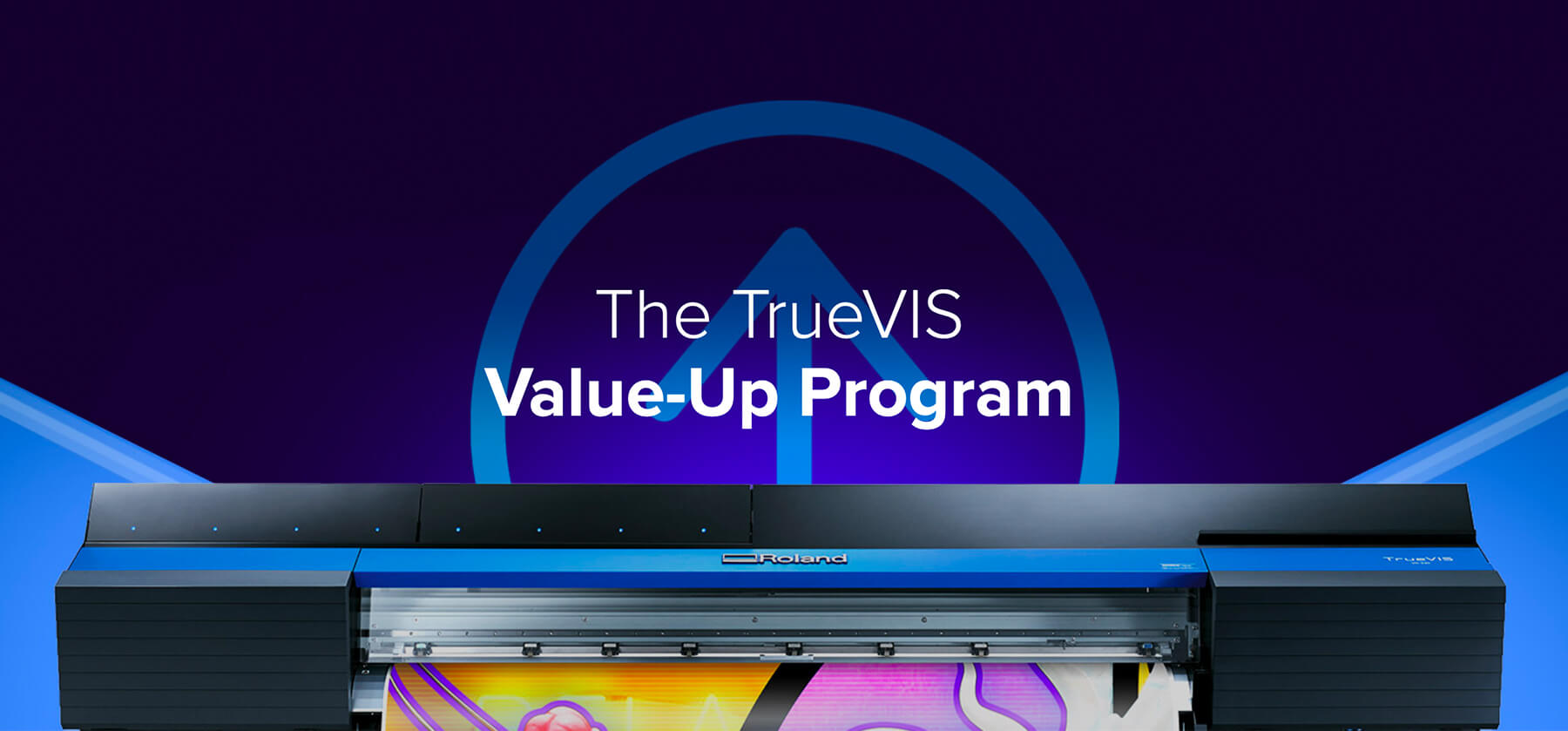 Irvine, Calif., September 17, 2019 – Roland DGA has announced the launch of its new "TrueVIS™ Value-Up Program," offering current owners of Roland TrueVIS VG series wide-format printer/cutters the opportunity to upgrade the print durability guarantees, capabilities and cutting power of their existing inkjets. This upgrade enables TrueVIS VG-640 and VG-540 owners to make their printer/cutters compatible with the latest TR2 inks*, print/cut functionalities, and other improvements of Roland's recently launched TrueVIS VG2 series.
The TrueVIS Value-Up Program gives VG owners access to several VG2 advantages, including TR2 ink compatibility with certified print results on 3M and Avery Dennison media, a wider color gamut with ultra-vivid True Rich Color enhancement, new cutting and automated maintenance capabilities, advanced productivity and efficiency features, and much more.
"Our new Value-Up Program offers a quick and easy way for current VG owners to 'super-charge' their existing printer/cutters with next-generation TrueVIS VG2 color and performance," noted Daniel Valade, Roland DGA Product Manager of Digital Print. "This represents our commitment to providing Roland users with the tools and technologies they need to build their businesses and better serve their customers."
The VG series with new TR2 ink is certified for long-lasting results by the 3M MCS Warranty, providing users with assurance of the quality and durability of their graphics. The VG series with TR2 ink has also earned Avery Dennison's ICS Performance Guarantee certification, which provides outdoor durability protection for up to four years and indoor durability protection for up to seven years. Avery Dennison has set the recommended outgassing time at just six hours, dramatically reducing the print and laminate timeframe.
With the upgrade, VG owners also obtain a host of new features that improve print and cut accuracy and usability. Crop mark options are added for even greater precision when cutting laminated printed materials. A newly added PerfCut mode allows for printing, cutting and die-cutting in one seamless operation. In addition to the Print & Cut function, VG owners can take advantage of the Cut & Print function, which lets you cut first and then print later. This helps reduce edge curls when dealing with thin media, such as heat transfer films for apparel decoration.
VG-640/540 users can upgrade their devices by downloading the specified firmware and the latest version of VersaWorks® 6 RIP software. To learn more or get started, visit https://www.rolanddga.com/support/upgrades/truevis-vg. For more information on the complete Roland DGA product line, visit https://www.rolanddga.com.
* The VG series does not support TR2 Orange ink. TR2 White ink is available in 250 ml.
About Roland DGA Corporation
Roland DGA Corporation serves North and South America as the marketing, sales, distribution and service arm for Roland DG Corporation. Founded in 1981 and listed on the Tokyo Stock Exchange, Roland DG of Hamamatsu, Japan is a worldwide leader in wide-format inkjet printers for the sign, apparel, textile, personalization and vehicle graphics markets; engravers for awards, giftware and ADA signage; photo impact printers for direct part marking; and 3D printers and CNC milling machines for the dental CAD/CAM, rapid prototyping, part manufacturing and medical industries. For more information, visit https://www.rolanddga.com.
About Roland DG Corporation
Roland DG Corporation is the world's leading provider of digital printing solutions. The company's inkjet printers, printer/cutters and cutting machines are widely used to create a broad range of promotional items including banners, signs, vehicle graphics, stickers and labels, and to provide customization services for apparel and personal items like smartphone cases. Recently, Roland DG has embarked on a promising new retail frontier by capitalizing on individuals' increasing desire to create their own, uniquely designed and decorated items. The company's COTO business division has developed proprietary design and print management software which enables customers to design their own gifts, apparel and treasured mementos, and to enjoy an unforgettable creative experience. For more information, visit https://www.rolanddg.com/en.