Blue Ridge/University of Arizona 4-H FAB LAB Uses Roland Technology to Get Youth Groups Excited About STEM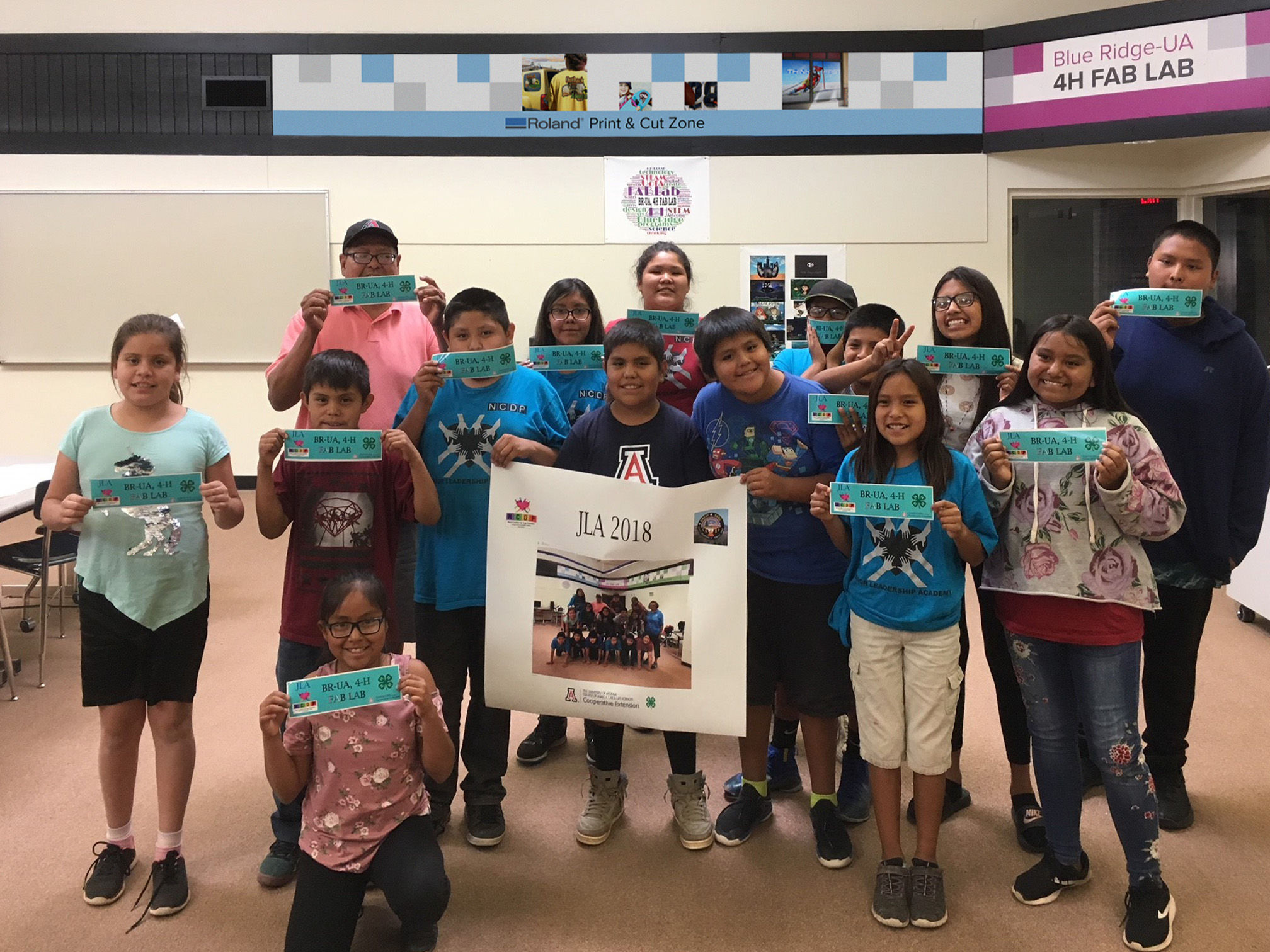 Irvine, Calif., July 24, 2018 – Since holding its grand-opening event in January of this year, the Blue Ridge/University of Arizona 4-H FAB LAB in Pinetop-Lakeside, Arizona has made it easy for local youth groups to gain hands-on experience with advanced technologies, including Roland digital printing and 3D milling devices. Recently, the Fab Lab played host to students from the White Mountain Apache Tribe as well as leaders from 4-H chapters in Pima, Coconino, Apache, Maricopa and Navajo counties, allowing these groups to use its state-of-the-art equipment.
"By giving young people the opportunity to make everything from digitally printed banners to 3D milled prototypes, we're helping to create the next generation of STEM professionals," said Kevin Woolridge, Co-Director of the Blue Ridge/UA 4-H FAB LAB. The simple operation and impressive capabilities of the devices in our lab make it possible to interest and engage users of all ages."

The Blue Ridge/UA 4-H FAB LAB provides students with free access to a wide variety of digital devices from Roland and other manufacturers. This state-of-the-art equipment includes Roland's VersaUV LEF-12 UV flatbed printer, VersaCAMM SP-300i wide-format printer/cutter, CAMM-1 GS-24 desktop cutter, and MDX-40A milling machine.

The visiting students from the White Mountain Apache Tribe STEM Program employed the Roland printer and software to create banners that the Canyon Day Robotics team, used at the recent IVEX IQ Junior High World Championships in Kentucky. In addition to designing and printing the banners, the students used the lab's 3D devices to make the supplies needed for three different STEM projects they completed at the event.

"The students used our Roland VersaUV LEF-12 UV flatbed printer to produce VEX Robots name tags that incorporated their very own graphic designs," noted Co-Director Steve Gouker, who represents the University of Arizona's 4-H program in the Fab Lab. "Seeing the light in the kids' eyes when they got to hold their finished projects was amazing – it was like they were opening presents on Christmas Day," Gouker added.

According to Bruce Goode, Director of the White Mountain Apache Tribe STEM Program, the students enjoyed their first visit to the Blue Ridge/UA 4-H FAB LAB tremendously. "We had a lot of fun, and it was a valuable learning experience for everyone involved," said Goode. "We intend to continue exposing our Native American students to STEM projects and new technologies by bringing additional groups to the lab on a weekly basis throughout the summer."

Equally excited about the Blue Ridge/UA 4-H FAB LAB is the Pima County 4-H Chapter in Tucson. Chapter leaders visited the facility to explore using the lab to provide members with access to 21st century learning opportunities. While the chapter's 800 members focus primarily on agriculture-based learning projects, the organization is seeking to bridge traditional 4-H projects with modern STEM education.

Vincent McGurk, a 4-H alumnus, Pima County 4-H Americorps member, and one of the individuals that toured the facility, used the lab's Roland wide-format inkjet to print out several new banners designed by a 4-H member with future career aspirations in graphic design. "This was the best day at work ever!" said McGurk. "I can see how we can get kids excited about using this kind of cutting-edge technology."

By utilizing open-source technologies, the Pima County 4-H Chapter plans to create new projects for young people interested in the STEM field, and will use the lab's real-world production capabilities.

With groups such as the White Mountain Apache STEM Program and area 4-H chapters visiting the facility, word about the Blue Ridge/UA 4-H FAB LAB is spreading. "Awareness of our lab and the great learning opportunities we offer is growing rapidly," said Woolridge. "There's already significant interest in establishing a "mini" Fab Lab in Tucson to complement our main Blue Ridge/UA 4-H facility in Pinetop-Lakeside."

For more information on the Blue Ridge/UA 4-H Fab Lab, visit http://brusd.org/cms/One.aspx?portalId=421616&pageId=10558214. To learn more about Roland DGA's products for the education market, or the complete Roland product lineup, visit www.rolanddga.com.

About the Blue Ridge 4H Fab Lab

The Blue Ridge/UA 4-H FAB Lab is an "open source, open door" K - 12 digital fabrication facility, where students and community members have access to digital design tools, electrical platforms, hardware/software, coding and training opportunities to make their projects a reality. The Fab Lab concept, started by MIT's Fab Foundation, is to be a place and program where students, parents and community members interact, learn and create in an atmosphere of 21st century learning, skills and tools.

About Roland DGA

Roland DGA Corporation serves North and South America as the marketing, sales and distribution arm for Roland DG Corporation. Founded in 1981 and listed on the Tokyo Stock Exchange, Roland DG of Hamamatsu, Japan is a worldwide leader in wide-format inkjet printers for the sign, apparel, textile, personalization and vehicle graphics markets; engravers for awards, giftware and ADA signage; photo impact printers for direct part marking; and 3D printers and CNC milling machines for the dental CAD/CAM, rapid prototyping, part manufacturing and medical industries.