"Discover Roland/Explore Africa" Contest Winner Announced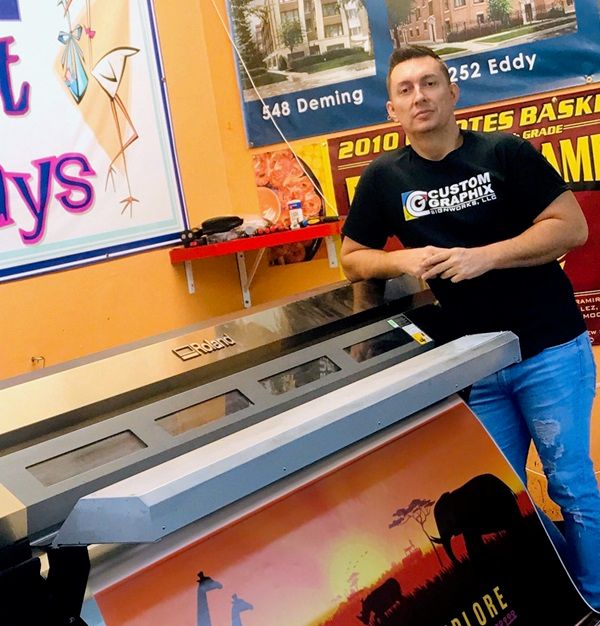 Lifelong Dream of African Safari Now a Reality for Former Bosnian War Refugee
Irvine, Calif., Feb. 12, 2019 – The dream trip of a lifetime is now a reality for a former Bosnian war refugee and current Arizona sign shop owner Mladen Mirkovic. Roland DG today announced thatMirkovic is the winner of the Grand Prize in Roland DG Corporation's Discover Roland/Explore Africa Contest – an all-expenses paid, luxury African sightseeing safari for two.
"To participate in the global contest," Eli Keersmaekers, Roland DG president of global sales and marketing said, "entrants had to schedule a personal product demonstration with an authorized Roland DG dealer and then write a short description of what they learned about the Roland inkjet device. Based on a review of entries from around the world, Mirkovic was the clear winner."
Mirkovic, who has purchased two Roland printers previously for his successful Phoenix sign shop, was researching his next equipment purchase on the Roland DGA web site when he learned about the contest and decided to enter. A demonstration of a VersaUV LEJ-640 UV hybrid/flatbed printer from local Roland dealer Toryon Technologies inspired Mirkovic to write his winning entry, which read as follows: "I discovered the Roland VersaUV LEJ-640 hybrid printer, a machine that will open the door to new opportunities and discoveries. This printer will allow me print directly to substrates, eliminating additional labor as well as the cost of vinyl media and application tape. I also discovered new ways to profit and save. Roland will always help me discover new ventures for my sign business."
Born in Bosnia and Herzegovina, Mirkovic's family was forced to flee the war in 1992, eventually emigrating to Phoenix. Following school, a passion for advertising and printing led him to purchase a plotter and open his own sign shop, Custom Graphix Signworks, LLC. Initially, he focused on vehicle graphics but was eager to do more. The purchase of a Roland VersaCAMM SP540V printer/cutter opened the door to producing banners, window graphics, decals, and magnetic signs. Two years later, he needed to add a SOLJET PRO III XJ-740 printer to keep up with production. Hard work and a flair for design resulted in a highly profitable business, allowing his entire family to quit their fulltime jobs and join him in running the operation.
Mirkovic, now 37, remembers watching National Geographic as a child with his father and dreaming of taking his dad on an African safari one day. "My dad was always there for me, bringing us to the USA so we could start a normal life, enjoy the freedom and endless possibilities. He is my true hero!"
That dream is now a reality. The 11-day tour includes stays at three South African parks known for their wide variety of wildlife. According to Mandy Francis-Pope, tour coordinator at Venture To Africa, Mirkovic and his father will have an excellent opportunity to observe hundreds of birds and exotic animals during day and nighttime game drives with a ranger and tracker, while enjoying stays in luxury accommodations. "There's a good chance they'll get to see the 'Big 5' – lions, leopards, African elephants, Cape buffalo and both black and white rhinos – in their natural habitat," said Francis-Pope.
"We want to thank all those who entered for making the contest a success," Keersmaekers said, "and for helping Roland DG maintain worldwide leadership in the sign industry for over 30 years."
To learn more about the complete line of Roland products, visit www.rolanddga.com.
About Roland DG Corporation
Roland DG Corporation is the world's leading provider of digital printing solutions. The company's inkjet printers, printer/cutters and cutting machines are widely used to create a broad range of promotional items including banners, signs, vehicle graphics, stickers and labels, and to provide customization services for apparel and personal items like smartphone cases. Recently, Roland DG has embarked on a promising new retail frontier by capitalizing on individuals' increasing desire to create their own, uniquely designed and decorated items. The company's COTO business division has developed proprietary design and print management software which enables customers to design their own gifts, apparel and treasured mementos for an unforgettable creative experience. For more information on Roland DG Corporation, visit www.rolanddg.com.
About Roland DGA Corporation
Roland DGA Corporation serves North and South America as the marketing, sales, distribution and service arm for Roland DG Corporation. Founded in 1981 and listed on the Tokyo Stock Exchange, Roland DG of Hamamatsu, Japan is a worldwide leader in wide-format inkjet printers for the sign, apparel, textile, personalization and vehicle graphics markets; engravers for awards, giftware and ADA signage; photo impact printers for direct part marking; and 3D printers and CNC milling machines for the dental CAD/CAM, rapid prototyping, part manufacturing and medical industries. For more information on Roland DGA Corporation, visit www.rolandga.com.