Roland DGA Announces Launch of New GR2 Series Large-Format Vinyl Cutters
Next-Generation GR2-640 and GR2-540 Offer Superior Cutting Accuracy and Downforce, Plus Innovative Features for Seamless Print-then-Cut Production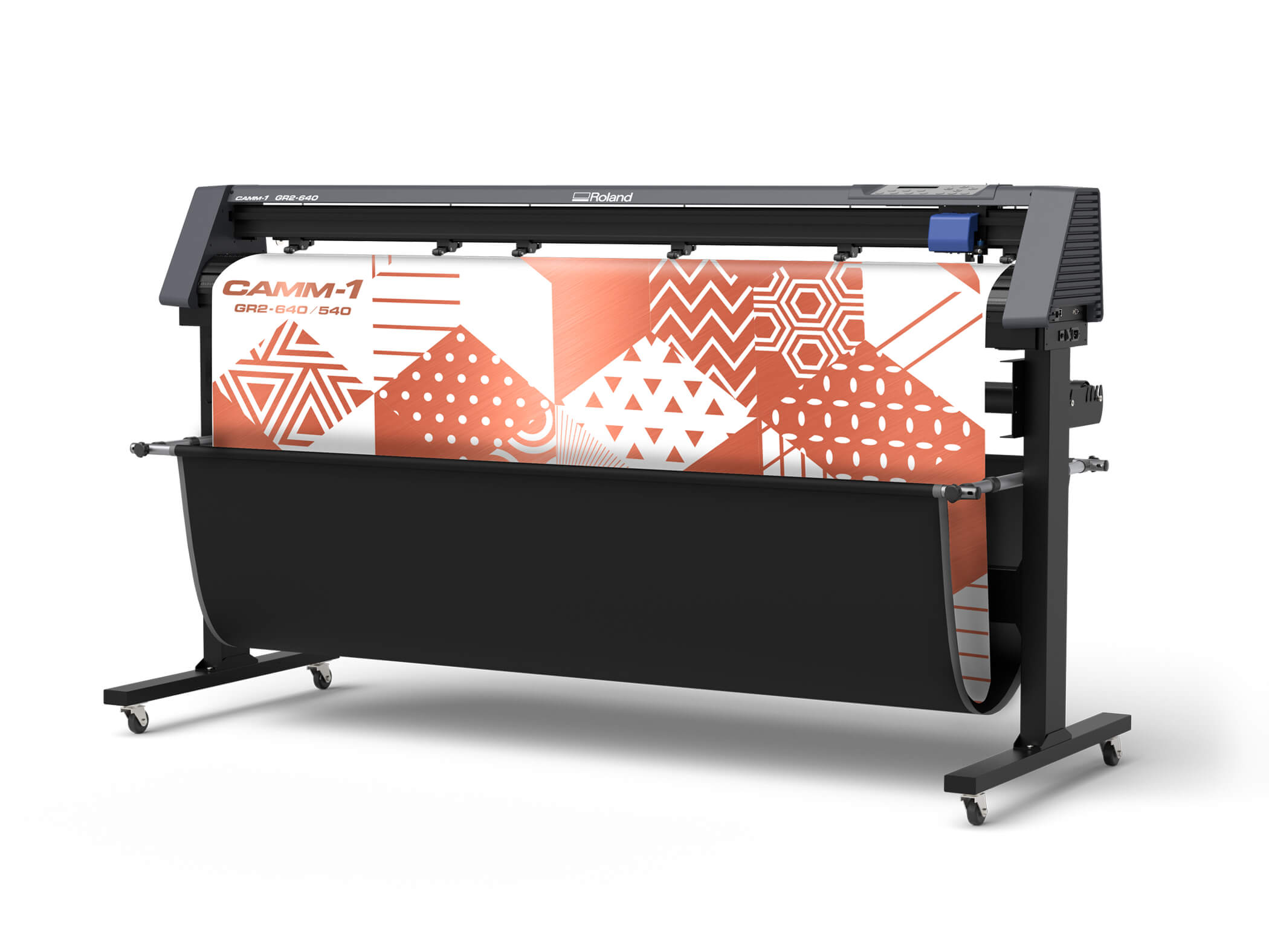 Irvine, Calif., July 20, 2021 – Roland DGA Corporation, a leading provider of large-format inkjet printers, printer/cutters, and other advanced digital devices, has announced the addition of new 64-inch GR2-640 and 54-inch GR2-540 large-format vinyl cutters to the Roland DG CAMM-1 series. These next-generation machines are capable of cutting almost any shape quickly and cleanly from a broad range of materials, including everything from thin automotive films and heat transfer sheets to thick reflective sheets and sandblast masks. This makes the GR2-640 and GR2-540 ideal for applications such as signs, decals, window film, vehicle wraps, sports apparel, and more.
The new GR2 series cutters, which are designed to integrate seamlessly with Roland DG's large-format inkjet printers, offer superior cutting versatility and accuracy, plus unmatched reliability, at affordable pricing.
With a top cutting speed of 60.1 inches (1,530 mm) per second and a maximum downforce of 600 gf, the GR2-640 and GR2-540 provide the precision cutting quality and high-volume productivity required by professional users.
GR2 series cutters pair perfectly with Roland DG's large-format inkjets using the identical VersaWorks® 6 RIP software for seamless Print-then-Cut production. Contour lines can be added and crop marks generated automatically to imported printing data from VersaWorks 6, ensuring that the outlines of graphics are cut accurately and eliminating the need to switch back from graphics software like Adobe® Illustrator® or CorelDRAW® to complete production. Users will also appreciate the included multi-crop mark function that allows for more precise contour cutting of large quantities of printed material, as well as the Roland DG AAS II plug-in software, which allows for easy pairing with other large-format printers.
"The new GR2 series cutters are uniquely designed to work hand-in-glove with Roland DG printers, making it easier and faster than ever to contour cut the stunning graphics that come off our inkjets" said Daniel Valade, Roland DGA Product Manager of Digital Print. "In addition to maximizing productivity, these versatile devices precision cut an incredibly wide variety of materials, expanding the creative opportunities for users."
The new CAMM-1 GR2 series will be on display at PRINTING United 2021, October 6-8 in Orlando, Florida, giving those at this important industry event an opportunity to see these exciting new cutters in action.
To learn more about the new CAMM-1 GR2-640 or GR2-540 large-format vinyl cutters, visit https://www.rolanddga.com/gr2. For more information on the complete Roland DGA product line, visit https://www.rolanddga.com.
About Roland DGA Corporation
Roland DGA Corporation serves North and South America as the marketing, sales, distribution and service arm for Roland DG Corporation. Founded in 1981 and listed on the Tokyo Stock Exchange, Roland DG of Hamamatsu, Japan is a worldwide leader in wide-format inkjet printers for the sign, apparel, textile, personalization and vehicle graphics markets; engravers for awards, giftware and ADA signage; photo impact printers for direct part marking; and 3D printers and CNC milling machines for the dental CAD/CAM, rapid prototyping, part manufacturing and medical industries.
About Roland DG Corporation
Roland DG Corporation is the world's leading provider of digital printing solutions. The company's inkjet printers, printer/cutters and cutting machines are widely used to create a broad range of promotional items including banners, signs, vehicle graphics, stickers and labels, and to provide customization services for apparel and personal items like smartphone cases. Recently, Roland DG has embarked on a promising new retail frontier by capitalizing on individuals' increasing desire to create their own, uniquely designed and decorated items. The company has developed proprietary design and print management software which enables customers to design their own gifts, apparel and treasured mementos, and to enjoy an unforgettable creative experience.