Roland DGA Announces Launch of New Texart RT-640M Multi-Function Dye Sublimation Printer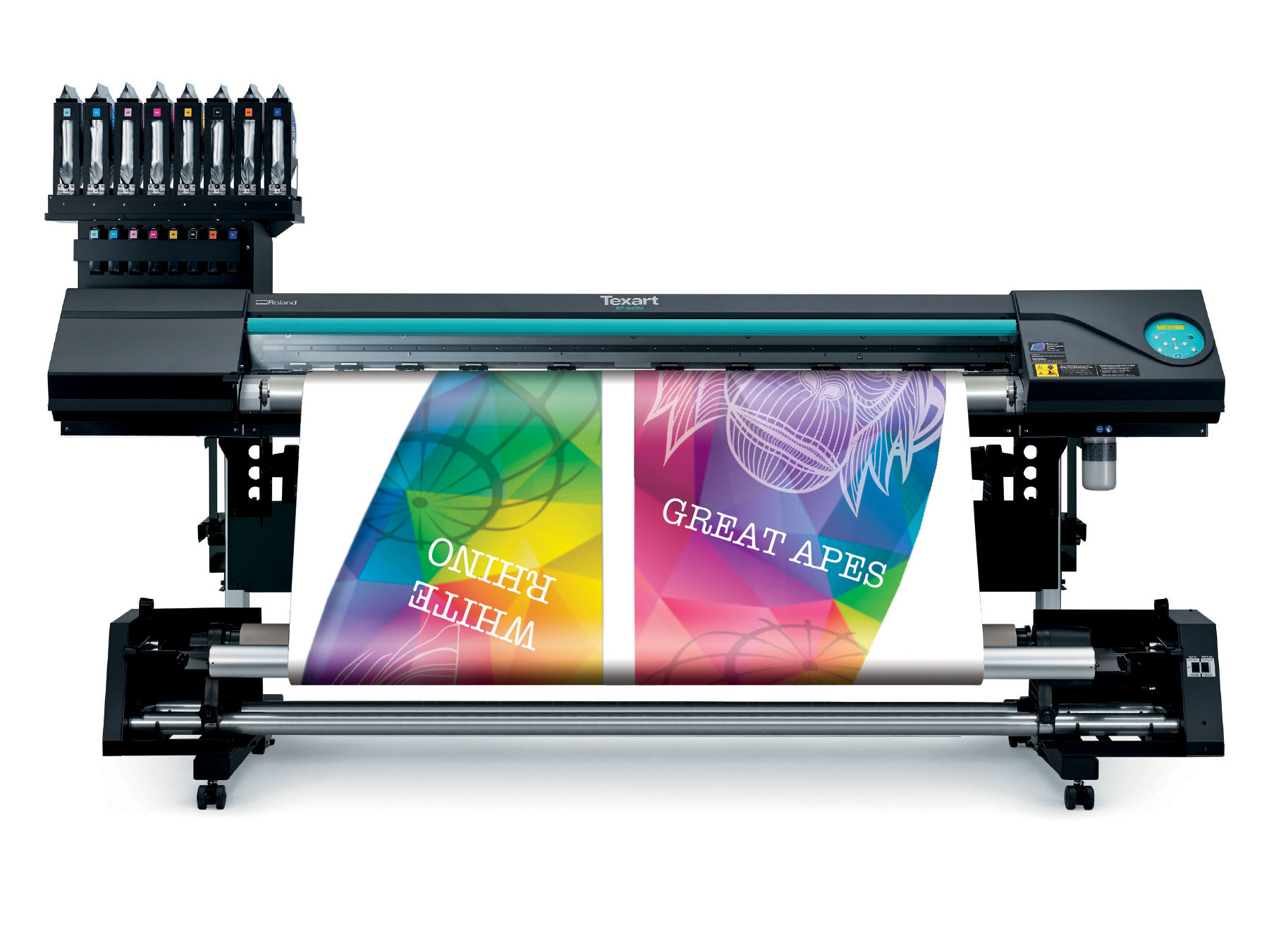 Irvine, Calif., June 13, 2019 – Roland DGA Corporation, a leading provider of wide-format inkjet printers and printer/cutters, has introduced the new Texart™ RT-640M – an intelligent multi-function dye-sublimation printer that gives users the freedom to print directly onto coated polyester fabrics, or to sublimation transfer paper, using the same specially-formulated Texart SBL3 sublimation inks.
The innovative Texart RT-640M simplifies dye-sublimation production for soft-signage with its direct-to-textile print option, while maintaining the versatility of printing to transfer paper for creating sublimated apparel, décor, rigid signage, and hard goods.
Versatile, reliable and affordably priced, the RT-640M boasts advanced features that maximize print quality, productivity and convenience. The media take-up incorporates adjustable front rollers for no-skew printing, as well as magnet weights for improved tensioning and performance. State-of-the-art 8-channel print heads deliver unmatched color and image results on a wide range of materials, while optimizing ink coverage for lower operating costs. Designed to bring out the best in the RT-640M, Roland's Texart SBL3 inks are available in 4-color (CMYK), 8-color (CMYKLcLmOrVi), and 8-color fluorescent (CMYKOrViFyFp) configurations. The RT-640M also offers users the advantages of the Roland Bulk Ink Switching System, which features 1000 cc pouches and automatically switches to a back-up pouch for non-stop printing in 4-color configuration. Users will also appreciate the ink collection channel within the platen of the RT-640M, designed to facilitate direct printing onto mesh, flag, voile and other thin textiles.
The Texart RT-640M comes with included ErgoSoft Roland Edition 2 software, which offers unique tools for textile dye-sublimation applications and allows users to RIP up to eight jobs simultaneously. ErgoSoft Roland Edition 2 boasts an Aurelon PDF engine with 64-bit native support, plus unlimited hot folders and job cost estimation, a new smart fill function, rectangular image nesting, variable data, a huge range of color profiles, and more.
"The RT-640M is an unbeatable investment for anyone looking to get into the dye-sublimation market," said Lily Hunter, Roland DGA Product Manager, Textiles and Consumable Supplies. "This value-packed inkjet offers the most flexibility you can get in an entry-level sublimation printer. Its multi-function capabilities allow users to easily and cost-effectively produce everything from flags, soft signage and backlit signage to ChromaLuxe photo panels, apparel, and décor."
To learn more about Roland's new Texart RT-640M multi-function dye-sublimation printer, visit https://www.rolanddga.com/RT-640M. For more information on the complete Roland DGA product lineup, visit https://www.rolanddga.com.
About Roland DGA Corporation
Roland DGA Corporation serves North and South America as the marketing, sales, distribution and service arm for Roland DG Corporation. Founded in 1981 and listed on the Tokyo Stock Exchange, Roland DG of Hamamatsu, Japan is a worldwide leader in wide-format inkjet printers for the sign, apparel, textile, personalization and vehicle graphics markets; engravers for awards, giftware and ADA signage; photo impact printers for direct part marking; and 3D printers and CNC milling machines for the dental CAD/CAM, rapid prototyping, part manufacturing and medical industries. For more information, visit https://www.rolanddga.com.
About Roland DG Corporation
Roland DG Corporation is the world's leading provider of digital printing solutions. The company's inkjet printers, printer/cutters and cutting machines are widely used to create a broad range of promotional items including banners, signs, vehicle graphics, stickers and labels, and to provide customization services for apparel and personal items like smartphone cases. Recently, Roland DG has embarked on a promising new retail frontier by capitalizing on individuals' increasing desire to create their own, uniquely designed and decorated items. The company's COTO business division has developed proprietary design and print management software which enables customers to design their own gifts, apparel and treasured mementos, and to enjoy an unforgettable creative experience. For more information, visit https://www.rolanddg.com/en.