Roland DGA Announces New Wet and Dry Dental Mill Bundle Offers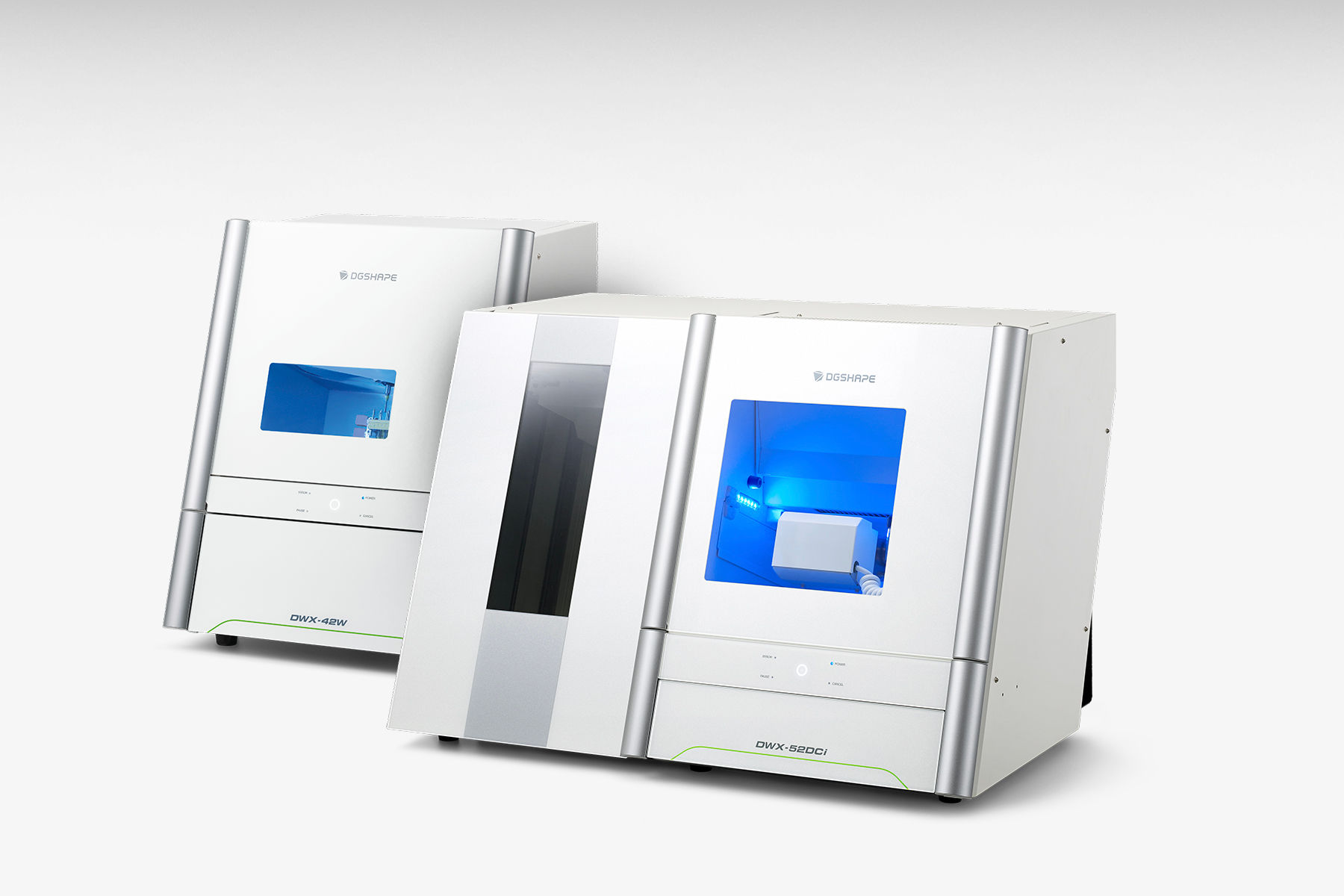 Irvine, Calif., May 29, 2019 – Roland DGA has announced new money-saving DGSHAPE wet and dry dental mill bundle offers, giving dental labs the opportunity to incorporate these advanced technologies into their workflows at a remarkable price. Effective immediately, customers can save $5,445 when they purchase a DWX-42W wet mill with either a DWX-52D or DWX-52DCi dry mill.
"Labs equipped with our latest DGSHAPE wet and dry dental mills can maximize efficiency and profitability by significantly increasing their production of zirconia, glass ceramic and composite resin materials," said Roland DGA Dental Product Manager, Dwight Blair. "Having independent wet and dry machines allows both types of jobs to be performed simultaneously, eliminating the time-consuming cleanings between jobs that combo devices require. By taking advantage of these new bundle offers, labs can benefit not only from the up-front savings, but also the advantages our DWX mills provide on a daily basis."
The DWX-42W wet mill is an intelligent machine that allows for effortless wet-milling of glass ceramics and composite resin materials to produce crowns, small bridges, inlays, onlays, veneers, and other prosthetics. It features an Automatic Tool Changer (ATC) with 6 stations, ethernet connectivity, newly designed nozzles and coolant tank, new grinding burs, a new DGSHAPE spindle (patent-pending), Virtual Machine Panel (VPanel) operation, and more. Those capitalizing on a bundle offer can pair this wet mill with either a DWX-52D or DWX-52DCi dry mill. Both the DWX-52D and DWX-52DCi deliver fully automated 5-axis milling of zirconia, PMMA , PEEK, CoCr Sinter Metal, fiber-reinforced resins, composites, and other standard materials, with an Automatic Tool Changer, user-friendly Virtual Machine Panel (VPanel) operation, automatic calibration, and more. The DWX-52DCi also boasts an Automatic Disc Changer that stores up to six discs of different materials, enabling discs to be replaced automatically during milling, plus new DWINDEX performance visualization software, and additional cutting-edge features.
Bundle Choices and Pricing:
| | | | |
| --- | --- | --- | --- |
| Product | MSRP | Promotional Price | Savings |
| DWX-42W / DWX-52D Bundle | $55,440.00 | $49,995.00 | $5,445.00 |
| DWX-42W / DWX-52DCi Bundle | $64,440.00 | $58,995.00 | $5,445.00 |
To learn more about Roland's new DGSHAPE DWX wet and dry mill bundle offers, visit https://www.rolanddga.com/dwxbundle. For more information on the complete line DGSHAPE dental products, visit www.rolanddga.com/dental.
About Roland DGA Corporation
Roland DGA Corporation serves North and South America as the marketing, sales, distribution and service arm for Roland DG Corporation. Founded in 1981 and listed on the Tokyo Stock Exchange, Roland DG of Hamamatsu, Japan is a worldwide leader in wide-format inkjet printers for the sign, apparel, textile, personalization and vehicle graphics markets; engravers for awards, giftware and ADA signage; photo impact printers for direct part marking; and 3D printers and CNC milling machines for the dental CAD/CAM, rapid prototyping, part manufacturing and medical industries.
About DGSHAPE Corporation
DGSHAPE Corporation was spun-off of Roland DG Corporation in 2017 as a wholly-owned subsidiary to develop and market the company's innovative 3D products, including DWX mills and DWP 3D printer for the dental industry, MPX photo impact printers and EGX engravers for the industrial labeling and personalization industries, and MDX and monoFab series of desktop milling machines for the rapid prototyping, manufacturing, and hobby industries. The company's products are distributed worldwide.