Roland DG Technologies Play Key Role in Helping Print Service Providers Build Their Businesses and Handle the Challenges of 2020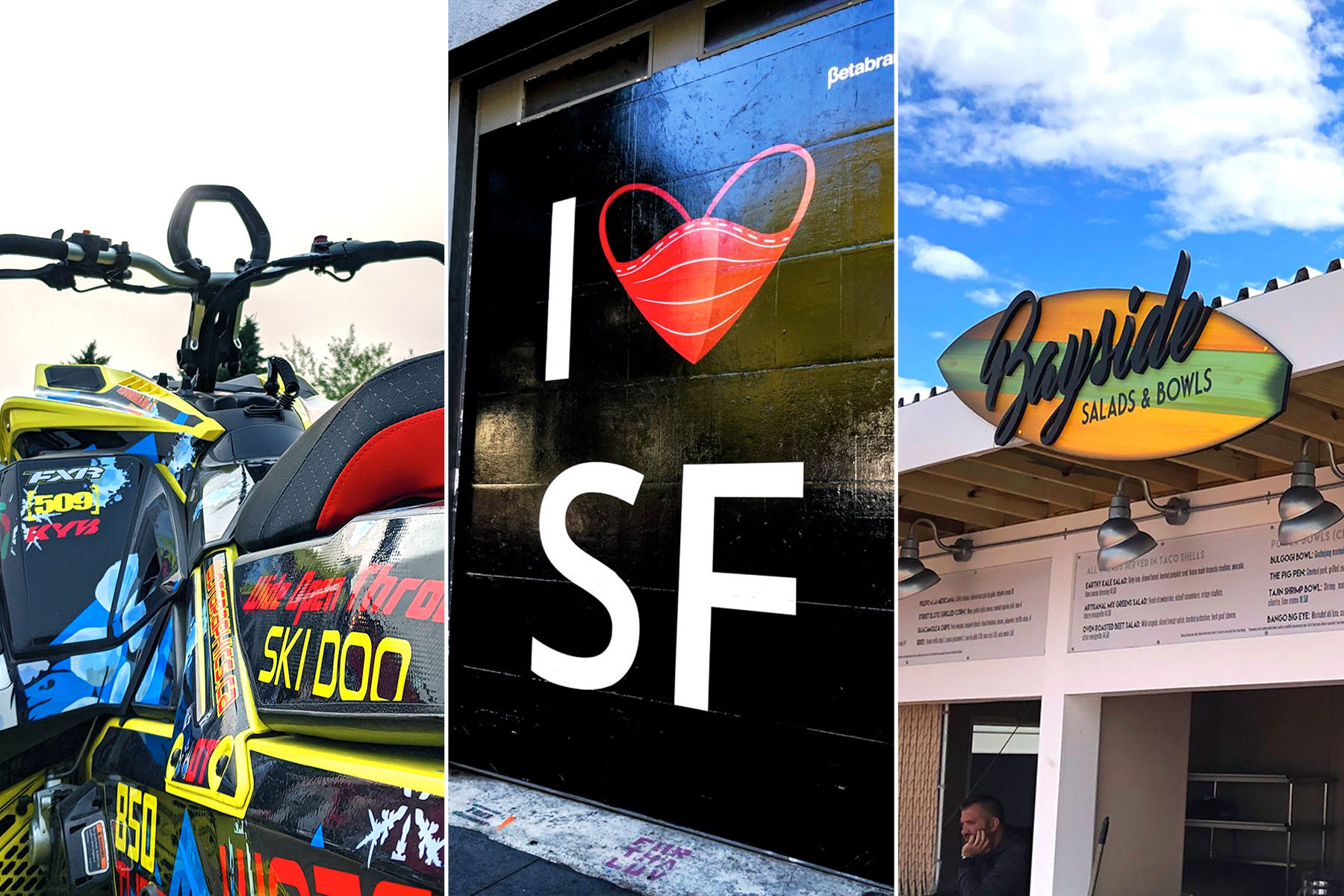 Irvine, Calif., November 17, 2020 – Building and maintaining a successful business has its challenges, even under normal circumstances. With the amount and pace of change happening in 2020, this is even more true. However, as these three print businesses show, having the best technology on hand can make achieving growth and profitability as straightforward as possible. Making smart decisions, like choosing cutting-edge, dependable Roland DG wide-format printers that optimize quality and productivity, has enabled these print service providers to build their respective businesses and remain stable even through the COVID crisis.

Wide Open Throttle Graphics

Founded in 2019, Wide Open Throttle Graphics in Alberta, Canada is an example of a newer shop that was just gaining steam before COVID-19 hit. Utilizing Roland DG technology, Open Throttle Graphics was able to grow from a home-based startup with just one customer to a full-service shop offering a range of services to a significantly larger customer base.

"I started out wrapping graphics to snowmobiles from my basement with just a Roland DG TrueVIS™ SG-540," said Chris Theissen, owner of Wide Open Throttle Graphics. "That machine served me well, so with my workload growing, I decided to upgrade to a TrueVIS VG2-540. That's when things began to change dramatically. Soon I was able to open a full-service shop offering not only snowmobile wraps, but also wraps and graphics for motocross bikes, personal cars and trucks, and fleet vehicles. The faster print speed of the VG2, the wider color gamut using Orange inks, and its incredible image quality, have allowed me to grow my business considerably."

Like businesses everywhere, the onset of COVID-19 brought about challenges for Wide Open Throttle Graphics, however, Theissen's outlook for the future remains optimistic. "When the pandemic first hit, our revenue stopped for a short time," he said. "That was incredibly tough, but business has really picked up since then."

Theissen is quick to point out how critical color accuracy has been. "When it comes to doing graphics that keep customers coming back, it's crucial to hit specific brand colors like Honda Red, Ski-Doo Octane Blue and KTM Orange," he noted. "The color-matching capabilities of the TrueVIS VG2, as well as the unbelievable vibrancy and detail of the prints, have been key factors. I'm confident we have the tools we need to thrive under any circumstances."

VIVAS Inc.

Luis Vivas, founder and CEO of San Francisco-based VIVAS Inc., emigrated from Peru in 2006. He started his printing business in 2012 from his apartment with a laptop and a dream. Today, he and his seven employees work in a 3,000-square-foot facility, serving A-list clients that include Lucasfilm, Facebook, Nike, Nissan, Sephora, and Google.

When he began his business, Vivas advertised banners delivered "online and on time." There was just one problem – he didn't have a printer. "Regardless, I began walking the streets of San Francisco handing out flyers to promote my startup," said Vivas.

His first job came a few days later, when the organizers of the San Francisco Marathon asked if he could print 20 banners by the end of the week. Vivas called upon a friend who owned a wide-format digital printer, and they got to work. They ended up producing a total of 200 banners for the event – on time. "With that job done, I went to a lender to get money to invest in my business," Vivas recalled.

In 2015, Vivas received a job request from what would turn out to be a very important client. "I never expected to be contacted by a company as big as Lucasfilm, but that's exactly what happened, he said. "I used the down payment on that job to buy my very first Roland DG printer/cutter. I got a feel for the quality and reliability of Roland DG's products at a trade show in Las Vegas, and I knew that machine was exactly what we needed to meet the demands of a client like Lucasfilm."

Following that job, business increased rapidly for Vivas. By consistently delivering outstanding work, he grew his company by more than 100 percent annually each of the next three years, and in 2019, growth of 200 percent over the prior year. To handle the growing workload, Vivas brought in three additional Roland DG inkjets – a TrueVIS VG-640 printer/cutter, a VersaUV® LEJ-640 hybrid printer, and most recently, a next-generation TrueVIS VG2-640. These machines have enabled the company to expand its offerings to include rigid signage, vehicle wraps, window and wall graphics, floor graphics, and more.

Vivas's company continued to experience substantial growth into early 2020, but COVID changed things dramatically. Vivas knew he had to adapt quickly. "While we continued to receive requests from our core customers, we had to make up for an initial drop in new business," Vivas pointed out. "So we began producing social distancing and safety signage, printed PPE, and customized acrylic shields for retail and office environments. Now, we have a dedicated section on our website where we offer all these services, free templates, even Hexis antimicrobial film."

We owe a lot of our success to the performance of our Roland DG printers," noted Vivas. "Quality is our number one priority – and that's exactly what our Roland DG equipment delivers. The wide gamut, amazing color and stunning image quality have been key factors in our success."

Despite the hardships brought about by the pandemic, Vivas is quick to count his blessings. "We're lucky to be able to remain open and retain all our employees. Now we have the opportunity to help others."

J Signs

Patchogue, New York-based J Signs wasn't always a large print business. The company has experienced consistent growth over the years by exceeding the expectations of its existing clients and expanding its product offerings to attract new customers. Along the way, J Signs has invested in Roland DG technology to keep pace with its increasing workload and customer base. Owner, Jerome Morello credits much of J Signs' growth and success to prudent planning and intelligent business decisions, including the purchase of Roland DG inkjet printers. The business now relies on six Roland DG devices to get things done – two TrueVIS VG2 printer/cutters, two VersaCAMM® models, a SOLJET XR, and a VersaEXPRESS™ RF printer. The machines are housed in a 4,800 square-foot facility with designers working upstairs and production staff on the first floor.

"Roland DG printers are easy to use, productive, and reliable, plus the graphic results are incredible. Other brands of printers just didn't work out for us," said Morello. "Experience has taught me that bringing in new technology forces you to evolve – you have to keep up with the latest and greatest to stay competitive. No doubt, the capabilities of our Roland DG printers have helped us build our business."

According to Morello, being able to offer a wide range of services has also been a major factor in the company's growth and success. "We pride ourselves on our versatility," Morello said. "We offer it all – carved PVC signs, illuminated signs, vehicle wraps, posters, banners – you name it. We've produced about eighty percent of the signs in town, which is really satisfying for me."

As a sign maker, J Signs was an essential service provider early on in the COVID-19 outbreak, which allowed the company to stay fully operational. "We kept busy by producing signage for hospitals and newly created healthcare facilities, like the one at Javits Center in New York City," said Morello. "Now, with things opening up, we're producing curbside pickup and safety signage for new and existing clients."

For more information on the customers featured in this release, or to view additional Roland DGA end user success stories, visit https://www.rolanddga.com/gallery/professionals. To learn more about Roland DGA or the company's complete product line, visit https://www.rolanddga.com.

About Roland DGA

Roland DGA Corporation serves North and South America as the marketing, sales, distribution, and service arm for Roland DG Corporation. Founded in 1981 and listed on the Tokyo Stock Exchange, Roland DG of Hamamatsu, Japan is a worldwide leader in wide-format inkjet printers for the sign, apparel, textile, personalization and vehicle graphics markets; engravers for awards, giftware and ADA signage; photo impact printers for direct part marking; and 3D printers and CNC milling machines for the dental CAD/CAM, rapid prototyping, part manufacturing and medical industries.