Roland DGA Wins Three SGIA 2019 Product of the Year Awards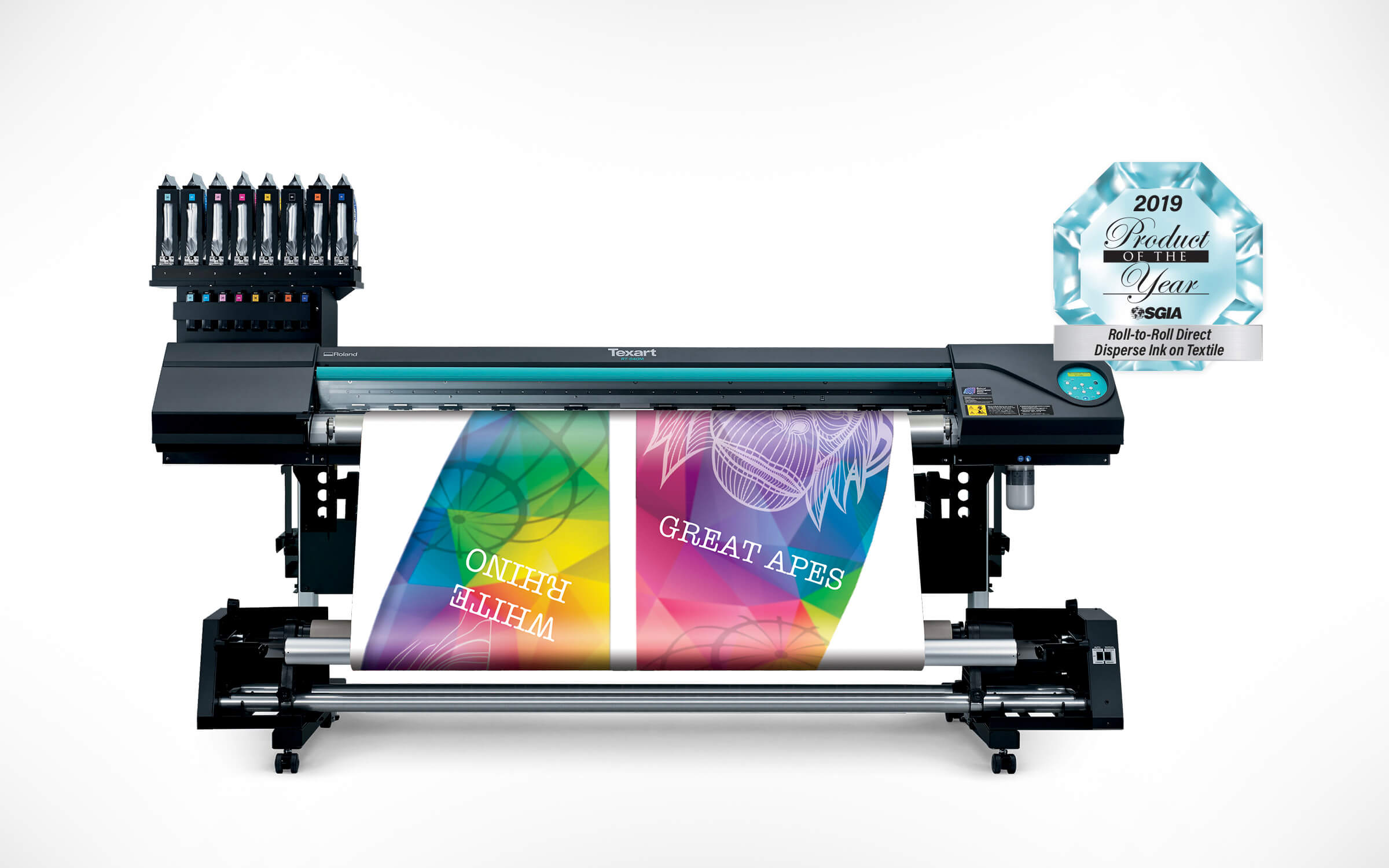 Irvine, Calif., August 29, 2019 – Roland DGA Corporation, a leading provider of wide-format inkjet printers and other advanced digital imaging devices, has announced that three of its products – the TrueVIS™ VG2 series printer/cutters, TR2 ink, and the Texart™ RT-640M multifunction dye-sublimation printer – have won prestigious 2019 Specialty Graphic Imaging Association (SGIA) "Product of the Year" Awards. Roland's TrueVIS VG2 printer/cutters received top honors within the "Roll-to-Roll/Solvent/Latex (under 80 inches)" category, while the company's TR2 ink and Texart RT-640M printer were recognized in the "Digital Inks – Eco-Solvent/Solvent/Latex" and "Roll-to-Roll Disperse Ink on Textile" categories, respectively.
"Considering that there were more than 200 entrants this year in 72 different categories, having not just one but three Roland products win top honors is quite an accomplishment," said Roland DGA President and CEO Andrew Oransky. "We're thrilled to receive this kind of recognition, as it's representative of all the hard work, research and development that went into each of these offerings."
SGIA's recognition of the TrueVIS VG2 series comes on the heels of the same product winning a coveted "Innovation Award" at the 2019 ISA International Sign Expo earlier this year in Las Vegas. The TrueVIS VG2-540 and VG2-640 with TR2 ink are impressing judges and users alike with their outstanding print quality, versatility, productivity and ease of use. These next-generation printer/cutters incorporate state-of-the-art FlexFire™ print heads that jet GREENGUARD Gold certified TR2 inks in three different configurations with CMYK, plus additional Light Cyan, Light Magenta, Light Black, White or Orange. These ink choices, including new Orange ink, allow for a wider gamut and more color control than ever before. In addition, the VG2 series has earned certifications for long-lasting results from the industry's top media manufacturers, including the 3M MCS Warranty and Avery Dennison's ICS Performance Guarantee.
The new Roland Texart RT-640M is an intelligent multifunction dye-sublimation printer that gives users the freedom to print directly onto coated polyester fabrics, or to sublimation transfer paper, using the same specially formulated Texart SBL3 sublimation inks. Innovative, reliable and easy to use, the value-packed RT-640M simplifies dye-sublimation production with its direct-to-textile option, while maintaining the versatility of printing to transfer paper for creating sublimated apparel, décor, rigid signage, and hard goods.
Roland's three award-winning SGIA Products of the Year will be on display in the Roland DGA booth (4616), at PRINTING United 2019, October 23-25 in Dallas, Texas. In addition, Roland DGA will be showcasing many other exciting new products at this major industry event.
To learn more about Roland's TrueVIS VG2 series printer/cutters, TR2 ink and Texart RT-640M printer, or the complete Roland DGA product line, visit https://www.rolanddga.com.
About Roland DGA Corporation
Roland DGA Corporation serves North and South America as the marketing, sales, distribution and service arm for Roland DG Corporation. Founded in 1981 and listed on the Tokyo Stock Exchange, Roland DG of Hamamatsu, Japan is a worldwide leader in wide-format inkjet printers for the sign, apparel, textile, personalization and vehicle graphics markets; engravers for awards, giftware and ADA signage; photo impact printers for direct part marking; and 3D printers and CNC milling machines for the dental CAD/CAM, rapid prototyping, part manufacturing and medical industries. For more information, visit https://www.rolanddga.com.
About Roland DG Corporation
Roland DG Corporation is the world's leading provider of digital printing solutions. The company's inkjet printers, printer/cutters and cutting machines are widely used to create a broad range of promotional items including banners, signs, vehicle graphics, stickers and labels, and to provide customization services for apparel and personal items like smartphone cases. Recently, Roland DG has embarked on a promising new retail frontier by capitalizing on individuals' increasing desire to create their own, uniquely designed and decorated items. The company's COTO business division has developed proprietary design and print management software which enables customers to design their own gifts, apparel and treasured mementos, and to enjoy an unforgettable creative experience. For more information, visit https://www.rolanddg.com/en.