Roland DGA Announces Launch of New VersaUV LEC2-640 and LEC2-330 UV Printer/Cutters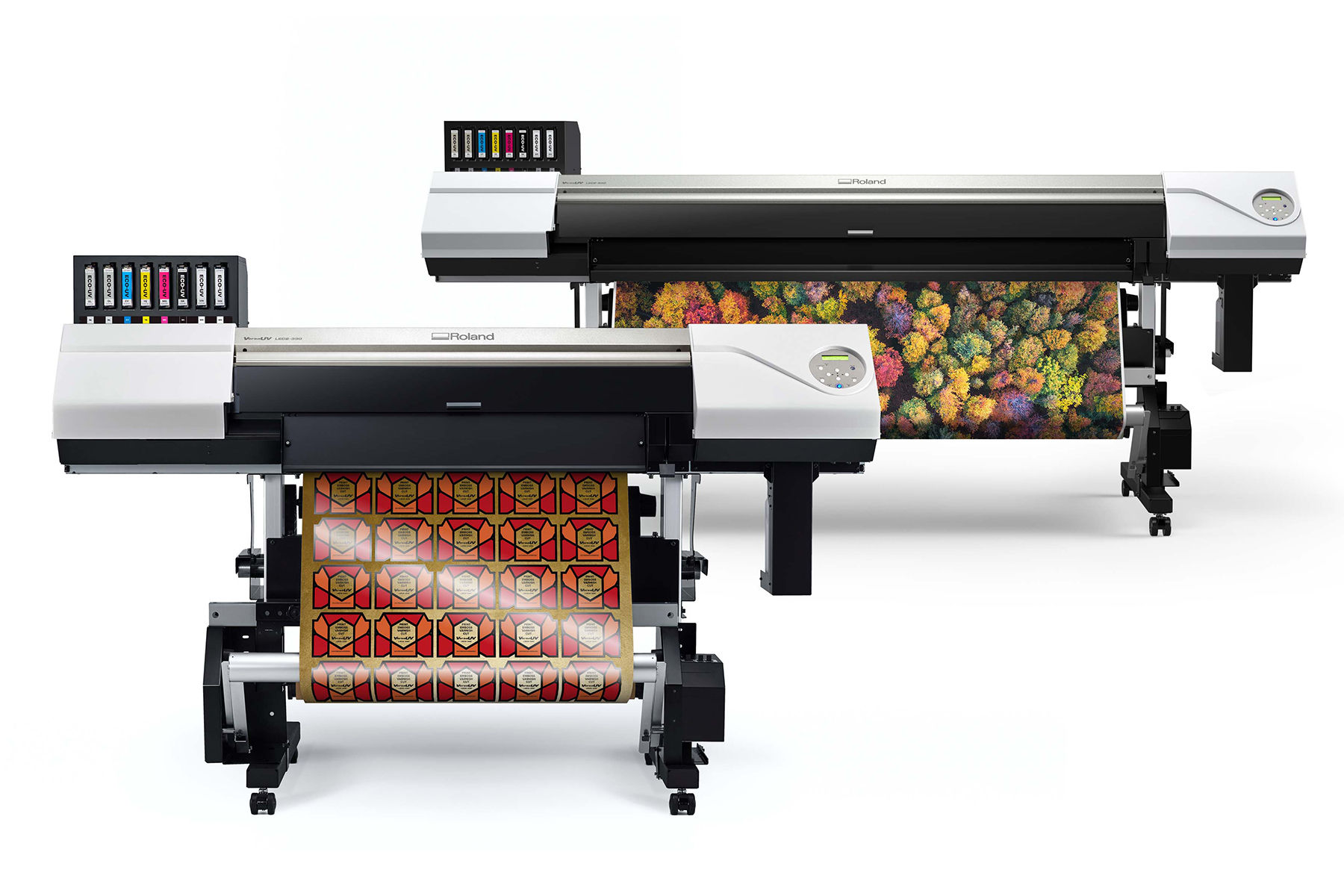 Irvine, Calif., January 21, 2021 – Roland DGA Corporation, a leading provider of wide-format inkjet printers and printer/cutters, has announced the launch of new VersaUV LEC2-640 and LEC2-330 – next-generation UV printer/cutters uniquely engineered to take label, packaging, sign, display, and interior décor production to another level. The 64-inch LEC2-640 and 30-inch LEC2-330 incorporate a host of innovative features that maximize image quality, increase print speeds, decrease ink usage, and make user operation and maintenance easier than ever.
The new LEC2-640/330 models expand Roland DG's existing VersaUV product line, offering users significant improvements in versatility, functionality, and convenience. Along with these new printer/cutters comes the introduction of new GREENGUARD Gold certified EUV5 ink available in CMYK, Clear, White and Primer, specially formulated to deliver vivid color, outstanding detail, and stunning textural and dimensional effects. Together with Roland DG's new True Rich Color II print setting, these inks bring out the best in the LEC2-640/330, widening the color gamut and delivering vibrant graphics with neutral grays, smooth gradations, and natural skin tones. In addition, the new EUV5 White ink is higher opacity, making it even more effective when used as a base coat or when printing on transparent film or dark paper.
The Roland DG LEC2-640 and LEC2-330 boast advanced print head technology for precision dot placement and control, as well as new larger, more powerful LED lamps that allow for higher print quality, improved color saturation, and faster ink curing. This combination produces stunning images down to the finest details – from small text to the most elaborate patterns and gradations. In addition to offering unsurpassed quality, reliability, and ease of use, the LEC2-640/330 feature new optimized cleaning and maintenance sequences that help keep the print heads clean for superior graphic results and reliable, long-lasting performance. Both models feature sleek, stylish, durable construction and come with an included TU4 unit for automatic media take-up. The LEC2-330 is over 100 pounds lighter and 10 inches thinner than Roland DG's first-generation 30-inch model, making it ideal for work environments with limited space.
Two Models to Meet a Diverse Array of Application Needs
The new 64-inch LEC2-640 is unbeatable for creating larger signage, displays and interior décor, while the 30-inch LEC2-330 is perfect for label and packaging applications. Both models are capable of printing on actual press substrates, increasing overall versatility and media compatibility while ensuring realistic package prototypes.
An optional TB-30 Tension Bar, available for the LEC2-330, enables direct printing on film as thin as 30 microns for flexible packaging. There's also an optional ET-30 Extension Table for the LEC2-330 that makes it easy to print on a variety of paper stocks and aluminum metalized papers for folding carton packaging jobs, including design comps, prototyping, color proofing for food, beverage, cosmetics, pharmaceuticals, and more.
"Our new affordable, easy-to-use LEC2-640 and LEC2-330 printer/cutters usher in a new era of UV production," said Roland DGA UV Printer Product Manager Jay Roberts. "They offer users a wider gamut, better color matching, superior imaging, faster print speeds, and more. With their enhanced capabilities and simple operation, they make producing customer-pleasing output – complete with eye-catching 3D effects – simple and cost-effective. Whether you're looking to produce adhesive decals, labels, stickers, and signs, or POP, backlit panels, package prototypes, and interior décor, the new LEC2 printer/cutters have you covered."
To learn more about Roland DG's new VersaUV LEC2-640 and LEC2-330 UV printer/printer cutters, visit https://www.rolanddga.com/lec2. For more information on Roland DGA Corporation or the complete Roland DGA product line, visit https://www.rolanddga.com.
About Roland DGA Corporation
Roland DGA Corporation serves North and South America as the marketing, sales, distribution, and service arm for Roland DG Corporation. Founded in 1981 and listed on the Tokyo Stock Exchange, Roland DG of Hamamatsu, Japan is a worldwide leader in wide-format inkjet printers for the sign, apparel, textile, personalization and vehicle graphics markets; engravers for awards, giftware and ADA signage; photo impact printers for direct part marking; and 3D printers and CNC milling machines for the dental CAD/CAM, rapid prototyping, part manufacturing and medical industries.