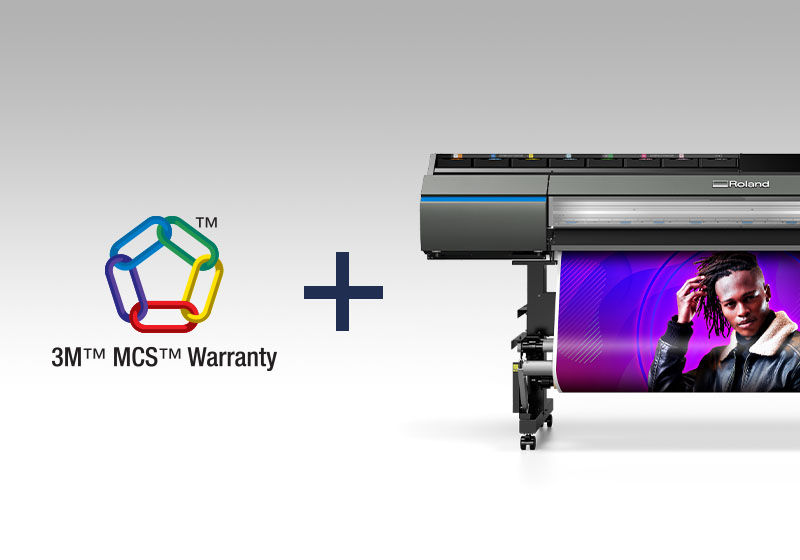 TrueVIS VG3 and 3M™ MCS™ Warranty Certification
Assure Your Customers and Promote Your Brand with 3M and VG3
Become a 3M certified sign shop or graphics business by using 3M vinyl and film products in combination with TrueVIS VG3 series printer/cutters and TR2 inks. Producing graphics with the VG3 and standard TR2 inks qualifies your business for the 3M™ MCS™ Warranty– covering your print results on 3M products with one of the most complete, robust graphics warranties in the business.
3M provides incredibly durable, cutting-edge vinyl and film materials to help you gain an industry edge. 3M stands behind these products that have passed stringent testing to examine every aspect of the materials from print to installation. When used with VG3 printer/cutters and TR2 inks, the 3M™ MCS™ Warranty provides full, non-prorated protection for the intended life of your vertical or horizontal graphic installations, including fading, cracking, peeling, and other aspects of graphic performance.
The Benefits of Becoming a 3M Qualified Sign Shop or Business
When you use 3M products with VG3 printer/cutters and TR2 inks, you can assure your customers of a quality product while promoting your business as a 3M™ MCS™ Warranty Qualified Manufacturer. When you show your 3M™ MCS™ Warranty certificate they'll show you more business.
Get further details and register your TrueVIS VG3 series printer/cutter with TR2 inks and receive a personalized 3M™ MCS™ Warranty Certificate that you can present to your customers as your mark of high-quality graphics standards.