Roland DG TrueVIS VG2 Series Printer/Cutters Win 2021 Sign Media Canada Readers' Choice Award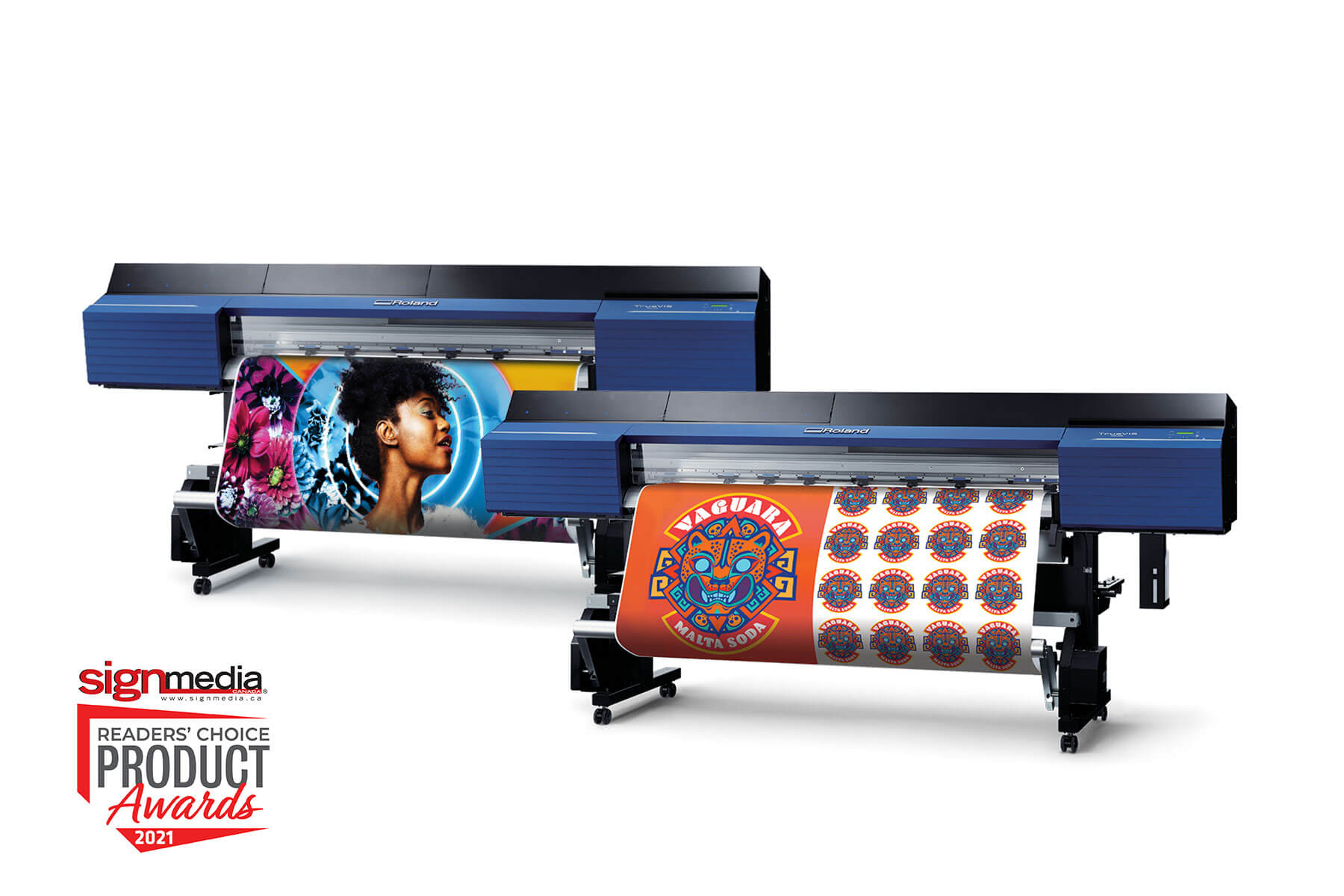 For more information, contact:
Marc Malkin
(949) 727-2100 ext. 1372
Irvine, Calif., December 22, 2021 – Roland DG's TrueVIS™ VG2 Series large-format printer/cutters have won a prestigious 2021 Sign Media Canada Readers' Choice Award. The annual competition gives Sign Media Canada magazine readers the opportunity to vote for the products they believe to be "best in the industry" within five different categories: Digital Printing, Equipment, Illumination, Substrates, and Supplies. This year, more than 40 products were nominated, and the TrueVIS VG2 Series was chosen as the winner in the Digital Printing category.
"This award means a lot to us, as it represents the unbiased opinion of Sign Media Canada readers, including actual end users who rely on these devices to create high-performance graphics day-in and day-out," said Roland DGA President and CEO Andrew Oransky. "The popularity of our TrueVIS series printer/cutters has been incredible worldwide, and Canada is no exception. The stunning color and vibrancy of the output VG2 printer/cutters produce, combined with their outstanding productivity, versatility and reliability, put these next-generation machines in a class by themselves."
Roland DG TrueVIS VG2 Series printer/cutters have received numerous awards since their introduction 2019, including a coveted ISA Sign Expo Innovation Award in the Printer category, a European Digital Press Association (EDP) Award for "Best Print & Cut Solution," and other top industry honors. In addition, Roland DG's wide-gamut TR2 inks, specially formulated for the VG2, won a PRINTING United Alliance 2020 Product of the Year Award in the Digital Inks – Solvent/Eco-Solvent/Latex category.
The 64-inch TrueVIS VG2-640 and 54-inch VG2-540 – Roland DG's flagship eco-solvent large-format printer/cutters – are designed to exceed the needs of demanding print professionals, offering comprehensive color choices, improved machine efficiency, and increased print-and-cut accuracy for true unattended production. The VG2's high quality GREENGUARD Gold certified TR2 inks, including new Orange and Green options, work together with the printer/cutter's advanced technologies to expand the color gamut and offer users more color control and freedom than ever before.
To learn more about the award-winning Roland DG TrueVIS VG2 Series printer/cutters, visit https://www.rolanddga.com/VG2. To view a complete list of 2021 Sign Media Canada Readers' Choice Award winners, click here.
About Roland DGA Corporation
Roland DGA Corporation serves North and South America as the marketing, sales, distribution and service arm for Roland DG Corporation. Founded in 1981 and listed on the Tokyo Stock Exchange, Roland DG of Hamamatsu, Japan is a worldwide leader in wide-format inkjet printers for the sign, apparel, textile, personalization and vehicle graphics markets; engravers for awards, giftware and ADA signage; photo impact printers for direct part marking; and 3D printers and CNC milling machines for the dental CAD/CAM, rapid prototyping, part manufacturing and medical industries. For more information on Roland DGA, or the compete Roland DGA product line, visit https://www.rolanddga.com/.
About Roland DG Corporation
Roland DG Corporation is the world's leading provider of digital printing solutions. The company's inkjet printers, printer/cutters and cutting machines are widely used to create a broad range of promotional items including banners, signs, vehicle graphics, stickers, and labels, and to provide customization services for apparel and personal items like smartphone cases. Recently, Roland DG has embarked on a promising new digital transformation frontier with the launch of its cloud-based service called Roland DG Connect which improves customer satisfaction and success by providing a more comfortable and stable operating environment, improved workflow efficiency, increased business development and profitability. The company has also developed proprietary design and print management software which offers an unforgettable creative experience by enabling customers to design their own gifts, apparel, and treasured mementos. For more information on Roland DG Corporation, visit https://www.rolanddg.com/en.