Holiday Season Highlights How Companies are Cashing in on Demand for Customized Products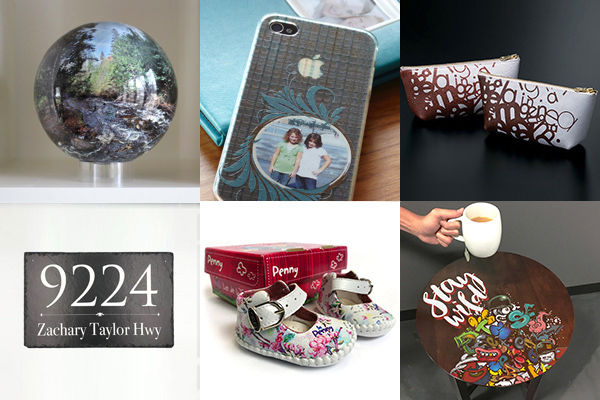 The holiday buying season is officially upon us, and businesses of all sizes are seeking to stand out in an increasingly crowded and competitive marketplace. Both brick-and-mortar and online retailers have come to the realization that simply offering good products at attractive prices is no longer enough. Today's consumers also want the option of personalizing the products they buy, and giving them this option can mean the difference between earning a customer's business or losing the sale.

This overall trend, known as "mass customization," is increasingly important to the success of retailers around the world. Just as mass production ― the ability to manufacture greater quantities of products faster and more efficiently — dramatically changed the way business was conducted, mass customization has ushered in another paradigm shift. Advanced direct-to-substrate printers, such as Roland's VersaUV® series, are playing a key role in this ongoing boom, making it easy and cost-effective for companies to add appeal and value to their products.


It's not just the big brands that are discovering the importance of mass customization. Small and medium-sized companies are moving in this direction as well, driven by significant consumer interest and popular e-commerce platforms that make it easier than ever for small businesses to sell these products and services. Roland VersaUV flatbed printers can be found in all types of business – from startups to Fortune 500 corporations – enabling these providers to print custom graphics directly onto unique products. In addition to enhancing these items with full-color images and text, designs can incorporate a range of stunning dimensional and textural effects using specially formulated White and clear Gloss inks.

According to a Bain & Company survey of more than 1,000 online shoppers, while just under 10 percent have tried customization options, more than a quarter of the shoppers polled ― 25 percent to 30 percent — expressed a desire to do so. And interest is growing. This trend is creating some incredibly lucrative opportunities that companies are capitalizing on ― not only for greater margins and profits, but also for increasing customer demand, engagement and loyalty. This is especially true with brick-and-mortar retailers striving to create an experience that gives shoppers a reason to shop off-line.

Perceived value equals real profit

Customization is helping companies differentiate themselves in an increasingly competitive marketplace. Consumers want to purchase products that create the sense of owning a "one-of-a-kind" item. They either expect to have the option to choose from various iterations of the same product, or even play an active role in designing the product they will be buying. "Today's consumers, especially millennials, are seeking to differentiate themselves from the crowd," notes Jay Roberts, Roland DGA Product Manager, UV Printers. "These customers expect manufacturers and retailers to offer options and tools that make it quick and easy to personalize the products they're purchasing."

In addition to allowing companies to meet the consumers' expectations, product personalization increases the perceived value of the purchased item. "Customers are willing to pay more for personalized products, allowing the manufacturer charge more and increase the profit margin," said Roberts.

The study, "Markets of One: Creating Unique Value through Mass Customization," compiled by B. Joseph Pine II, Bart Victor and Andrew C. Boynton, further explains the market developments. "Continuous improvement has enabled thousands of companies to realize lower cost than traditional mass producers and still achieve the distinctive quality of craft producers. Through the use of mass customization, producers appeal to consumers by providing a product that matches or comes close to their ideal product, while allowing producers to utilize improved workflows and technology to maintain high output and obtain cost savings comparable to a mass production environment."


Cashing in on customization

Businesses of all sizes are using UV printers to offer customers a wide range of product personalization options while cashing in on the mass customization boom. Take the company Snapspheres (www.snapspheres.com) for example. Founded in 2017 by two friends from St. Louis Park, Minnesota, the company has quickly found success producing, marketing and selling unique spheres composed of individual tiles that can be personalized with customers' photos. "Each sphere creates a tangible experience of a 360-degree image, says co-owner Matt Hartloff. "The images provided range from photos of weddings and sports teams to adventure travel scenes like beaches and mountains." Snapspheres uses a Roland VersaUV LEF series flatbed UV printer to print each image accurately on a domed surface, first laying down white ink, printing the image on top of that, and then adding a layer of clear gloss ink to make the images stand out.

Or, consider the success of Sassy Squirrel Ink of Gold River, California. This rapidly growing business, which started on Etsy, uses a Roland VersaUV LEF flatbed to produce slates with personalized messages and photos for weddings, anniversaries and other special occasions and events. "For weddings, we've printed slates that not only include images, but also poems, lyrics of the couples' first dance song, or even their wedding vows," notes co-owner Simon Holland. Sassy Squirrel's VersaUV printer allows the company to print directly onto objects up to 3.94 inches thick and 30 by 13 inches wide.

Product customization has become the "new normal," not only for the holiday season, but throughout the entire year. Retailers and companies that offer consumers these kinds of opportunities are primed to gain a competitive edge. Poised to fulfill the needs of businesses savvy enough to offer such options are manufacturers like Roland DGA, providing cutting-edge digital imaging devices that are helping to make it all possible.

About Roland DGA
Roland DGA Corporation serves North and South America as the marketing, sales, distribution and service arm for Roland DG Corporation. Founded in 1981 and listed on the Tokyo Stock Exchange, Roland DG of Hamamatsu, Japan is a worldwide leader in wide-format inkjet printers for the sign, apparel, textile, personalization and vehicle graphics markets; engravers for awards, giftware and ADA signage; photo impact printers for direct part marking; and 3D printers and CNC milling machines for the dental CAD/CAM, rapid prototyping, part manufacturing and medical industries. To learn more about Roland DGA, visit www.rolanddga.com.
High Resolution Images: To access high-resolution versions of the individual images included in the photo collage featured in this press release, click on the following link:
https://www.rolanddga.com/company/pressroom/images/2018/product-customization