Roland DGA Service Engineer Terry Carpenter Wins Roland DG Global SE Awards Championship in Hamamatsu, Japan
Irvine, Calif., Nov. 5, 2015 – A total of 21 Roland Service Engineers (SEs) from 18 different countries competed in the Global SE Awards 2015 finals held Oct. 20-22 at Roland DG headquarters in Hamamatsu, Japan. After two days of intense competition, which included a series of demanding written exams and hands-on inkjet printer troubleshooting tests, a new World Champion was crowned. Terry Carpenter, a Service Engineer with Fargo, N.D.-based Roland dealer Far From Normal, out-performed his highly-skilled peers to walk away with the coveted title.
"Winning this prestigious event and bringing the championship trophy home to the States is a tremendous honor," said Carpenter. "It was a pressure-filled two days that really tested the limits of my endurance, as well my product knowledge and technical abilities. This event brought together the very best Roland SEs from all around the world, so coming out on top against such a talented field was a truly thrilling experience."
At this year's event, the competing SEs took part in an extensive series of timed (15 to 30-minute) test modules covering everything from network systems and color theory to electrical schematics and printer troubleshooting. Carpenter tallied the highest cumulative point total after completing all of the modules to earn the title of "2015 World Champion." Finishing in second was Alexandre Geraldi, representing Roland DG Brazil, while the third-place finisher was Peter De Bont, representing Roland DG Benelux in Belgium.
Roland DG held its first SE awards competition in 2008, however, those early events were limited to Roland Service Engineers from Japan only. In 2013, the company opened up the competition to SEs from Roland subsidiaries around the world to support and acknowledge Roland DG Care activities on a global scale. This year, local competitions were held in 15 different locations from February through August, with 449 certified SEs participating in those regional contests. Based on their performance, a total of 21 finalists were selected to compete for the title of "World Champion."
The overall goal of the event, which takes place every two years, is to recognize Roland's ongoing commitment to providing its customers with the highest levels of service and support possible. The competition also helps to continuously raise the performance bar for Roland DG Service Engineers. SEs from each of Roland DG's business divisions, including Roland DGA, earn the right to compete in the Global SE Awards final by winning regional contests hosted by each subsidiary.
"We're extremely proud of Terry, not only for his accomplishments at the 2015 global competition, but also for providing Roland customers with superior service on a daily basis, said Roland DGA's president, Rick Scrimger. "Since Terry is a Roland DGA Service Engineer based here in the U.S., the championship trophy will be proudly displayed in the Creative Gallery at our Irvine, California headquarters until the next Roland DG Global SE Awards event in 2017. Congratulations to Terry, the second- and third-place finishers, and all the SE finalists that competed in Hamamatsu."
To learn more about the Roland DG Global SE Awards, visit www.rolanddg.com/se2015.html. For more information on Roland DGA and the company's complete product lineup, visit www.rolanddga.com.
About Roland DGA
Roland DGA Corporation serves North and South America as the marketing, sales and distribution arm for Roland DG Corporation. Founded in 1981 and listed on the Tokyo Stock Exchange, Roland DG of Hamamatsu, Japan is a worldwide leader in wide-format inkjet printers for the sign, apparel, textile, packaging and vehicle graphics markets; engravers for awards, personalization and ADA signage; photo impact printers for direct part marking; and 3D printers and CNC milling machines for rapid prototyping, part manufacturing and the medical and dental CAD/CAM industries. Roland DGA is ISO 9001:2008 certified, and Roland DG is ISO 9001:2008 and 14001:2004 certified.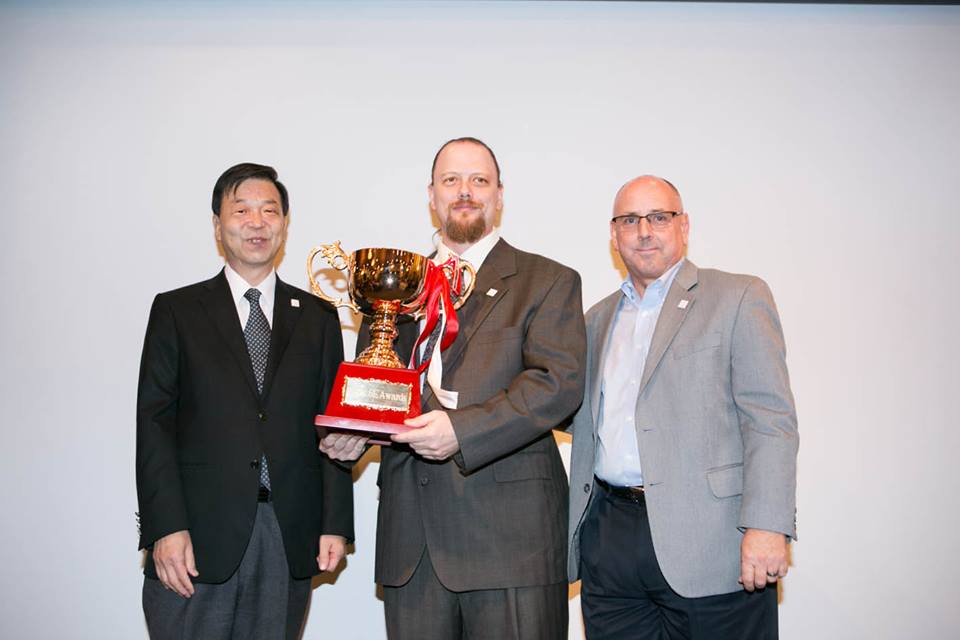 Suggested Caption for Attached Image: Masahiro Tomioka, chairman and president of Roland DG (left in photo) and Ron Ball, senior director of services at Roland DGA (right in photo), present the Roland DG Global SE Awards championship trophy to Terry Carpenter during a recent ceremony at Roland DG headquarters in Hamamatsu, Japan. Carpenter, a certified Roland Service Engineer (SE) with Fargo, N.D.-based dealer Far From Normal, outperformed 20 other SE finalists from 18 different countries to win the coveted title of "World Champion."