Roland DG's TR2 Ink Wins PRINTING United Alliance 2020 Product of the Year Award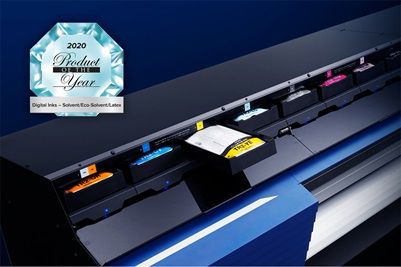 Irvine, Calif., October 23, 2020 –
Roland DGA has announced that Roland DG TR2 ink has won a PRINTING United Alliance 2020 Product of the Year Award in the Digital Inks - Solvent/Eco-Solvent/Latex category.
Specially formulated for use with Roland DG's TrueVIS™ VG2/SG2 wide-format printer/cutters and the new TrueVIS VF2-640 wide-format printer, GREENGUARD Gold certified TR2 ink features an expanded color gamut and produces incredibly detailed, vibrant graphics. With three different color configurations in CMYK, plus additional Light Cyan, Light Magenta, Light Black, White or Orange or new Green, TR2 ink gives users more color freedom and control than ever before. The addition of Green or Orange ink also allows for unsurpassed color matching when reproducing specific brand colors.
"We are thrilled to receive this prestigious award from the PRINTING United Alliance," said Roland DGA President and CEO Andrew Oransky. "TR2 ink perfectly complements the advanced capabilities of our next-generation TrueVIS series printers to deliver stunning prints. The unique formulation of these inks, along with the wider color gamut, opens up new creative opportunities, ensures superior color matching, and consistently delivers output that exceeds all customer expectations."
To learn more about TR2 inks, or the complete Roland DGA product line, visit
https://www.rolanddga.com
.